Catastrophic BR British Rail Crimson & Cream Crimson and Cream Crimson Cream Blood & Custard Blood Custard Blood and Custard BR British Rail Crimson & Cream Crimson and Cream Crimson Cream Blood & Custard Blood Custard Blood and Custard BR British Rail Crimson & Cream Crimson and Cream Crimson Cream Blood & Custard Blood Custard Blood and Custard
Blood & Custard
Glasgow Blue Trains
AM3 Transformer Incidents in 1960
<![if !vml]>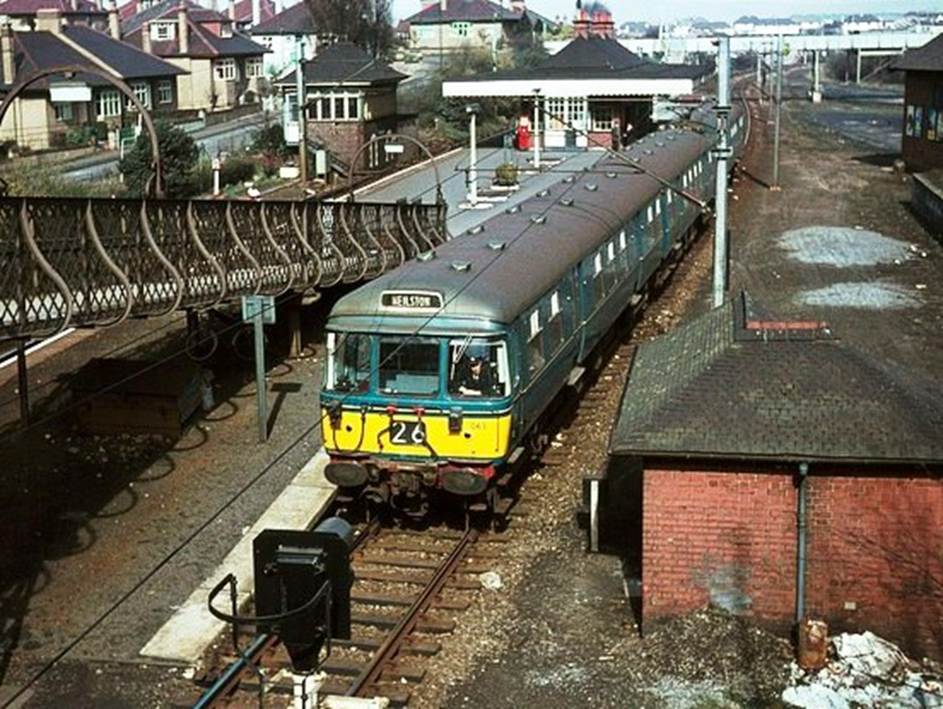 <![endif]>
Glasgow AM3 'Blue Train' at Muirend on Monday, 28th March 1966
This three-car unit (possibly no.041?) is in its original blue livery with wrap-round observation lights to the cab. However, a yellow warning panel has been added.
Inaugurated in 1962, this was part of the second stage of electrification of Glasgow suburban services including the Cathcart Circle and the line to Neilston.
© Alan Murray-Rust (CC-by-SA/2.0)
From the archive of the late Alan Hawes (of CM&EE fame) are a short series of interesting photographs relating to the initial troubles with the dual voltage (6.25kV /25 kV) AM3 'Glasgow Blue Trains' units (later class 303 under TOPS). During their introduction into service there were a series of five significant transformer-cooling incidents; two of these resulted in transformer explosions.
Alan's photos are set out below (within the commentary) along with a diagrammatic view of the motor coach equipment layout on an AM3 unit. Whilst not recorded, possibly all the photographs are of unit no.051.
Unit no.003
The first incident occurred prior to commencement of passenger electric-services at 6.25pm on Sunday 30th October 1960 in a 6-car ecs as it stopped at Charing Cross station. An explosion in the Guards Van of unit no.003 destroyed the partition with the passenger saloon; fortunately, without injury. Investigations identified the cause being failure of the cooling system with a mixture of oil vapour and air mixing in the equipment compartment leading to transformer overheating; ventilation modifications were made. The transformer was subsequently returned to AEI Ltd at Wythenshaw for examination.
<![if !vml]>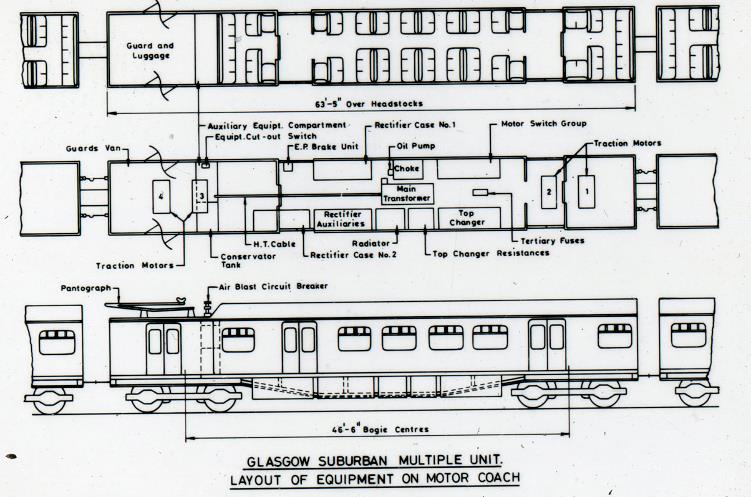 <![endif]>
Diagrammatic view of the motor coach equipment layout on an AM3 unit.
© Alan Hawes
Unit no.042
The AM3 units entered passenger service on Saturday 5th November 1960. Just nine days later whilst entering Queen Street station (around 5.35am on Monday 14th November 1960) unit no.042 failed with a loss of power. An oil-coolant leak had led to overheating of the secondary winding of the transformer. However, the ventilation modifications made following the Charing Cross incident (on 30th October 1960) appeared to have prevented an explosion.
The transformers from units nos.001, 033, 036 & 041 were subsequently returned to AEI Ltd at Wythenshaw for examination; the latter unit having run without incident.
British Transport Commission & AEI Ltd
On Saturday 19th November 1960 a meeting between the British Transport Commission and AEI Ltd concluded that the failures were due to prolonged overheating of the paper insulation; almost certainly from a failure of oil circulation in their cooling system.
On Thursday 24th November 1960 a further meeting discussed the possibility of air-locks in the oil-cooling system resulting in testing and a conclusion on 1st December 1960 that an air-lock could reduce the cooling capacity by 75%. As a consequence, modifications were put in place.
Unit no.051
Except at 7.9am on Tuesday 13th December 1960 there was an explosion in the motorcoach of unit no.051 at Renton. There was much damage to the passenger saloon with two of the estimated two-hundred and thirty passengers sustaining serious injury; these two passengers were hospitalised along with the guard.
As equipment ventilation was a significant causal factor, railway staff worked overnight in freezing conditions (14th /15th December 1960) modifying forty-four of the fifty units required for full service.  
 <![if !vml]>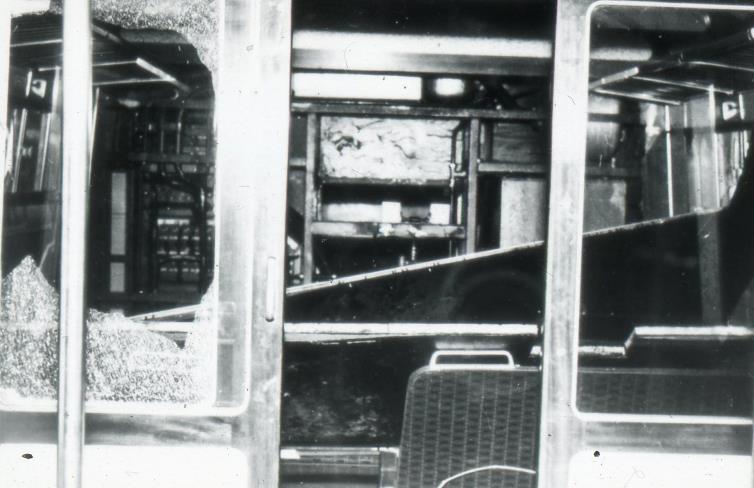 <![endif]>
Damage to the interior of AM3 unit no.051's motor coach following the catastrophic transformer failure at Renton on Tuesday 13th December 1960. Note the failed equipment bulkhead, roof panels down and shattered internal glass.
© Alan Hawes
Unit no.031
The following day (2.45pm Wednesday 14th December 1960) passengers were detrained from unit no.031 (leading a 6-car formation) at Carntyne after smoke was seen pouring out from the transformer. Although ventilation modifications had been undertaken other associated modifications had not.
<![if !vml]>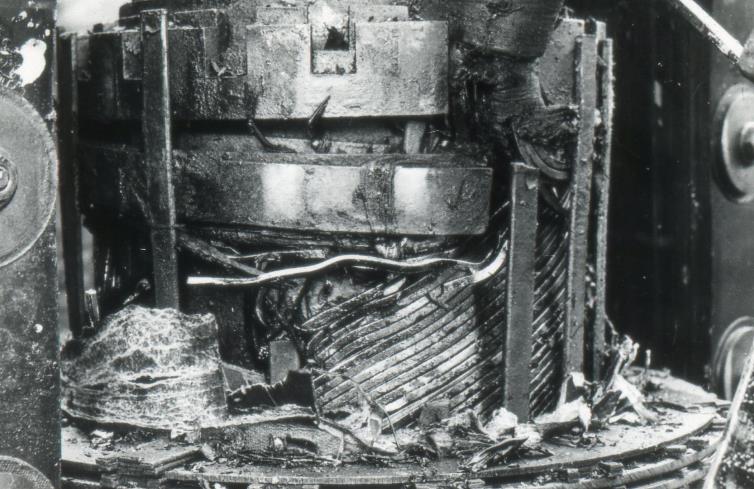 <![endif]>
View of a damaged main transformer of a Class AM3 unit (with primary removed).
© Alan Hawes
Unit no.014
Three days later (1.52pm on Saturday 17th December 1960) smoke was seen coming from the transformer of unit no.014 as it departed Garrowhill. The unit was isolated with the train working forward to Easterhouse where the two-hundred and thirty or so passengers were detrained. Although ventilation modifications had been undertaken to unit no.014 there had still been a potentially explosive build-up of gas.
<![if !vml]>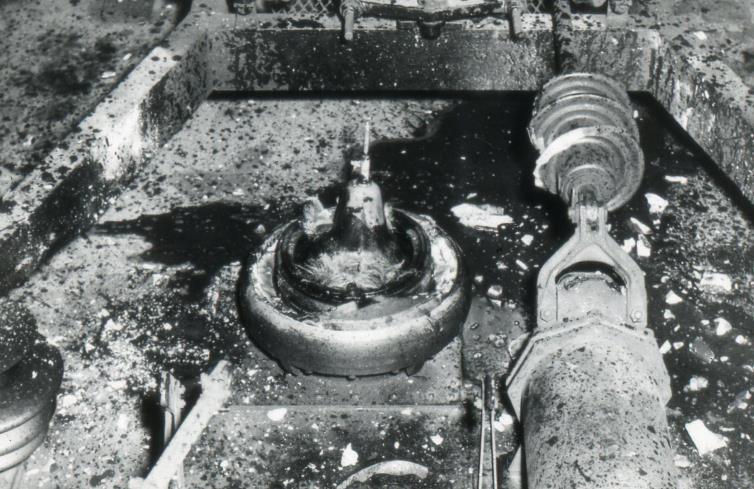 <![endif]>
Roof view of a damaged AM3 unit following transformer failure.
© Alan Hawes
Suspension of Electric Services
Accordingly (after consulting the British Transport Commission and liaison with Her Majesty's Railway Inspectorate & AEI Ltd), the Scottish Regional General Manager decided to withdraw all the AM3 units from service on Sunday 18th December 1960 for investigation and subsequent modification.
AEI Ltd at Wythenshaw on Wednesday 21st December 1960 saw an examination of the transformers from units nos.003, 041, 051 plus the most recent failure no.014. The primary transformer winders were found to be virtually undamaged but the paper insultation of secondary windings appeared to be burnt away leading to much damage and distortion.
<![if !vml]>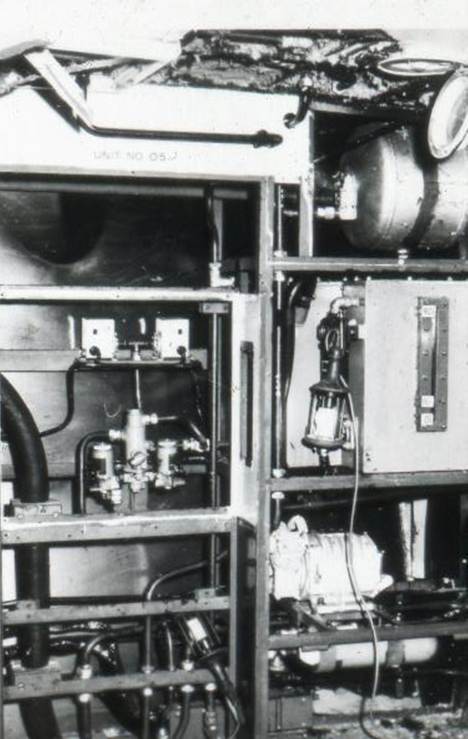 <![endif]>
View of conservator damage & roof on an AM3 unit following transformer failure.
© Alan Hawes
Units nos.030 & 049
The following day the transformers of units nos.030 & 049 (both units were displaying problems) were sent south to Wythenshaw. Examined on Wednesday 28th December 1960, both displayed damage but no signs of overheating at that stage. However, it was believed overheating would have eventually occurred.
Technical Conclusion
On Sunday, 1st January 1961 it was concluded that the transformers' design of secondary windings were not strong enough and further meetings continued into 1961 to reach a resolution for all AC electric units to be operated safely by British Railways.
<![if !vml]>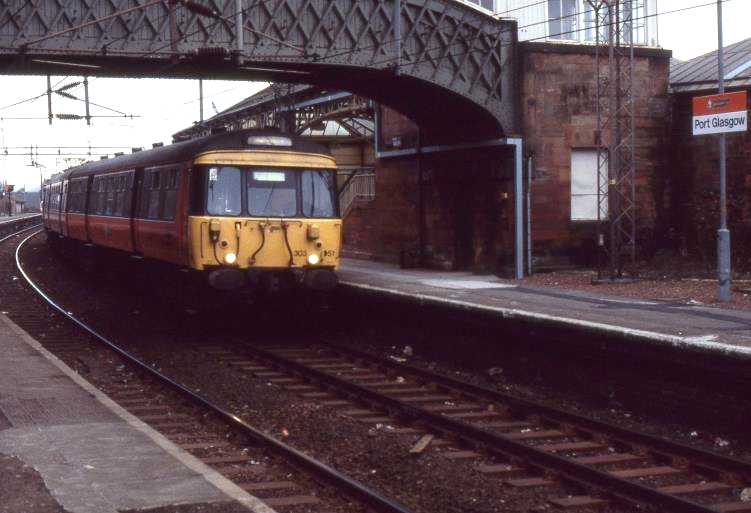 <![endif]>
In later livery, AM3 unit no.303051 at Port Glasgow on Tuesday 18th February 1986.
On 13th December 1960 this unit had sustained significant damage at Renton.
© John Atkinson
Thanks go to the late Alan Hawes, C. Watts and John Atkinson.
ALL PHOTOGRAPHS ARE COPYRIGHT
<![if !vml]>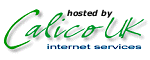 <![endif]>
Blood and Custard Blood & Custard Crimson & Cream Crimson and Cream AM3 Glasgow Blue Trains Transformer Explosions Blood and Custard Blood & Custard Crimson & Cream Crimson and Cream AM3 Glasgow Blue Trains Transformer Explosions Blood and Custard Blood & Custard Crimson & Cream Crimson and Cream AM3 Glasgow Blue Trains Transformer Explosions Blood and Custard Blood & Custard Crimson & Cream Crimson and Cream AM3 Glasgow Blue Trains Transformer Explosions Blood and Custard Blood & Custard Crimson & Cream Crimson and Cream AM3 Glasgow Blue Trains Transformer Explosions Blood and Custard Blood & Custard Crimson & Cream Crimson and Cream AM3 Glasgow Blue Trains Transformer Explosions Blood and Custard Blood & Custard Crimson & Cream Crimson and Cream AM3 Glasgow Blue Trains Transformer Explosions Blood and Custard Blood & Custard Crimson & Cream Crimson and Cream AM3 Glasgow Blue Trains Transformer Explosions Blood and Custard Blood & Custard Crimson & Cream Crimson and Cream AM3 Glasgow Blue Trains Transformer Explosions Blood and Custard Blood & Custard Crimson & Cream Crimson and Cream AM3 Glasgow Blue Trains Transformer Explosions Blood and Custard Blood & Custard Crimson & Cream Crimson and Cream AM3 Glasgow Blue Trains Transformer Explosions Blood and Custard Blood & Custard Crimson & Cream Crimson and Cream AM3 Glasgow Blue Trains Transformer Explosions Blood and Custard Blood & Custard Crimson & Cream Crimson and Cream AM3 Glasgow Blue Trains Transformer Explosions Blood and Custard Blood & Custard Crimson & Cream Crimson and Cream AM3 Glasgow Blue Trains Transformer Explosions Blood and Custard Blood & Custard Crimson & Cream Crimson and Cream AM3 Glasgow Blue Trains Transformer Explosions Blood and Custard Blood & Custard Crimson & Cream Crimson and Cream AM3 Glasgow Blue Trains Transformer Explosions Blood and Custard Blood & Custard Crimson & Cream Crimson and Cream AM3 Glasgow Blue Trains Transformer Explosions Blood and Custard Blood & Custard Crimson & Cream Crimson and Cream AM3 Glasgow Blue Trains Transformer Explosions Blood and Custard Blood & Custard Crimson & Cream Crimson and Cream AM3 Glasgow Blue Trains Transformer Explosions Blood and Custard Blood & Custard Crimson & Cream Crimson and Cream AM3 Glasgow Blue Trains Transformer Explosions Blood and Custard Blood & Custard Crimson & Cream Crimson and Cream AM3 Glasgow Blue Trains Transformer Explosions Blood and Custard Blood & Custard Crimson & Cream Crimson and Cream AM3 Glasgow Blue Trains Transformer Explosions Blood and Custard Blood & Custard Crimson & Cream Crimson and Cream AM3 Glasgow Blue Trains Transformer Explosions Blood and Custard Blood & Custard Crimson & Cream Crimson and Cream AM3 Glasgow Blue Trains Transformer Explosions Blood and Custard Blood & Custard Crimson & Cream Crimson and Cream AM3 Glasgow Blue Trains Transformer Explosions Blood and Custard Blood & Custard Crimson & Cream Crimson and Cream AM3 Glasgow Blue Trains Transformer Explosions Blood and Custard Blood & Custard Crimson & Cream Crimson and Cream AM3 Glasgow Blue Trains Transformer Explosions Blood and Custard Blood & Custard Crimson & Cream Crimson and Cream AM3 Glasgow Blue Trains Transformer Explosions Blood and Custard Blood & Custard Crimson & Cream Crimson and Cream AM3 Glasgow Blue Trains Transformer Explosions Blood and Custard Blood & Custard Crimson & Cream Crimson and Cream AM3 Glasgow Blue Trains Transformer Explosions Blood and Custard Blood & Custard Crimson & Cream Crimson and Cream AM3 Glasgow Blue Trains Transformer Explosions Blood and Custard Blood & Custard Crimson & Cream Crimson and Cream AM3 Glasgow Blue Trains Transformer Explosions Blood and Custard Blood & Custard Crimson & Cream Crimson and Cream AM3 Glasgow Blue Trains Transformer Explosions Blood and Custard Blood & Custard Crimson & Cream Crimson and Cream AM3 Glasgow Blue Trains Transformer Explosions Blood and Custard Blood & Custard Crimson & Cream Crimson and Cream AM3 Glasgow Blue Trains Transformer Explosions Blood and Custard Blood & Custard Crimson & Cream Crimson and Cream AM3 Glasgow Blue Trains Transformer Explosions Blood and Custard Blood & Custard Crimson & Cream Crimson and Cream AM3 Glasgow Blue Trains Transformer Explosions Blood and Custard Blood & Custard Crimson & Cream Crimson and Cream AM3 Glasgow Blue Trains Transformer Explosions Blood and Custard Blood & Custard Crimson & Cream Crimson and Cream AM3 Glasgow Blue Trains Transformer Explosions Blood and Custard Blood & Custard Crimson & Cream Crimson and Cream AM3 Glasgow Blue Trains Transformer Explosions Blood and Custard Blood & Custard Crimson & Cream Crimson and Cream AM3 Glasgow Blue Trains Transformer Explosions Blood and Custard Blood & Custard Crimson & Cream Crimson and Cream AM3 Glasgow Blue Trains Transformer Explosions Blood and Custard Blood & Custard Crimson & Cream Crimson and Cream AM3 Glasgow Blue Trains Transformer Explosions Blood and Custard Blood & Custard Crimson & Cream Crimson and Cream AM3 Glasgow Blue Trains Transformer Explosions Blood and Custard Blood & Custard Crimson & Cream Crimson and Cream AM3 Glasgow Blue Trains Transformer Explosions Blood and Custard Blood & Custard Crimson & Cream Crimson and Cream AM3 Glasgow Blue Trains Transformer Explosions Blood and Custard Blood & Custard Crimson & Cream Crimson and Cream AM3 Glasgow Blue Trains Transformer Explosions Blood and Custard Blood & Custard Crimson & Cream Crimson and Cream AM3 Glasgow Blue Trains Transformer Explosions Blood and Custard Blood & Custard Crimson & Cream Crimson and Cream AM3 Glasgow Blue Trains Transformer Explosions Blood and Custard Blood & Custard Crimson & Cream Crimson and Cream AM3 Glasgow Blue Trains Transformer Explosions Blood and Custard Blood & Custard Crimson & Cream Crimson and Cream AM3 Glasgow Blue Trains Transformer Explosions Blood and Custard Blood & Custard Crimson & Cream Crimson and Cream AM3 Glasgow Blue Trains Transformer Explosions Blood and Custard Blood & Custard Crimson & Cream Crimson and Cream AM3 Glasgow Blue Trains Transformer Explosions Blood and Custard Blood & Custard Crimson & Cream Crimson and Cream AM3 Glasgow Blue Trains Transformer Explosions Blood and Custard Blood & Custard Crimson & Cream Crimson and Cream AM3 Glasgow Blue Trains Transformer Explosions Blood and Custard Blood & Custard Crimson & Cream Crimson and Cream AM3 Glasgow Blue Trains Transformer Explosions Blood and Custard Blood & Custard Crimson & Cream Crimson and Cream AM3 Glasgow Blue Trains Transformer Explosions Blood and Custard Blood & Custard Crimson & Cream Crimson and Cream AM3 Glasgow Blue Trains Transformer Explosions Blood and Custard Blood & Custard Crimson & Cream Crimson and Cream AM3 Glasgow Blue Trains Transformer Explosions Blood and Custard Blood & Custard Crimson & Cream Crimson and Cream AM3 Glasgow Blue Trains Transformer Explosions Blood and Custard Blood & Custard Crimson & Cream Crimson and Cream AM3 Glasgow Blue Trains Transformer Explosions Blood and Custard Blood & Custard Crimson & Cream Crimson and Cream AM3 Glasgow Blue Trains Transformer Explosions Blood and Custard Blood & Custard Crimson & Cream Crimson and Cream AM3 Glasgow Blue Trains Transformer Explosions Blood and Custard Blood & Custard Crimson & Cream Crimson and Cream AM3 Glasgow Blue Trains Transformer Explosions Blood and Custard Blood & Custard Crimson & Cream Crimson and Cream AM3 Glasgow Blue Trains Transformer Explosions Blood and Custard Blood & Custard Crimson & Cream Crimson and Cream AM3 Glasgow Blue Trains Transformer Explosions Blood and Custard Blood & Custard Crimson & Cream Crimson and Cream AM3 Glasgow Blue Trains Transformer Explosions Blood and Custard Blood & Custard Crimson & Cream Crimson and Cream AM3 Glasgow Blue Trains Transformer Explosions Blood and Custard Blood & Custard Crimson & Cream Crimson and Cream AM3 Glasgow Blue Trains Transformer Explosions Blood and Custard Blood & Custard Crimson & Cream Crimson and Cream AM3 Glasgow Blue Trains Transformer Explosions Blood and Custard Blood & Custard Crimson & Cream Crimson and Cream AM3 Glasgow Blue Trains Transformer Explosions Blood and Custard Blood & Custard Crimson & Cream Crimson and Cream AM3 Glasgow Blue Trains Transformer Explosions Blood and Custard Blood & Custard Crimson & Cream Crimson and Cream AM3 Glasgow Blue Trains Transformer Explosions Blood and Custard Blood & Custard Crimson & Cream Crimson and Cream AM3 Glasgow Blue Trains Transformer Explosions Blood and Custard Blood & Custard Crimson & Cream Crimson and Cream AM3 Glasgow Blue Trains Transformer Explosions Blood and Custard Blood & Custard Crimson & Cream Crimson and Cream AM3 Glasgow Blue Trains Transformer Explosions Blood and Custard Blood & Custard Crimson & Cream Crimson and Cream AM3 Glasgow Blue Trains Transformer Explosions Blood and Custard Blood & Custard Crimson & Cream Crimson and Cream AM3 Glasgow Blue Trains Transformer Explosions Blood and Custard Blood & Custard Crimson & Cream Crimson and Cream AM3 Glasgow Blue Trains Transformer Explosions Blood and Custard Blood & Custard Crimson & Cream Crimson and Cream AM3 Glasgow Blue Trains Transformer Explosions Blood and Custard Blood & Custard Crimson & Cream Crimson and Cream AM3 Glasgow Blue Trains Transformer Explosions Blood and Custard Blood & Custard Crimson & Cream Crimson and Cream AM3 Glasgow Blue Trains Transformer Explosions Blood and Custard Blood & Custard Crimson & Cream Crimson and Cream AM3 Glasgow Blue Trains Transformer Explosions Blood and Custard Blood & Custard Crimson & Cream Crimson and Cream AM3 Glasgow Blue Trains Transformer Explosions Blood and Custard Blood & Custard Crimson & Cream Crimson and Cream AM3 Glasgow Blue Trains Transformer Explosions Blood and Custard Blood & Custard Crimson & Cream Crimson and Cream AM3 Glasgow Blue Trains Transformer Explosions Blood and Custard Blood & Custard Crimson & Cream Crimson and Cream AM3 Glasgow Blue Trains Transformer Explosions Blood and Custard Blood & Custard Crimson & Cream Crimson and Cream AM3 Glasgow Blue Trains Transformer Explosions Blood and Custard Blood & Custard Crimson & Cream Crimson and Cream AM3 Glasgow Blue Trains Transformer Explosions Blood and Custard Blood & Custard Crimson & Cream Crimson and Cream AM3 Glasgow Blue Trains Transformer Explosions Blood and Custard Blood & Custard Crimson & Cream Crimson and Cream AM3 Glasgow Blue Trains Transformer Explosions Blood and Custard Blood & Custard Crimson & Cream Crimson and Cream AM3 Glasgow Blue Trains Transformer Explosions Blood and Custard Blood & Custard Crimson & Cream Crimson and Cream AM3 Glasgow Blue Trains Transformer Explosions Blood and Custard Blood & Custard Crimson & Cream Crimson and Cream AM3 Glasgow Blue Trains Transformer Explosions Blood and Custard Blood & Custard Crimson & Cream Crimson and Cream AM3 Glasgow Blue Trains Transformer Explosions Blood and Custard Blood & Custard Crimson & Cream Crimson and Cream AM3 Glasgow Blue Trains Transformer Explosions Blood and Custard Blood & Custard Crimson & Cream Crimson and Cream AM3 Glasgow Blue Trains Transformer Explosions Blood and Custard Blood & Custard Crimson & Cream Crimson and Cream AM3 Glasgow Blue Trains Transformer Explosions Blood and Custard Blood & Custard Crimson & Cream Crimson and Cream AM3 Glasgow Blue Trains Transformer Explosions Blood and Custard Blood & Custard Crimson & Cream Crimson and Cream AM3 Glasgow Blue Trains Transformer Explosions Blood and Custard Blood & Custard Crimson & Cream Crimson and Cream AM3 Glasgow Blue Trains Transformer Explosions Blood and Custard Blood & Custard Crimson & Cream Crimson and Cream AM3 Glasgow Blue Trains Transformer Explosions Blood and Custard Blood & Custard Crimson & Cream Crimson and Cream AM3 Glasgow Blue Trains Transformer Explosions Blood and Custard Blood & Custard Crimson & Cream Crimson and Cream AM3 Glasgow Blue Trains Transformer Explosions Blood and Custard Blood & Custard Crimson & Cream Crimson and Cream AM3 Glasgow Blue Trains Transformer Explosions Blood and Custard Blood & Custard Crimson & Cream Crimson and Cream AM3 Glasgow Blue Trains Transformer Explosions Blood and Custard Blood & Custard Crimson & Cream Crimson and Cream AM3 Glasgow Blue Trains Transformer Explosions Blood and Custard Blood & Custard Crimson & Cream Crimson and Cream AM3 Glasgow Blue Trains Transformer Explosions Blood and Custard Blood & Custard Crimson & Cream Crimson and Cream AM3 Glasgow Blue Trains Transformer Explosions Blood and Custard Blood & Custard Crimson & Cream Crimson and Cream AM3 Glasgow Blue Trains Transformer Explosions Blood and Custard Blood & Custard Crimson & Cream Crimson and Cream AM3 Glasgow Blue Trains Transformer Explosions Blood and Custard Blood & Custard Crimson & Cream Crimson and Cream AM3 Glasgow Blue Trains Transformer Explosions Blood and Custard Blood & Custard Crimson & Cream Crimson and Cream AM3 Glasgow Blue Trains Transformer Explosions Blood and Custard Blood & Custard Crimson & Cream Crimson and Cream AM3 Glasgow Blue Trains Transformer Explosions Blood and Custard Blood & Custard Crimson & Cream Crimson and Cream AM3 Glasgow Blue Trains Transformer Explosions Blood and Custard Blood & Custard Crimson & Cream Crimson and Cream AM3 Glasgow Blue Trains Transformer Explosions Blood and Custard Blood & Custard Crimson & Cream Crimson and Cream AM3 Glasgow Blue Trains Transformer Explosions Blood and Custard Blood & Custard Crimson & Cream Crimson and Cream AM3 Glasgow Blue Trains Transformer Explosions Blood and Custard Blood & Custard Crimson & Cream Crimson and Cream AM3 Glasgow Blue Trains Transformer Explosions Blood and Custard Blood & Custard Crimson & Cream Crimson and Cream AM3 Glasgow Blue Trains Transformer Explosions Blood and Custard Blood & Custard Crimson & Cream Crimson and Cream AM3 Glasgow Blue Trains Transformer Explosions Blood and Custard Blood & Custard Crimson & Cream Crimson and Cream AM3 Glasgow Blue Trains Transformer Explosions Blood and Custard Blood & Custard Crimson & Cream Crimson and Cream AM3 Glasgow Blue Trains Transformer Explosions Blood and Custard Blood & Custard Crimson & Cream Crimson and Cream AM3 Glasgow Blue Trains Transformer Explosions Blood and Custard Blood & Custard Crimson & Cream Crimson and Cream AM3 Glasgow Blue Trains Transformer Explosions Blood and Custard Blood & Custard Crimson & Cream Crimson and Cream AM3 Glasgow Blue Trains Transformer Explosions Blood and Custard Blood & Custard Crimson & Cream Crimson and Cream AM3 Glasgow Blue Trains Transformer Explosions Blood and Custard Blood & Custard Crimson & Cream Crimson and Cream AM3 Glasgow Blue Trains Transformer Explosions Blood and Custard Blood & Custard Crimson & Cream Crimson and Cream AM3 Glasgow Blue Trains Transformer Explosions Blood and Custard Blood & Custard Crimson & Cream Crimson and Cream AM3 Glasgow Blue Trains Transformer Explosions Blood and Custard Blood & Custard Crimson & Cream Crimson and Cream AM3 Glasgow Blue Trains Transformer Explosions Blood and Custard Blood & Custard Crimson & Cream Crimson and Cream AM3 Glasgow Blue Trains Transformer Explosions Blood and Custard Blood & Custard Crimson & Cream Crimson and Cream AM3 Glasgow Blue Trains Transformer Explosions Blood and Custard Blood & Custard Crimson & Cream Crimson and Cream AM3 Glasgow Blue Trains Transformer Explosions Blood and Custard Blood & Custard Crimson & Cream Crimson and Cream AM3 Glasgow Blue Trains Transformer Explosions Blood and Custard Blood & Custard Crimson & Cream Crimson and Cream AM3 Glasgow Blue Trains Transformer Explosions Blood and Custard Blood & Custard Crimson & Cream Crimson and Cream AM3 Glasgow Blue Trains Transformer Explosions Blood and Custard Blood & Custard Crimson & Cream Crimson and Cream AM3 Glasgow Blue Trains Transformer Explosions Blood and Custard Blood & Custard Crimson & Cream Crimson and Cream AM3 Glasgow Blue Trains Transformer Explosions Blood and Custard Blood & Custard Crimson & Cream Crimson and Cream AM3 Glasgow Blue Trains Transformer Explosions Blood and Custard Blood & Custard Crimson & Cream Crimson and Cream AM3 Glasgow Blue Trains Transformer Explosions Blood and Custard Blood & Custard Crimson & Cream Crimson and Cream AM3 Glasgow Blue Trains Transformer Explosions Blood and Custard Blood & Custard Crimson & Cream Crimson and Cream AM3 Glasgow Blue Trains Transformer Explosions Blood and Custard Blood & Custard Crimson & Cream Crimson and Cream AM3 Glasgow Blue Trains Transformer Explosions Blood and Custard Blood & Custard Crimson & Cream Crimson and Cream AM3 Glasgow Blue Trains Transformer Explosions Blood and Custard Blood & Custard Crimson & Cream Crimson and Cream AM3 Glasgow Blue Trains Transformer Explosions Blood and Custard Blood & Custard Crimson & Cream Crimson and Cream AM3 Glasgow Blue Trains Transformer Explosions Blood and Custard Blood & Custard Crimson & Cream Crimson and Cream AM3 Glasgow Blue Trains Transformer Explosions Blood and Custard Blood & Custard Crimson & Cream Crimson and Cream AM3 Glasgow Blue Trains Transformer Explosions Blood and Custard Blood & Custard Crimson & Cream Crimson and Cream AM3 Glasgow Blue Trains Transformer Explosions Blood and Custard Blood & Custard Crimson & Cream Crimson and Cream AM3 Glasgow Blue Trains Transformer Explosions Blood and Custard Blood & Custard Crimson & Cream Crimson and Cream AM3 Glasgow Blue Trains Transformer Explosions Blood and Custard Blood & Custard Crimson & Cream Crimson and Cream AM3 Glasgow Blue Trains Transformer Explosions Blood and Custard Blood & Custard Crimson & Cream Crimson and Cream AM3 Glasgow Blue Trains Transformer Explosions Blood and Custard Blood & Custard Crimson & Cream Crimson and Cream AM3 Glasgow Blue Trains Transformer Explosions Blood and Custard Blood & Custard Crimson & Cream Crimson and Cream AM3 Glasgow Blue Trains Transformer Explosions Blood and Custard Blood & Custard Crimson & Cream Crimson and Cream AM3 Glasgow Blue Trains Transformer Explosions Blood and Custard Blood & Custard Crimson & Cream Crimson and Cream AM3 Glasgow Blue Trains Transformer Explosions Blood and Custard Blood & Custard Crimson & Cream Crimson and Cream AM3 Glasgow Blue Trains Transformer Explosions Blood and Custard Blood & Custard Crimson & Cream Crimson and Cream AM3 Glasgow Blue Trains Transformer Explosions Blood and Custard Blood & Custard Crimson & Cream Crimson and Cream AM3 Glasgow Blue Trains Transformer Explosions Blood and Custard Blood & Custard Crimson & Cream Crimson and Cream AM3 Glasgow Blue Trains Transformer Explosions Blood and Custard Blood & Custard Crimson & Cream Crimson and Cream AM3 Glasgow Blue Trains Transformer Explosions Blood and Custard Blood & Custard Crimson & Cream Crimson and Cream AM3 Glasgow Blue Trains Transformer Explosions Blood and Custard Blood & Custard Crimson & Cream Crimson and Cream AM3 Glasgow Blue Trains Transformer Explosions Blood and Custard Blood & Custard Crimson & Cream Crimson and Cream AM3 Glasgow Blue Trains Transformer Explosions Blood and Custard Blood & Custard Crimson & Cream Crimson and Cream AM3 Glasgow Blue Trains Transformer Explosions Blood and Custard Blood & Custard Crimson & Cream Crimson and Cream AM3 Glasgow Blue Trains Transformer Explosions Blood and Custard Blood & Custard Crimson & Cream Crimson and Cream AM3 Glasgow Blue Trains Transformer Explosions Blood and Custard Blood & Custard Crimson & Cream Crimson and Cream AM3 Glasgow Blue Trains Transformer Explosions Blood and Custard Blood & Custard Crimson & Cream Crimson and Cream AM3 Glasgow Blue Trains Transformer Explosions Blood and Custard Blood & Custard Crimson & Cream Crimson and Cream AM3 Glasgow Blue Trains Transformer Explosions Blood and Custard Blood & Custard Crimson & Cream Crimson and Cream AM3 Glasgow Blue Trains Transformer Explosions Blood and Custard Blood & Custard Crimson & Cream Crimson and Cream AM3 Glasgow Blue Trains Transformer Explosions Blood and Custard Blood & Custard Crimson & Cream Crimson and Cream AM3 Glasgow Blue Trains Transformer Explosions Blood and Custard Blood & Custard Crimson & Cream Crimson and Cream AM3 Glasgow Blue Trains Transformer Explosions Blood and Custard Blood & Custard Crimson & Cream Crimson and Cream AM3 Glasgow Blue Trains Transformer Explosions Blood and Custard Blood & Custard Crimson & Cream Crimson and Cream AM3 Glasgow Blue Trains Transformer Explosions Blood and Custard Blood & Custard Crimson & Cream Crimson and Cream AM3 Glasgow Blue Trains Transformer Explosions Blood and Custard Blood & Custard Crimson & Cream Crimson and Cream AM3 Glasgow Blue Trains Transformer Explosions Blood and Custard Blood & Custard Crimson & Cream Crimson and Cream AM3 Glasgow Blue Trains Transformer Explosions Blood and Custard Blood & Custard Crimson & Cream Crimson and Cream AM3 Glasgow Blue Trains Transformer Explosions Blood and Custard Blood & Custard Crimson & Cream Crimson and Cream AM3 Glasgow Blue Trains Transformer Explosions Blood and Custard Blood & Custard Crimson & Cream Crimson and Cream AM3 Glasgow Blue Trains Transformer Explosions Blood and Custard Blood & Custard Crimson & Cream Crimson and Cream AM3 Glasgow Blue Trains Transformer Explosions Blood and Custard Blood & Custard Crimson & Cream Crimson and Cream AM3 Glasgow Blue Trains Transformer Explosions Blood and Custard Blood & Custard Crimson & Cream Crimson and Cream AM3 Glasgow Blue Trains Transformer Explosions Blood and Custard Blood & Custard Crimson & Cream Crimson and Cream AM3 Glasgow Blue Trains Transformer Explosions Blood and Custard Blood & Custard Crimson & Cream Crimson and Cream AM3 Glasgow Blue Trains Transformer Explosions Blood and Custard Blood & Custard Crimson & Cream Crimson and Cream AM3 Glasgow Blue Trains Transformer Explosions Blood and Custard Blood & Custard Crimson & Cream Crimson and Cream AM3 Glasgow Blue Trains Transformer Explosions Blood and Custard Blood & Custard Crimson & Cream Crimson and Cream AM3 Glasgow Blue Trains Transformer Explosions Blood and Custard Blood & Custard Crimson & Cream Crimson and Cream AM3 Glasgow Blue Trains Transformer Explosions Blood and Custard Blood & Custard Crimson & Cream Crimson and Cream AM3 Glasgow Blue Trains Transformer Explosions Blood and Custard Blood & Custard Crimson & Cream Crimson and Cream AM3 Glasgow Blue Trains Transformer Explosions Blood and Custard Blood & Custard Crimson & Cream Crimson and Cream AM3 Glasgow Blue Trains Transformer Explosions Blood and Custard Blood & Custard Crimson & Cream Crimson and Cream AM3 Glasgow Blue Trains Transformer Explosions Blood and Custard Blood & Custard Crimson & Cream Crimson and Cream AM3 Glasgow Blue Trains Transformer Explosions Blood and Custard Blood & Custard Crimson & Cream Crimson and Cream AM3 Glasgow Blue Trains Transformer Explosions Blood and Custard Blood & Custard Crimson & Cream Crimson and Cream AM3 Glasgow Blue Trains Transformer Explosions Blood and Custard Blood & Custard Crimson & Cream Crimson and Cream AM3 Glasgow Blue Trains Transformer Explosions Blood and Custard Blood & Custard Crimson & Cream Crimson and Cream AM3 Glasgow Blue Trains Transformer Explosions Blood and Custard Blood & Custard Crimson & Cream Crimson and Cream AM3 Glasgow Blue Trains Transformer Explosions Blood and Custard Blood & Custard Crimson & Cream Crimson and Cream AM3 Glasgow Blue Trains Transformer Explosions Blood and Custard Blood & Custard Crimson & Cream Crimson and Cream AM3 Glasgow Blue Trains Transformer Explosions Blood and Custard Blood & Custard Crimson & Cream Crimson and Cream AM3 Glasgow Blue Trains Transformer Explosions Blood and Custard Blood & Custard Crimson & Cream Crimson and Cream AM3 Glasgow Blue Trains Transformer Explosions Blood and Custard Blood & Custard Crimson & Cream Crimson and Cream AM3 Glasgow Blue Trains Transformer Explosions Blood and Custard Blood & Custard Crimson & Cream Crimson and Cream AM3 Glasgow Blue Trains Transformer Explosions Blood and Custard Blood & Custard Crimson & Cream Crimson and Cream AM3 Glasgow Blue Trains Transformer Explosions Blood and Custard Blood & Custard Crimson & Cream Crimson and Cream AM3 Glasgow Blue Trains Transformer Explosions Blood and Custard Blood & Custard Crimson & Cream Crimson and Cream AM3 Glasgow Blue Trains Transformer Explosions Blood and Custard Blood & Custard Crimson & Cream Crimson and Cream AM3 Glasgow Blue Trains Transformer Explosions Blood and Custard Blood & Custard Crimson & Cream Crimson and Cream AM3 Glasgow Blue Trains Transformer Explosions Blood and Custard Blood & Custard Crimson & Cream Crimson and Cream AM3 Glasgow Blue Trains Transformer Explosions Blood and Custard Blood & Custard Crimson & Cream Crimson and Cream AM3 Glasgow Blue Trains Transformer Explosions Blood and Custard Blood & Custard Crimson & Cream Crimson and Cream AM3 Glasgow Blue Trains Transformer Explosions Blood and Custard Blood & Custard Crimson & Cream Crimson and Cream AM3 Glasgow Blue Trains Transformer Explosions Blood and Custard Blood & Custard Crimson & Cream Crimson and Cream AM3 Glasgow Blue Trains Transformer Explosions Blood and Custard Blood & Custard Crimson & Cream Crimson and Cream AM3 Glasgow Blue Trains Transformer Explosions Blood and Custard Blood & Custard Crimson & Cream Crimson and Cream AM3 Glasgow Blue Trains Transformer Explosions Blood and Custard Blood & Custard Crimson & Cream Crimson and Cream AM3 Glasgow Blue Trains Transformer Explosions Blood and Custard Blood & Custard Crimson & Cream Crimson and Cream AM3 Glasgow Blue Trains Transformer Explosions Blood and Custard Blood & Custard Crimson & Cream Crimson and Cream AM3 Glasgow Blue Trains Transformer Explosions Blood and Custard Blood & Custard Crimson & Cream Crimson and Cream AM3 Glasgow Blue Trains Transformer Explosions