BR British Rail Crimson & Cream Crimson and Cream Crimson Cream Blood & Custard Blood Custard Blood and Custard BR British Rail Crimson & Cream Crimson and Cream Crimson Cream Blood & Custard Blood Custard Blood and Custard BR British Rail Crimson & Cream Crimson and Cream Crimson Cream Blood & Custard Blood Custard Blood and Custard
London, Brighton & South Coast Railway
South London 'SL'
'Elevated Electric' AC stock
<![if !vml]>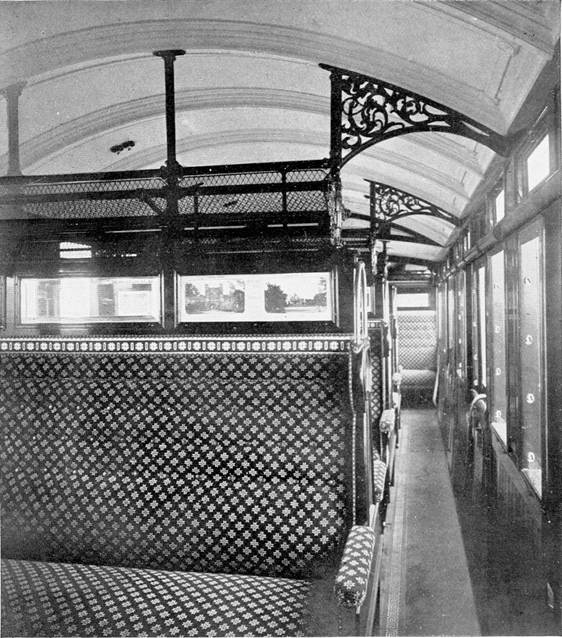 <![endif]>
Interior of a former 'AC' SL Motorcoach
Around the turn of the century, the London, Brighton & South Coast Railway (LBSCR) were concerned about falling traffic receipts in the suburban area and also wished to make economies in the costs of working their system. So, they began investigations into the feasibility of working their trains electrically. Electric operation of trains was now becoming quite practical and was indeed already in operation on a number of railways abroad and the LSWR had commenced limited electric operation in 1898 in the Waterloo & City Railway tube line.
The construction of further electrified tube railways in London and the parallel electrification of some competing tramway routes also spurred these investigations by the LBSCR and the company obtained an Act of Parliament in July 1903 to enable it to electrify parts of its system. Philip Dawson was retained as a consulting electrical engineer to investigate the most suitable system and from an early stage it was agreed that the system chosen should be suitable for use on possible future extensions of the system beyond the suburban area. Dawson took into account an earlier report to the LBSCR board presented in 1902 by the Chief Engineer which pointed out a number of disadvantages of the third rail system for the LBSCR network and presented a report to the board in July 1904 recommending the adoption of a single‑phase alternating current system at nominal 6,700 volts using overhead contact wire. The system was envisaged as suitable for the whole suburban network and with the possibility of later extensions should this be required.
Dawson was instructed to prepare plans for electrification of the lines between Battersea Park and Peckham Rye via the South London line and contracts were let in April 1905, awarded to the Allgemeine Elektricitats-Gesellschaft (AEG) of Berlin; this company sub‑contracting the overhead line work to Messrs R. W. Blackwell & Company of London, who in turn sub-contracted further with British Thomson‑Houston Co providing switchgear and Johnson & Philips also Siemens Bros providing cabling. Soon after these contracts were let, the LBSCR decided to extend the electrification scheme from Peckham Rye into London Bridge and from Battersea Park into Victoria so that the whole South London line route was covered, and further contracts were let to cover these extensions in March 1906. The rolling stock provision for the line was awarded to the Metropolitan Amalgamated Carriage & Wagon Company of Birmingham.
The Overhead
Power for the system was obtained from the London Electric Supply Corporation's generating station at Deptford and supplied at nominal 6,700 volts, 25 hertz via cables direct to a switch room at Queens Road, Peckham and a distribution room at Peckham Rye. Power was then distributed via lineside cables to switch cabins located at each station which supplied the overhead equipment. Wherever possible the current supply arrangements allowed one line to be isolated without having to isolate the adjacent track. The overhead lines were suspended at a contact height of 16' above rail level, though this was reduced under certain low bridges to 13' 9" (where there were 'Dead' sections) whilst in the vicinity of the platforms at Victoria and London Bridge the height was raised to 19' 9" to give greater clearances as staff still had to go onto carriage roofs to lamp oil lit stock or light gas lamps in some gas lit stock.
The contact wire was suspended from two catenaries; these being located one to each side and away from the centre line of the track to avoid damage to the insulators from the blast of locomotive chimneys. The catenaries were made of 12 strand galvanised steel and the droppers from these to the contact wire were formed as a stiff 'V' shape and were clipped to the contact wire by phosphor bronze clips. Droppers were spaced every 10' and held the copper contact wire off centre above the track with alternate deviations of 9" from the track centre line; this zig-zagging of the contact wire was designed to prevent the wire wearing a groove into the bow collectors of the trains.
The structures supporting the catenaries were mostly steel lattice gantries, the catenaries passing above these structures and supported on porcelain insulators, though there were some variations in the vicinity of overbridges. The overhead gantries were usually spaced about 150' apart, though some gaps were as small as 50' and the longest was 210' owing to siting difficulties.
Minimum clearance around the contact wire was specified at 3", though 4" was normally allowed, and the loading gauge height of the LBSCR was set at 13' 6" so the minimum height of the contact wire had to be set at 13' 9". As a consequence, there was a need for 'Dead' sections with the wire at this height under five overbridges on the electrified lines.
The Original South London Route
The total length of single track electrified for this initial scheme was 20½ miles, the route mileage from London Bridge to Victoria being 8 miles, 51 chains.
At London Bridge, four platforms were electrified (numbered 19 ‑ 22 in SR days) and the two outermost South London lines were equipped as far as Peckham Rye, the centre road (made reversible between South Bermondsey Jct. and London Bridge as part of the electrification scheme) remained unelectrified. From Peckham Rye to Battersea Park only the two lines used by LBSCR trains were equipped, whilst from Battersea Park into Victoria only the Local lines were electrified as the track layout did not allow South London line trains to reach the Main lines.
Platforms 9 ‑ 13 at Victoria were electrified; both the South & North sections. Precautions to cope with the current in the event of a centenary collapse included facing platform awnings with zinc at intermediate stations and ensuring they were well earthed. A depot to service the new electric trains was provided at Peckham Rye where the Denmark Hill and Tulse Hill lines diverged, and a three bay repair shop built alongside to look after the heavier maintenance on the trains.
New Electric Trains
The rolling stock provided for this electrification scheme consisted of 8 number three-coach loose coupled units formed of third-class motorcoach at each end of a first-class trailer. Second class accommodation was not provided in the electric trains. As the South London line was mostly carried on viaducts, there were few tight structural restrictions on the route and the new trains took advantage of the generous loading gauge with each vehicle being 63' 7" long and 9' 5" wide overall.
The stock was designed by Philip Dawson (for the electrical engineering aspects) and Albert Panter (the LBSCR's carriage & wagon foreman) for the bodywork design, though quite how much detail was specified by Panter is questionable as the coaches when delivered had a number of features not normally found on LBSCR carriages and may have been the result of the builder's interpretation of some general design directives.
Some consideration was given to the new trains being fitted with sliding doors, but the tender from the Metropolitan Amalgamated Carriage & Wagon Company for coaches fitted with slam doors and with internal side corridors to assist passenger circulation was the lowest and was accepted; the coaches then being constructed at Saltley. The overall width of these vehicles at 9' 5" was possibly a result of considering sliding doors with their associated door pockets and when a decision to construct them with conventional slam doors was made the overall width was not reduced as the lack of any restrictive clearances on the South London line meant that this was not a problem.
Into Service
The new electric trains consisted of a Motor Brake Third at each end sandwiching a Trailer First. The first unit was delivered in December 1908 and the first test run with the train was made on 5 January 1909 with a publicity run for Press representatives being made in the evening of 17 January between Battersea Park and East Brixton. The remaining units were delivered steadily during 1909 and public services were commenced from 1 December 1909. An earlier starting date had been planned, but there were objections from the Postmaster‑General regarding electrical interference with his cables and a number of other problems concerning the equipment which required modifications, along with waiting for sufficient units to be delivered from the builders.
The new train service provided a frequency of four trains per hour from 7:30am until midnight (earlier trains on the line from 4:30am until 7:30am were still steam operated to allow time for maintenance of the overhead equipment). On Sundays trains ran at half hourly intervals from 7:15am until 11:15pm, though there was a two-hour gap during the morning. The electric trains completed the journey in 24 minutes, a reduction of one third on the steam timings of 36 minutes. Each train made the round trip once per hour, requiring four trains to maintain the timetable with two spare and two undergoing maintenance.
Reformation of Trains
Initial results of the electrification were very good, with passenger levels rising from about 4 million journeys in 1908 to 7½ million in 1910. The new service was promoted by the LBSCR as the 'Overhead Electrics' with a range of special tickets and was well rewarded by the increase in passenger numbers. However, it was quickly found that the new trains had far too much provision of first class seating, insufficient third class accommodation and were too generous for the slack hour traffic but provided insufficient overall accommodation during the peak periods.
Therefore from 1910 the Trailer First coaches began to be withdrawn and replaced by a Driving Trailer Composite; the units then being reformed as two-car trains with one Motor Brake Third coupled to a Driving Trailer Composite. These driving trailers were converted from former bogie-block suburban coaches and were both shorter and narrower than the motorcoaches, presenting an odd‑looking appearance as two coach units.
The first two-coach train ran in October 1910, and all the units had been reformed as two-coaches by June 1912. As three-car sets the units had been maintained in fixed formations and allocated the unit numbers 1E to 8E. However, after reforming as two-car trains fixed unit formations were abandoned, indeed only 14 Driving Trailer Composites were converted to run with the 16 Motor Brake Thirds.
From 1912 the whole train service was operated electrically, the basic pattern established in 1909 with ¼ hourly trains on weekdays and ½ hourly on Sundays being maintained. Trains were now variously formed of two, four or six coaches depending on the traffic levels, though some trains had been formed with two units when they were still in three car form. The displaced Trailer Firsts were stored until 1913 when they were converted at Lancing Works into steam-hauled vehicles for use on the Brighton line.
Wartime
The service suffered some cuts during the 1914-18 war and both South Bermondsey and Old Kent Road stations were closed from January 1917, South Bermondsey subsequently reopening in May 1919. However, Old Kent Road was never reopened and the station demolished in April 1925. East Brixton station also closed on Sundays from this time and did not have Sunday services restored until July 1925. The two-car South London units continued to work the route for the remainder of the existence of the LBSCR and remained working on this line in the early SR years until displaced in June 1928 when the line was converted to DC operation. The coaches (with one exception) were all renumbered by the SR into a new series during body overhauls at Lancing Works. They were also repainted into SR green livery at this time now having the coach numbers placed much higher on the bodysides and the class designation of the compartments now shown by a figure lower on the door panels.
Withdrawal of AC units
After displacement by DC trains the withdrawn SL units were stripped of their AC equipment at Peckham Rye and the Driving Trailers were further converted (both at Ashford (11) and Eastleigh (3)) their bodies being remounted onto 62' 0" underframes and new cabs built on, seven of these frames being lengthened former 'AC' stock frames from ex. CP and CW vehicles, whilst seven were new.
The fourteen displaced 48' frames were not suitable for lengthening and were scrapped. All became Motor Brake Thirds for further new DC units nos.1717 ‑ 1727 and 1737 ‑ 1739 required for the electrification of the Central Section lines. The Motor Brake Third coaches were also converted to DC operation, half of them becoming Motor Brake Thirds, the other half becoming Driving Trailer Brake Composites; these vehicles then being paired as 8 two-car units and again returned to operate on the South London line once more as 2SL units nos.1901 ‑ 1908.
'SL' Rolling Stock
The coaches built for the South London line electric units were built to maximise the use of the generous loading gauge on this line with each vehicle being 60' 0" long of bodywork (63' 7" over buffers) and 9' 0" wide (9' 5" overall over commode handles). All vehicles were mounted onto steel underframes, these had quite deep strengthening girders between the bogies giving these units (and other subsequent 'AC' design units) a distinctive appearance.
The South London line units in their original form were 190' 9" long, weighed 138 tons and seated 56 first and 132 third.
Bogie centres were at 41' 0" and all bogies were of 8' 0" wheelbase with pressed steel frames, wheel diameter was 3' 7½". Bodies were of wooden framed construction with aluminium sheeting used for bodysides, roofs and ends; this being specified as part of the precautions to deal with stray current in event of breakage of the overhead equipment and parts coming into contact with the train.
Each seating compartment had a door on both sides, doors having the usual droplight within them and having a ¼ light window on each side. Above each ¼ light window a further much smaller rectangular window was provided, these could be partly opened by hinging outwards from one end. A fluted air ventilator with the vent along the bottom edge was provided above each door droplight whilst there were other similar ones in the luggage van doors, above the Driver's droplight and one in the bodyside between the luggage doors and the first passenger ¼ light.
The roof above the Driver's cab and Guard's Compartment was flattened down to allow space for the bow collectors to be mounted on it, the roof then rose to a normal profile above the first passenger compartment. Transverse wooden slats were fitted to the roofs above each passenger doorway, again to give added protection in the event of any broken overhead equipment coming into contact with the train.
Two lines of panel beading ran along the waist of the coaches, panel corners being square and the coaches were finished in umber brown livery on the lower panels with cream upper panels (specified as ivory white) above. Panels were picked-out with gold lining whilst the class of compartment was also indicated in words in gold lettering on each door in the space between the lines of panel beading. Also in this panel space the word 'Guard' appeared on one of the luggage van doors whilst the coach number appeared twice, once in the space between the luggage doors and the first passenger door, and again between the sixth & seventh passenger doors, and the legend LB&SCR also appeared twice, between the second/third and fourth/fifth passenger doors.
Underframes and coach ends (including cab ends) were black and coach roofs were white. Internally these coaches were well appointed. Each passenger compartment had access to a side corridor; this was an 'open' corridor in that there was no partition or sliding door dividing the corridor from the compartment. Transverse partitions were not full height, only extending above the seating as far as the tops of the advertisement panels up to the level of the top of the ¼ light windows. Above the top of these transverse partitions was fitted a double wire mesh luggage rack, the larger upper part for luggage and parcels whilst the smaller lower part was for umbrellas etc, these racks at their gangway ends having ornate ironwork brackets joining them to the roof and to bodysides along the corridor. The inner roofs had quite complex lincrusta mouldings and each compartment had two carbon filament lamps.
First-class compartment dimensions were 6' 6" partition‑to‑partition width whilst thirds were 6' 0". The original upholstery in first-class was blue with a red/black pattern used in third-class. Pull down blinds were provided above each ¼ light and door droplight window. There was a swing door in each vehicle across the corridor dividing the smoking and non-smoking sections of the passenger area, in the motor coaches this door divided the coach into two groups of four compartments whilst in the trailer it was split five & four. However, there was no provision in the stock for any carriage heating.
As a further precaution against stray currents, the floors of the coaches were built as a double floor with slag wool over Uralite insulating material with aluminium sheeting being earthed to the underframe. Very early in the lives of the units, droplight windows had two window bars fitted horizontally across them to prevent passengers leaning out, presumably this was the result of some tight clearances being identified somewhere on the route with such wide coach bodies.
Motor Brake Thirds
The Motor Brake Third coaches built for the South London line consisted of a luggage van space at the cab end of the coach, the Driver's cubicle being located in the nearside corner of this area and was about half the width of the cab front. The cab front was fairly plain, being basically flat, though there was some panel beading running vertically down the front dividing the frontal area into six. Two large observation windows were provided high up on the cab front, which on the nearside for use of the driver, the other giving onto the brake van being available for use of the Guard.
An air operated whistle was mounted on the nearside of the driver's window and below this window a horizontal bar was mounted, this could be rotated along its length from within the cab and either exhibited a white disc with a white light below as a head indication, or when rotated the disc covered the light which now showed a red light through the disc which had 'LV' (Last Vehicle) stencilled on it to provide a tail indication. A windscreen wiper was fitted to the driver's observation window and at buffer beam level there were three air hose connections, one being the 'train pipe' air braking connection adjacent to the 'main reservoir' connection, whilst the other, close to the draw hook was a connection for the air system used to raise and lower the current collecting bows.
Conventional side buffers and a central draw hook were provided to enable the unit to be coupled to another, or to an assisting locomotive. Near the end of the bodywork each side was a droplight window for use of the Driver and behind were a pair of double outward opening doors, one each side for use of the Guard and for loading of parcel and luggage etc.
The cab and luggage van were about 14' 6" long. A full width partition divided this luggage area from the passenger compartments. These were unusual in layout, there being 8 compartments; each served by a side door each side. A side corridor ran from end to end of the coach, this starting on the offside at the brake van end and running along the first five compartments where it changed sides and then ran along the nearside of the last three compartments. Below the underframe items of equipment were located; from the cab end these being the bow air reservoir, reversing switch, contactors, resistances, air compressor, main air reservoir, main transformer and exciter transformer.
On the flattened roof section above the cab/brakevan was located the bow collectors. There were two of these, one laying in each direction as they could only operate in the 'trailing' direction, the relevant one therefore being raised depending on direction of travel. At terminals, or where trains otherwise changed direction, the second bow would be raised before the first was lowered. Bows were raised/lowered by air pressure, there was a hand operated pump in each train which could be used to raise one of the bows after the train had been berthed 'off power'. All the ancillary equipment on the roof was live when the bows were raised and was surrounded by a protective wire mesh basket, these being fitted shortly after the trains were introduced, as some evidence exists of the early test runs running without these being in place.
The bows were 5' 2" wide and had two aluminium collector strips 3' 7¼" wide bearing onto the contact wire. A groove between these strips was filled with a mixture of Vaseline and black lead to give a measure of lubrication, these being found sufficient to allow trains to run approximately 5000 - 6000 miles (about 4 - 5 weeks) without renewal. When new, a further aluminium trailing collector, sprung loaded against the contact wire was fitted, trailing along behind the bow, but these were found unnecessary and soon removed.
Each motor coach was fitted with four 115hp single phase AC motors, one driving each axle. These were supplied by AEG to a design patented by Winter-Eichberg and were the most powerful available at that time. The motors were compensated repulsion motors and required an exciter transformer working in proportion to the main transformer voltage (this being varied by the position of the driver's controller) to operate. The motors drove the wheels with a gear ratio of 25 (pinion)/83 (gearwheel), each motor coach having two 220kw main transformers (one for each pair of motors) which turned the power supply into traction supply at a maximum of 750v. The transformers supplied current in incremental steps depending on the driver's control setting with an initial voltage of 450v and other settings at 580v, 640v and 750v. A further transformer supplied power at 300v DC for other items of equipment, the control equipment, Westinghouse brake compressors and the carriage lighting. Various items of HT equipment were mounted in a cupboard below the offside cab window, when the doors of this cupboard were opened, the air supply to the bow was cut off causing these to be lowered and the equipment connected to earth.
Within the unit, a main reservoir pipe ran along the train charged to 110 lb per sq in by the compressors, the train pipe also ran the length of the train regulated to 70 lb per sq in, whilst there was a further pipe for the bow air system giving three flexible connections between coaches within unit. Inboard of the buffers at cab ends were sockets to allow loose jumpers to be connected to allow coupling in multiple to another unit.
These coaches weighed 54 tons and were to Diagram number 280. They seated 66 (five aside in the full width seats at each end of the passenger area, and four aside in the remaining seats alongside the side corridor), though the seating capacity was later revised upwards as each seat was then regarded as seating one extra passenger, the new capacity now being 82, this alteration probably taking place when the units were reformed as two coach trains.
Trailer Firsts
The Trailer First in each unit consisted of 9 compartments each 6' 6" wide. Once again, the side corridor changed sides, this time in the centremost compartment. The seats were divided by armrests, the full width seats at each end seating four aside whilst those with the side corridor alongside seated three aside giving an overall capacity of 56. Jumper cables from the motor coaches supplied power at 300v for the coach lighting and transmitted the control currents between the two motor coaches. These vehicles were to Diagram number ??? and weighed 30 tons.
Reformations
From October 1910 the units began to be reformed as two-coach trains using a newly converted Driving Trailer Composite coupled to one of the original motor coaches. These driving trailers were converted from 7-compartment Brake Thirds formerly used at the ends of seven coach bogie suburban block trains built variously at either Brighton Works or by the Birmingham Railway Carriage & Wagon Co. between 1898 and 1901.
These coaches were built on steel underframes and were 48' long over bodywork and 8' 0" wide (8' 9" over the Guard's duckets). They had Fox's pressed-steel bogies of 8' 0" wheelbase with bogie centres at 32' 0" and were electrically lit from new. As they were marshalled at the end of the sets, they had conventional buffers at the brake van end and a centre buffer/block arrangement at the other end. They were also fitted with air brakes. Each of the compartments was 5' 2.5/8" wide and the brakevan was 10' 4½" long and the overall weight was 19 tons 18cwt (those fitted with dynamos weighed 20 tons) and were to Diagram number 158.
Conversion to Electric Stock
Conversion to electric working took place at Lancing Works, six being done during 1910, with a further four each in 1911 and 1912. This conversion work involved removing the brake van and adjacent third compartment and replacing them with two first class compartments 6' 0" between partitions. A new cab (approx. 3' 7" deep) was provided at the end of the coach, this having a standard door with droplight each side but no other side window. The cab end had a similar layout to that of the original motor coaches with two large observation lights and a similar horizontal spindle rod arrangement for the head and tail lights, though this did not extend right across the cab front, only running about halfway from the nearside (the arrangement on the original motor coaches was altered to be similar at about this time).
Identical air connections and jumper sockets were fitted at solebar level to enable these new cabs to be run intermediately within a train. Other alterations involved fitting conventional buffing gear at the non-cab end replacing the former centre buffer /block arrangement, and cables to carry the 300v DC current for the coach lighting and control circuits.
As converted, these coaches were now to Diagram number 281 and weighed 20 tons 8cwt and were 51' 7" long over buffers. They now had two first and six third-class compartments and seated 16 first and 60 third. These coaches were outshopped in all‑over umber brown livery and the motor coaches therefore had their cream areas painted umber to match. Being narrower than the motor coaches, the driving trailers did not have any bars fitted over the door droplights. They also had underframes without the distinctive heavy side girders found on the original South London vehicles.
Overall capacity of the two car South London units was therefore now altered to 16 first and 142 second and they now weighed 74 tons 8cwt and were 115' 2" long overall. Most off-peak trains were now formed of one of these units, whilst peak hour trains used three, though a few trains were formed of four coaches using two of them. From the time of reforming, any sort of permanent unit formations was abandoned, vehicles being coupled in pairs as required as motor coaches were out of traffic more frequently for maintenance than the driving trailers.
Restrictions
Owing to their dimensions, the 'SL' stock was tightly route restricted, only being permitted to run on its original route. Following further extensions of the overhead electrification, they were permitted to run empty from Peckham Rye to Selhurst Depot via Tulse Hill and Streatham. However, they were not permitted to pass through either Crystal Palace or Leigham Tunnels. Special arrangements were made from time to time for the stock to be hauled to Lancing Works for body overhauls and repainting. All other routine maintenance and heavier mechanical work on the running gear, motors etc was all carried out at their own depot at Peckham Rye.
Headcodes
With the extension of AC electrification to Coulsdon /Sutton in April 1925 a system of headcodes was introduced by the Southern Railway and the South London units were modified with a headcode plate (showing SL) fitted between the observation windows on the cab end. Above these was a slanting metal hood which covered lamps to provide illumination of the headcode at night.
Displaced Trailer Thirds
The displaced original Trailer Firsts were stored following their removal from the electric units and during 1913 were taken to Lancing Works. Here they were converted for steam operation involving the fitting of steam heating and alteration of the lighting system to operate from dynamos and batteries.
The major alteration involved the conversion of the centremost compartment into two lavatories (side by side) so that now the side corridors in each half of the coach (still on opposite sides in each half) now led into these lavatories via a swing door.
Overall, these coaches now seated 50 first and were now to Diagram number 65. They were then used on London - Brighton/Worthing main line services (there were a number of restrictions placed on them owing to their size). They were renumbered into the loco-hauled series as 167 ‑ 174 and were later renumbered by the SR as 7644 ‑ 7651 in 1927/8 as they passed through Lancing Works for overhaul.
They remained in use in this form until 1930 when all were withdrawn and again sent to Lancing for further conversion, this time more extensively rebuilt as DC electric vehicles, four of them becoming Motor Brake Composites whilst the other four became Driving Trailer Brake Thirds, these vehicles then being paired to form four two-coach units for the Wimbledon ‑ West Croydon line numbered 1909 ‑ 1912.
Original formations of South London three-coach units
UNIT

New

MBT

TF

MBT

1E

Dec-08

3201

3202

3203

2E

Apr-09

3204

3205

3206

3E

c.Jun-09

3207

3208

3209

4E

c.Jun-09

3210

3211

3212

5E

c.Jun-09

3213

3214

3215

6E

c.Jun-09

3216

3217

3218

7E

c.Dec-09

3219

3220

3221

8E

Dec-09

3222

3223

3224

The 'new' dates are official dates; it is probable that units were actually delivered more evenly spaced.
Motor Brake Thirds
LBSCR Diagram No. 280, SR Diagram No 677.
| | | | | | | | |
| --- | --- | --- | --- | --- | --- | --- | --- |
| Coach No. | New date | SR No. | Renumbered | Rebuilt date | New DC date | Unit No. | Type No |
| 3201 | Dec-08 | 8601 | Feb-25 | May-29 | 9751 | 1901 | DTBC |
| 3203 | Dec-08 | 8602 | Sep-24 | Apr-29 | 9752 | 1902 | DTBC |
| 3204 | Apr-09 | - | - | Apr-29 | 9758 | 1908 | DTBC |
| 3206 | Apr-09 | 8604 | Apr-24 | May-29 | 8723 | 1901 | MBT |
| 3207 | c.Jun-09 | 8605 | Dec-25 | Apr-29 | 9753 | 1903 | DTBC |
| 3209 | c.Jun-09 | 8606 | Aug-27 | Apr-29 | 8724 | 1902 | MBT |
| 3210 | c.Jun-09 | 8607 | Oct-25 | Apr-29 | 9754 | 1904 | DTBC |
| 3212 | c.Jun-09 | 8608 | Jun-25 | Apr-29 | 8725 | 1903 | MBT |
| 3213 | c.Jun-09 | 8609 | Mar-26 | May-29 | 9755 | 1905 | DTBC |
| 3215 | c.Jun-09 | 8610 | Jun-26 | Apr-29 | 8726 | 1904 | MBT |
| 3216 | c.Jun-09 | 8611 | Jan-27 | May-29 | 9756 | 1906 | DTBC |
| 3218 | c.Jun-09 | 8612 | Nov-24 | May-29 | 9757 | 1907 | DTBC |
| 3219 | c.Dec-09 | 8613 | Jan-24 | May-29 | 8727 | 1905 | MBT |
| 3221 | c.Dec-09 | 8614 | May-27 | May-29 | 8728 | 1906 | MBT |
| 3222 | Dec-09 | 8615 | Apr-25 | May-29 | 8729 | 1907 | MBT |
| 3224 | Dec-09 | 8616 | Jul-24 | Apr-29 | 8730 | 1908 | MBT |
Trailer Firsts
LBSCR Diagram No. ??? (later 65 when converted to loco-hauled), SR Diagram No 524.
All rebuilt in June 1930 for DC use
| | | | | | | | |
| --- | --- | --- | --- | --- | --- | --- | --- |
| Coach No. | New date | 2nd LBSCR No. | SR No. | Renumbered | New DC date | Unit No. | Type No |
| 3202 | Dec-08 | 167 | 7644 | Nov-27 | 9819 | 1910 | MBC |
| 3205 | Apr-09 | 168 | 7645 | Mar-28 | 9951 | 1909 | DTBT |
| 3208 | c.Jun-09 | 169 | 7646 | Jun-27 | 9952 | 1910 | DTBT |
| 3211 | c.Jun-09 | 170 | 7647 | Feb-28 | 9821 | 1912 | MBC |
| 3214 | c.Jun-09 | 171 | 7648 | Jul-27 | 9953 | 1911 | DTBT |
| 3217 | c.Jun-09 | 172 | 7649 | Nov-27 | 9820 | 1911 | MBC |
| 3220 | c.Dec-09 | 173 | 7650 | Feb-28 | 9954 | 1912 | DTBT |
| 3223 | Dec-09 | 174 | 7651 | Aug-27 | 9818 | 1909 | MBC |
Driving Trailer Composites
LBSCR Diagram No 281, SR Diagram No. 790.
| | | | | | | | |
| --- | --- | --- | --- | --- | --- | --- | --- |
| Coach No. | Conv. date | SR No. | Renumbered | Rebuilt | Rebuilding Works | New No. | DC Unit No |
| 3225 | Jun-10 | 9811 | Dec-25 | Jan-29 | Ashford | 8686 | 1717 |
| 3226 | Jun-10 | 9812 | May-24 | Jun-29 | Ashford | 8696 | 1727 |
| 3227 | Jun-10 | 9813 | Oct-25 | Jun-29 | Ashford | 8695 | 1726 |
| 3228 | Jun-10 | 9814 | May-27 | Feb-29 | Ashford | 8691 | 1722 |
| 3229 | Jun-10 | 9815 | Jan-27 | May-29 | Ashford | 8694 | 1725 |
| 3230 | Jun-10 | 9816 | Jul-24 | Feb-29 | Ashford | 8688 | 1719 |
| 4057 | Jun-11 | 9817 | Aug-27 | Jun-29 | Eastleigh | 8706 | 1737 |
| 4058 | Jun-11 | 9818 | Oct-24 | Jun-29 | Eastleigh | 8707 | 1738 |
| 4059 | Jun-11 | 9819 | Jan-24 | Jun-29 | Eastleigh | 8708 | 1739 |
| 4060 | Jun-11 | 9820 | Mar-25 | Feb-29 | Ashford | 8689 | 1720 |
| 4065 | Jun-12 | 9821 | Dec-24 | Feb-29 | Ashford | 8690 | 1721 |
| 4066 | Jun-12 | 9822 | May-25 | Feb-29 | Ashford | 8692 | 1723 |
| 4067 | Dec-12 | 9823 | Mar-26 | May-29 | Ashford | 8693 | 1724 |
| 4068 | Dec-12 | 9824 | Jul-26 | Jan-29 | Ashford | 8687 | 1718 |
Origins of the Brake Thirds converted into Driving Trailer Composites at Lancing in 1910 /1911 & 1912 are known and shown below:
| | | | | |
| --- | --- | --- | --- | --- |
| Original No. | Built | New date | AC No. | Conv. date |
| 594 | Brighton | Dec-00 | 3225 | Jun-10 |
| 1236 | Brighton | 1897 | 3226 | Jun-10 |
| 1240 | Brighton | 1897 | 3227 | Jun-10 |
| 1270 | Brighton | Jun-99 | 3228 | Jun-10 |
| 1271 | Brighton | Jun-99 | 3229 | Jun-10 |
| 1284 | BRC&W | Dec-00 | 3230 | Jun-10 |
| 1268 | Brighton | Dec-98 | 4057 | Jun-11 |
| 1320 | Brighton | Jun-00 | 4058 | Jun-11 |
| 710 | Brighton | Jun-01 | 4059 | Jun-11 |
| 718 | Brighton | Jun-01 | 4060 | Jun-11 |
| 708 | Brighton | Dec-00 | 4065 | Jun-12 |
| 1321 | Brighton | Jun-00 | 4066 | Jun-12 |
| 1302 | BRC&W | Jun-01 | 4067 | Dec-12 |
| 1303 | BRC&W | Jun-01 | 4068 | Dec-12 |
Thanks go to research author John Atkinson, webpage author, editorial and additional information from C.Watts along with the many photographers listed below their images.
ALL TEXT AND PHOTOGRAPHS ARE COPYRIGHT
<![if !vml]>
<![endif]>