BR British Rail Crimson & Cream Crimson and Cream Crimson Cream Blood & Custard Blood Custard Blood and Custard BR British Rail Crimson & Cream Crimson and Cream Crimson Cream Blood & Custard Blood Custard Blood and Custard BR British Rail Crimson & Cream Crimson and Cream Crimson Cream Blood & Custard Blood Custard Blood and Custard
British Rail's Southern Region
Orange Vee & Inverted Black Triangle
2 & 3-car multiple-units
<![if !vml]>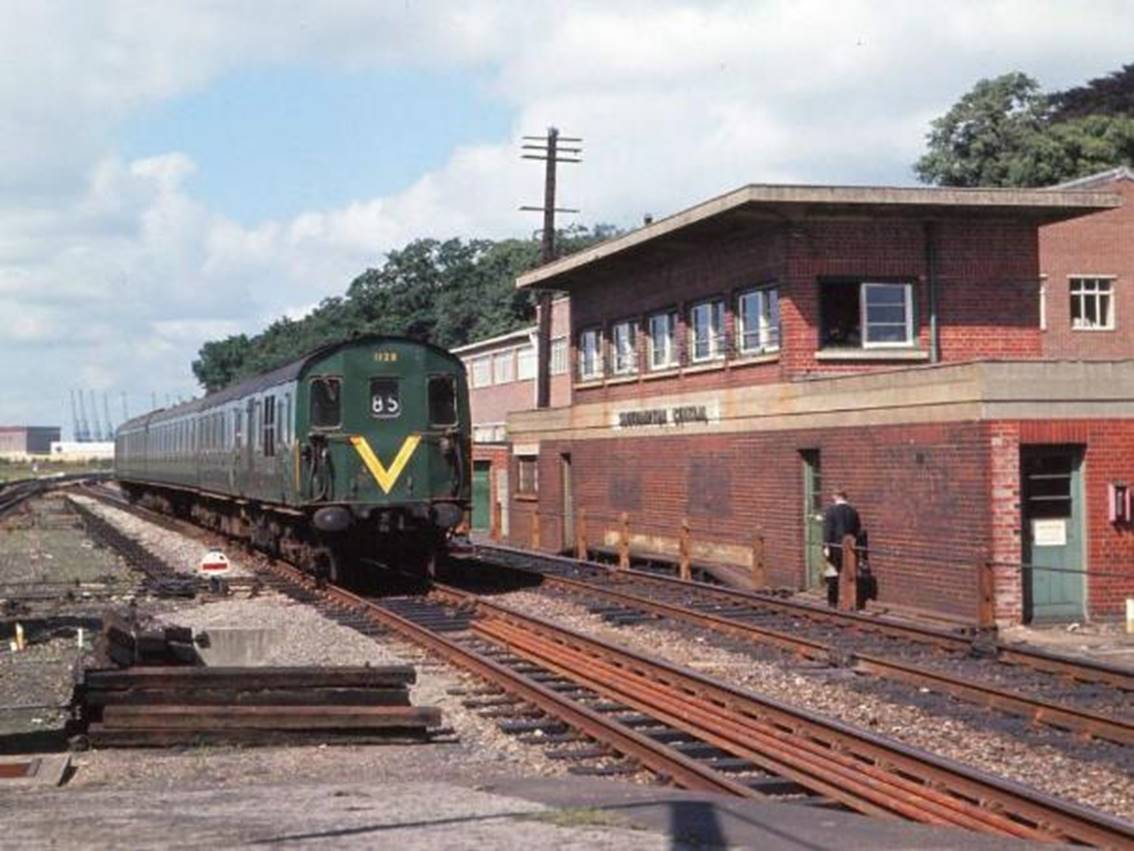 <![endif]>
7th August 1965 and sporting an 'Orange-Vee'
3H no. 1128 passes Southampton Central signal box
© BloodandCustard
Orange Vee (Orange V)
During 1960 the Hampshire diesel units started to have a large luminous Orange 'Vee' painted on the cab ends, unit 1102 being the first done. These only ever adorned the 2/3-car Hampshire /Hastings diesel units with one unit reported sporting an orange Vee into 1967. Certainly the following units were still carrying them (albeit fading to yellow) as follows - units 1113 & 1116 October 1965, unit 1114 October 1966, unit 1118 November 1966
The imperative for the Orange 'Vee' is believed to come from mail pick-ups at Winchester City following the introduction of 2H /3H units on the Alton to Southampton services. These units only had a small brake van at one end (the motor coach) whereas the steam hauled carriage sets had large brake vans at each end of the set with the guard riding in the rear.
Postal staff would traditionally be waiting to load /unload mail at the rear of the train, but with a 2H/3H unit the only brake van might arrive at the front of the unit. As a consequence, this could cause service delays as postal staff had to move along the platform to the front of the train.
Accordingly, on an approaching train the Orange 'Vee' would provide an early indication to staff that there was
NO BRAKE VAN AT THE OTHER END OF THE UNIT
The orange Vee (or inverted black triangle) did NOT indicate the motor coach!
As this problem did not exist on the Central Division the 3D 'East Sussex' units (latterly referred to as 'Oxted' units) were not equipped with an Orange 'Vee'.
<![if !vml]>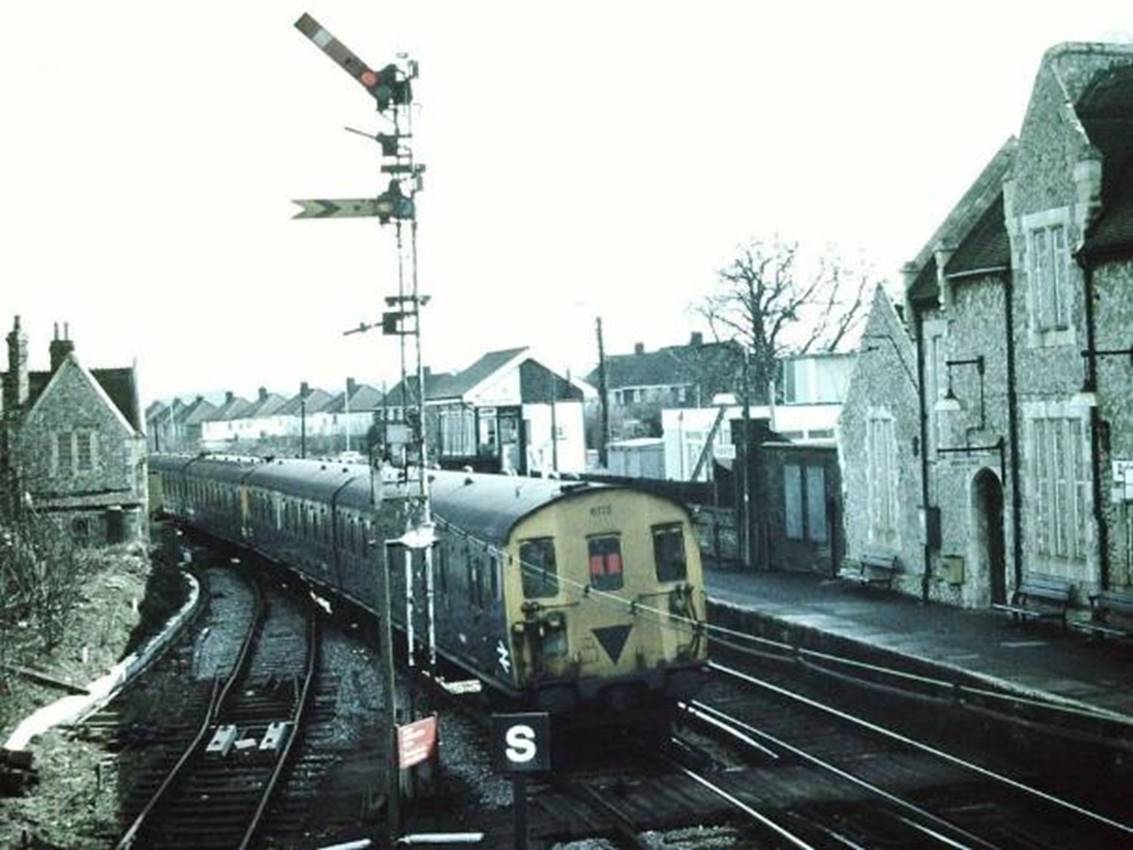 <![endif]>
With an inverted black triangle on its motor coach
2 HAP no. 6133 leaves Aylesford station in Kent
© BloodandCustard
Inverted Black Triangle
With the introduction of small warning panels (trialled on BR(S) in 1962) the first 2 EPB units started received theirs in late 1963 with 1964 seeing a great rush to equip most units; some yellow warning panels were even hastily applied in sidings. A decision was made to replace the orange Vee with a black inverted triangle and that this useful indicator to staff should become standard for all 2 and 3-car demu /emu stock on the BR(S).
The inverted triangle appeared to cause some confusion on the Tadpole units as there was a "postal area" in the DTS; most mail was carried here and not with the guard in the motor coach. As a consequence some motor coaches ran for a period (in blue livery) without the inverted black triangle (an example being 1202 in September 1968 and 1205 in 1971).
However, the "postal areas" in a Tadpole unit's DTS were generally only used at the mail centres (such as Redhill) where the timetable allowed for the loading of mail. At intermediate stations the guard would have had to walk the length of the train (and back again) to access the DTS leading to additional dwell time and by now the inverted black triangle provided a useful indicator to staff (and passengers in the know) for the loading of other items such as perambulators.
ALL PHOTOGRAPHS ARE COPYRIGHT
<![if !vml]>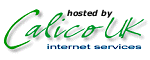 <![endif]>
Orange V Orange Vee Black Triangle DEMU Orange V Orange Vee Black Triangle DEMUOrange V Orange Vee Black Triangle DEMUOrange V Orange Vee Black Triangle DEMUOrange V Orange Vee Black Triangle DEMUOrange V Orange Vee Black Triangle DEMUOrange V Orange Vee Black Triangle DEMUOrange V Orange Vee Black Triangle DEMUOrange V Orange Vee Black Triangle DEMUOrange V Orange Vee Black Triangle DEMUOrange V Orange Vee Black Triangle DEMUOrange V Orange Vee Black Triangle DEMUOrange V Orange Vee Black Triangle DEMUOrange V Orange Vee Black Triangle DEMUOrange V Orange Vee Black Triangle DEMUOrange V Orange Vee Black Triangle DEMUOrange V Orange Vee Black Triangle DEMUOrange V Orange Vee Black Triangle DEMUOrange V Orange Vee Black Triangle DEMUOrange V Orange Vee Black Triangle DEMUOrange V Orange Vee Black Triangle DEMUOrange V Orange Vee Black Triangle DEMUOrange V Orange Vee Black Triangle DEMUOrange V Orange Vee Black Triangle DEMUOrange V Orange Vee Black Triangle DEMUOrange V Orange Vee Black Triangle DEMUOrange V Orange Vee Black Triangle DEMUOrange V Orange Vee Black Triangle DEMUOrange V Orange Vee Black Triangle DEMUOrange V Orange Vee Black Triangle DEMUOrange V Orange Vee Black Triangle DEMUOrange V Orange Vee Black Triangle DEMUOrange V Orange Vee Black Triangle DEMUOrange V Orange Vee Black Triangle DEMUOrange V Orange Vee Black Triangle DEMUOrange V Orange Vee Black Triangle DEMUOrange V Orange Vee Black Triangle DEMUOrange V Orange Vee Black Triangle DEMUOrange V Orange Vee Black Triangle DEMUOrange V Orange Vee Black Triangle DEMUOrange V Orange Vee Black Triangle DEMUOrange V Orange Vee Black Triangle DEMUOrange V Orange Vee Black Triangle DEMUOrange V Orange Vee Black Triangle DEMUOrange V Orange Vee Black Triangle DEMUOrange V Orange Vee Black Triangle DEMUOrange V Orange Vee Black Triangle DEMUOrange V Orange Vee Black Triangle DEMUOrange V Orange Vee Black Triangle DEMUOrange V Orange Vee Black Triangle DEMUOrange V Orange Vee Black Triangle DEMUOrange V Orange Vee Black Triangle DEMUOrange V Orange Vee Black Triangle DEMUOrange V Orange Vee Black Triangle DEMUOrange V Orange Vee Black Triangle DEMUOrange V Orange Vee Black Triangle DEMUOrange V Orange Vee Black Triangle DEMUOrange V Orange Vee Black Triangle DEMUOrange V Orange Vee Black Triangle DEMUOrange V Orange Vee Black Triangle DEMUOrange V Orange Vee Black Triangle DEMUOrange V Orange Vee Black Triangle DEMUOrange V Orange Vee Black Triangle DEMUOrange V Orange Vee Black Triangle DEMUOrange V Orange Vee Black Triangle DEMUOrange V Orange Vee Black Triangle DEMUOrange V Orange Vee Black Triangle DEMUOrange V Orange Vee Black Triangle DEMUOrange V Orange Vee Black Triangle DEMUOrange V Orange Vee Black Triangle DEMUOrange V Orange Vee Black Triangle DEMUOrange V Orange Vee Black Triangle DEMUOrange V Orange Vee Black Triangle DEMUOrange V Orange Vee Black Triangle DEMUOrange V Orange Vee Black Triangle DEMUOrange V Orange Vee Black Triangle DEMUOrange V Orange Vee Black Triangle DEMUOrange V Orange Vee Black Triangle DEMUOrange V Orange Vee Black Triangle DEMUOrange V Orange Vee Black Triangle DEMUOrange V Orange Vee Black Triangle DEMUOrange V Orange Vee Black Triangle DEMUOrange V Orange Vee Black Triangle DEMUOrange V Orange Vee Black Triangle DEMUOrange V Orange Vee Black Triangle DEMUOrange V Orange Vee Black Triangle DEMU Orange V Orange Vee Black Triangle DEMU Orange V Orange Vee Black Triangle DEMUOrange V Orange Vee Black Triangle DEMUOrange V Orange Vee Black Triangle DEMUOrange V Orange Vee Black Triangle DEMUOrange V Orange Vee Black Triangle DEMUOrange V Orange Vee Black Triangle DEMUOrange V Orange Vee Black Triangle DEMUOrange V Orange Vee Black Triangle DEMUOrange V Orange Vee Black Triangle DEMUOrange V Orange Vee Black Triangle DEMUOrange V Orange Vee Black Triangle DEMUOrange V Orange Vee Black Triangle DEMUOrange V Orange Vee Black Triangle DEMUOrange V Orange Vee Black Triangle DEMUOrange V Orange Vee Black Triangle DEMUOrange V Orange Vee Black Triangle DEMUOrange V Orange Vee Black Triangle DEMUOrange V Orange Vee Black Triangle DEMUOrange V Orange Vee Black Triangle DEMUOrange V Orange Vee Black Triangle DEMUOrange V Orange Vee Black Triangle DEMUOrange V Orange Vee Black Triangle DEMUOrange V Orange Vee Black Triangle DEMUOrange V Orange Vee Black Triangle DEMUOrange V Orange Vee Black Triangle DEMUOrange V Orange Vee Black Triangle DEMUOrange V Orange Vee Black Triangle DEMUOrange V Orange Vee Black Triangle DEMUOrange V Orange Vee Black Triangle DEMUOrange V Orange Vee Black Triangle DEMUOrange V Orange Vee Black Triangle DEMUOrange V Orange Vee Black Triangle DEMUOrange V Orange Vee Black Triangle DEMUOrange V Orange Vee Black Triangle DEMUOrange V Orange Vee Black Triangle DEMUOrange V Orange Vee Black Triangle DEMUOrange V Orange Vee Black Triangle DEMUOrange V Orange Vee Black Triangle DEMUOrange V Orange Vee Black Triangle DEMUOrange V Orange Vee Black Triangle DEMUOrange V Orange Vee Black Triangle DEMUOrange V Orange Vee Black Triangle DEMUOrange V Orange Vee Black Triangle DEMUOrange V Orange Vee Black Triangle DEMUOrange V Orange Vee Black Triangle DEMUOrange V Orange Vee Black Triangle DEMUOrange V Orange Vee Black Triangle DEMUOrange V Orange Vee Black Triangle DEMUOrange V Orange Vee Black Triangle DEMUOrange V Orange Vee Black Triangle DEMUOrange V Orange Vee Black Triangle DEMUOrange V Orange Vee Black Triangle DEMUOrange V Orange Vee Black Triangle DEMUOrange V Orange Vee Black Triangle DEMUOrange V Orange Vee Black Triangle DEMUOrange V Orange Vee Black Triangle DEMUOrange V Orange Vee Black Triangle DEMUOrange V Orange Vee Black Triangle DEMUOrange V Orange Vee Black Triangle DEMUOrange V Orange Vee Black Triangle DEMUOrange V Orange Vee Black Triangle DEMUOrange V Orange Vee Black Triangle DEMUOrange V Orange Vee Black Triangle DEMUOrange V Orange Vee Black Triangle DEMUOrange V Orange Vee Black Triangle DEMUOrange V Orange Vee Black Triangle DEMUOrange V Orange Vee Black Triangle DEMUOrange V Orange Vee Black Triangle DEMUOrange V Orange Vee Black Triangle DEMUOrange V Orange Vee Black Triangle DEMUOrange V Orange Vee Black Triangle DEMUOrange V Orange Vee Black Triangle DEMUOrange V Orange Vee Black Triangle DEMUOrange V Orange Vee Black Triangle DEMUOrange V Orange Vee Black Triangle DEMUOrange V Orange Vee Black Triangle DEMUOrange V Orange Vee Black Triangle DEMUOrange V Orange Vee Black Triangle DEMUOrange V Orange Vee Black Triangle DEMUOrange V Orange Vee Black Triangle DEMUOrange V Orange Vee Black Triangle DEMUOrange V Orange Vee Black Triangle DEMUOrange V Orange Vee Black Triangle DEMUOrange V Orange Vee Black Triangle DEMUOrange V Orange Vee Black Triangle DEMU Orange V Orange Vee Black Triangle DEMU Orange V Orange Vee Black Triangle DEMUOrange V Orange Vee Black Triangle DEMUOrange V Orange Vee Black Triangle DEMUOrange V Orange Vee Black Triangle DEMUOrange V Orange Vee Black Triangle DEMUOrange V Orange Vee Black Triangle DEMUOrange V Orange Vee Black Triangle DEMUOrange V Orange Vee Black Triangle DEMUOrange V Orange Vee Black Triangle DEMUOrange V Orange Vee Black Triangle DEMUOrange V Orange Vee Black Triangle DEMUOrange V Orange Vee Black Triangle DEMUOrange V Orange Vee Black Triangle DEMUOrange V Orange Vee Black Triangle DEMUOrange V Orange Vee Black Triangle DEMUOrange V Orange Vee Black Triangle DEMUOrange V Orange Vee Black Triangle DEMUOrange V Orange Vee Black Triangle DEMUOrange V Orange Vee Black Triangle DEMUOrange V Orange Vee Black Triangle DEMUOrange V Orange Vee Black Triangle DEMUOrange V Orange Vee Black Triangle DEMUOrange V Orange Vee Black Triangle DEMUOrange V Orange Vee Black Triangle DEMUOrange V Orange Vee Black Triangle DEMUOrange V Orange Vee Black Triangle DEMUOrange V Orange Vee Black Triangle DEMUOrange V Orange Vee Black Triangle DEMUOrange V Orange Vee Black Triangle DEMUOrange V Orange Vee Black Triangle DEMUOrange V Orange Vee Black Triangle DEMUOrange V Orange Vee Black Triangle DEMUOrange V Orange Vee Black Triangle DEMUOrange V Orange Vee Black Triangle DEMUOrange V Orange Vee Black Triangle DEMUOrange V Orange Vee Black Triangle DEMUOrange V Orange Vee Black Triangle DEMUOrange V Orange Vee Black Triangle DEMUOrange V Orange Vee Black Triangle DEMUOrange V Orange Vee Black Triangle DEMUOrange V Orange Vee Black Triangle DEMUOrange V Orange Vee Black Triangle DEMUOrange V Orange Vee Black Triangle DEMUOrange V Orange Vee Black Triangle DEMUOrange V Orange Vee Black Triangle DEMUOrange V Orange Vee Black Triangle DEMUOrange V Orange Vee Black Triangle DEMUOrange V Orange Vee Black Triangle DEMUOrange V Orange Vee Black Triangle DEMUOrange V Orange Vee Black Triangle DEMUOrange V Orange Vee Black Triangle DEMUOrange V Orange Vee Black Triangle DEMUOrange V Orange Vee Black Triangle DEMUOrange V Orange Vee Black Triangle DEMUOrange V Orange Vee Black Triangle DEMUOrange V Orange Vee Black Triangle DEMUOrange V Orange Vee Black Triangle DEMUOrange V Orange Vee Black Triangle DEMUOrange V Orange Vee Black Triangle DEMUOrange V Orange Vee Black Triangle DEMUOrange V Orange Vee Black Triangle DEMUOrange V Orange Vee Black Triangle DEMUOrange V Orange Vee Black Triangle DEMUOrange V Orange Vee Black Triangle DEMUOrange V Orange Vee Black Triangle DEMUOrange V Orange Vee Black Triangle DEMUOrange V Orange Vee Black Triangle DEMUOrange V Orange Vee Black Triangle DEMUOrange V Orange Vee Black Triangle DEMUOrange V Orange Vee Black Triangle DEMUOrange V Orange Vee Black Triangle DEMUOrange V Orange Vee Black Triangle DEMUOrange V Orange Vee Black Triangle DEMUOrange V Orange Vee Black Triangle DEMUOrange V Orange Vee Black Triangle DEMUOrange V Orange Vee Black Triangle DEMUOrange V Orange Vee Black Triangle DEMUOrange V Orange Vee Black Triangle DEMUOrange V Orange Vee Black Triangle DEMUOrange V Orange Vee Black Triangle DEMUOrange V Orange Vee Black Triangle DEMUOrange V Orange Vee Black Triangle DEMUOrange V Orange Vee Black Triangle DEMUOrange V Orange Vee Black Triangle DEMUOrange V Orange Vee Black Triangle DEMU Orange V Orange Vee Black Triangle DEMU Orange V Orange Vee Black Triangle DEMUOrange V Orange Vee Black Triangle DEMUOrange V Orange Vee Black Triangle DEMUOrange V Orange Vee Black Triangle DEMUOrange V Orange Vee Black Triangle DEMUOrange V Orange Vee Black Triangle DEMUOrange V Orange Vee Black Triangle DEMUOrange V Orange Vee Black Triangle DEMUOrange V Orange Vee Black Triangle DEMUOrange V Orange Vee Black Triangle DEMUOrange V Orange Vee Black Triangle DEMUOrange V Orange Vee Black Triangle DEMUOrange V Orange Vee Black Triangle DEMUOrange V Orange Vee Black Triangle DEMUOrange V Orange Vee Black Triangle DEMUOrange V Orange Vee Black Triangle DEMUOrange V Orange Vee Black Triangle DEMUOrange V Orange Vee Black Triangle DEMUOrange V Orange Vee Black Triangle DEMUOrange V Orange Vee Black Triangle DEMUOrange V Orange Vee Black Triangle DEMUOrange V Orange Vee Black Triangle DEMUOrange V Orange Vee Black Triangle DEMUOrange V Orange Vee Black Triangle DEMUOrange V Orange Vee Black Triangle DEMUOrange V Orange Vee Black Triangle DEMUOrange V Orange Vee Black Triangle DEMUOrange V Orange Vee Black Triangle DEMUOrange V Orange Vee Black Triangle DEMUOrange V Orange Vee Black Triangle DEMUOrange V Orange Vee Black Triangle DEMUOrange V Orange Vee Black Triangle DEMUOrange V Orange Vee Black Triangle DEMUOrange V Orange Vee Black Triangle DEMUOrange V Orange Vee Black Triangle DEMUOrange V Orange Vee Black Triangle DEMUOrange V Orange Vee Black Triangle DEMUOrange V Orange Vee Black Triangle DEMUOrange V Orange Vee Black Triangle DEMUOrange V Orange Vee Black Triangle DEMUOrange V Orange Vee Black Triangle DEMUOrange V Orange Vee Black Triangle DEMUOrange V Orange Vee Black Triangle DEMUOrange V Orange Vee Black Triangle DEMUOrange V Orange Vee Black Triangle DEMUOrange V Orange Vee Black Triangle DEMUOrange V Orange Vee Black Triangle DEMUOrange V Orange Vee Black Triangle DEMUOrange V Orange Vee Black Triangle DEMUOrange V Orange Vee Black Triangle DEMUOrange V Orange Vee Black Triangle DEMUOrange V Orange Vee Black Triangle DEMUOrange V Orange Vee Black Triangle DEMUOrange V Orange Vee Black Triangle DEMUOrange V Orange Vee Black Triangle DEMUOrange V Orange Vee Black Triangle DEMUOrange V Orange Vee Black Triangle DEMUOrange V Orange Vee Black Triangle DEMUOrange V Orange Vee Black Triangle DEMUOrange V Orange Vee Black Triangle DEMUOrange V Orange Vee Black Triangle DEMUOrange V Orange Vee Black Triangle DEMUOrange V Orange Vee Black Triangle DEMUOrange V Orange Vee Black Triangle DEMUOrange V Orange Vee Black Triangle DEMUOrange V Orange Vee Black Triangle DEMUOrange V Orange Vee Black Triangle DEMUOrange V Orange Vee Black Triangle DEMUOrange V Orange Vee Black Triangle DEMUOrange V Orange Vee Black Triangle DEMUOrange V Orange Vee Black Triangle DEMUOrange V Orange Vee Black Triangle DEMUOrange V Orange Vee Black Triangle DEMUOrange V Orange Vee Black Triangle DEMUOrange V Orange Vee Black Triangle DEMUOrange V Orange Vee Black Triangle DEMUOrange V Orange Vee Black Triangle DEMUOrange V Orange Vee Black Triangle DEMUOrange V Orange Vee Black Triangle DEMUOrange V Orange Vee Black Triangle DEMUOrange V Orange Vee Black Triangle DEMUOrange V Orange Vee Black Triangle DEMUOrange V Orange Vee Black Triangle DEMUOrange V Orange Vee Black Triangle DEMUOrange V Orange Vee Black Triangle DEMU Orange V Orange Vee Black Triangle DEMU Orange V Orange Vee Black Triangle DEMUOrange V Orange Vee Black Triangle DEMUOrange V Orange Vee Black Triangle DEMUOrange V Orange Vee Black Triangle DEMUOrange V Orange Vee Black Triangle DEMUOrange V Orange Vee Black Triangle DEMUOrange V Orange Vee Black Triangle DEMUOrange V Orange Vee Black Triangle DEMUOrange V Orange Vee Black Triangle DEMUOrange V Orange Vee Black Triangle DEMUOrange V Orange Vee Black Triangle DEMUOrange V Orange Vee Black Triangle DEMUOrange V Orange Vee Black Triangle DEMUOrange V Orange Vee Black Triangle DEMUOrange V Orange Vee Black Triangle DEMUOrange V Orange Vee Black Triangle DEMUOrange V Orange Vee Black Triangle DEMUOrange V Orange Vee Black Triangle DEMUOrange V Orange Vee Black Triangle DEMUOrange V Orange Vee Black Triangle DEMUOrange V Orange Vee Black Triangle DEMUOrange V Orange Vee Black Triangle DEMUOrange V Orange Vee Black Triangle DEMUOrange V Orange Vee Black Triangle DEMUOrange V Orange Vee Black Triangle DEMUOrange V Orange Vee Black Triangle DEMUOrange V Orange Vee Black Triangle DEMUOrange V Orange Vee Black Triangle DEMUOrange V Orange Vee Black Triangle DEMUOrange V Orange Vee Black Triangle DEMUOrange V Orange Vee Black Triangle DEMUOrange V Orange Vee Black Triangle DEMUOrange V Orange Vee Black Triangle DEMUOrange V Orange Vee Black Triangle DEMUOrange V Orange Vee Black Triangle DEMUOrange V Orange Vee Black Triangle DEMUOrange V Orange Vee Black Triangle DEMUOrange V Orange Vee Black Triangle DEMUOrange V Orange Vee Black Triangle DEMUOrange V Orange Vee Black Triangle DEMUOrange V Orange Vee Black Triangle DEMUOrange V Orange Vee Black Triangle DEMUOrange V Orange Vee Black Triangle DEMUOrange V Orange Vee Black Triangle DEMUOrange V Orange Vee Black Triangle DEMUOrange V Orange Vee Black Triangle DEMUOrange V Orange Vee Black Triangle DEMUOrange V Orange Vee Black Triangle DEMUOrange V Orange Vee Black Triangle DEMUOrange V Orange Vee Black Triangle DEMUOrange V Orange Vee Black Triangle DEMUOrange V Orange Vee Black Triangle DEMUOrange V Orange Vee Black Triangle DEMUOrange V Orange Vee Black Triangle DEMUOrange V Orange Vee Black Triangle DEMUOrange V Orange Vee Black Triangle DEMUOrange V Orange Vee Black Triangle DEMUOrange V Orange Vee Black Triangle DEMUOrange V Orange Vee Black Triangle DEMUOrange V Orange Vee Black Triangle DEMUOrange V Orange Vee Black Triangle DEMUOrange V Orange Vee Black Triangle DEMUOrange V Orange Vee Black Triangle DEMUOrange V Orange Vee Black Triangle DEMUOrange V Orange Vee Black Triangle DEMUOrange V Orange Vee Black Triangle DEMUOrange V Orange Vee Black Triangle DEMUOrange V Orange Vee Black Triangle DEMUOrange V Orange Vee Black Triangle DEMUOrange V Orange Vee Black Triangle DEMUOrange V Orange Vee Black Triangle DEMUOrange V Orange Vee Black Triangle DEMUOrange V Orange Vee Black Triangle DEMUOrange V Orange Vee Black Triangle DEMUOrange V Orange Vee Black Triangle DEMUOrange V Orange Vee Black Triangle DEMUOrange V Orange Vee Black Triangle DEMUOrange V Orange Vee Black Triangle DEMUOrange V Orange Vee Black Triangle DEMUOrange V Orange Vee Black Triangle DEMUOrange V Orange Vee Black Triangle DEMUOrange V Orange Vee Black Triangle DEMUOrange V Orange Vee Black Triangle DEMUOrange V Orange Vee Black Triangle DEMUOrange V Orange Vee Black Triangle DEMU Orange V Orange Vee Black Triangle DEMU Orange V Orange Vee Black Triangle DEMUOrange V Orange Vee Black Triangle DEMUOrange V Orange Vee Black Triangle DEMUOrange V Orange Vee Black Triangle DEMUOrange V Orange Vee Black Triangle DEMUOrange V Orange Vee Black Triangle DEMUOrange V Orange Vee Black Triangle DEMUOrange V Orange Vee Black Triangle DEMUOrange V Orange Vee Black Triangle DEMUOrange V Orange Vee Black Triangle DEMUOrange V Orange Vee Black Triangle DEMUOrange V Orange Vee Black Triangle DEMUOrange V Orange Vee Black Triangle DEMUOrange V Orange Vee Black Triangle DEMUOrange V Orange Vee Black Triangle DEMUOrange V Orange Vee Black Triangle DEMUOrange V Orange Vee Black Triangle DEMUOrange V Orange Vee Black Triangle DEMUOrange V Orange Vee Black Triangle DEMUOrange V Orange Vee Black Triangle DEMUOrange V Orange Vee Black Triangle DEMUOrange V Orange Vee Black Triangle DEMUOrange V Orange Vee Black Triangle DEMUOrange V Orange Vee Black Triangle DEMUOrange V Orange Vee Black Triangle DEMUOrange V Orange Vee Black Triangle DEMUOrange V Orange Vee Black Triangle DEMUOrange V Orange Vee Black Triangle DEMUOrange V Orange Vee Black Triangle DEMUOrange V Orange Vee Black Triangle DEMUOrange V Orange Vee Black Triangle DEMUOrange V Orange Vee Black Triangle DEMUOrange V Orange Vee Black Triangle DEMUOrange V Orange Vee Black Triangle DEMUOrange V Orange Vee Black Triangle DEMUOrange V Orange Vee Black Triangle DEMUOrange V Orange Vee Black Triangle DEMUOrange V Orange Vee Black Triangle DEMUOrange V Orange Vee Black Triangle DEMUOrange V Orange Vee Black Triangle DEMUOrange V Orange Vee Black Triangle DEMUOrange V Orange Vee Black Triangle DEMUOrange V Orange Vee Black Triangle DEMUOrange V Orange Vee Black Triangle DEMUOrange V Orange Vee Black Triangle DEMUOrange V Orange Vee Black Triangle DEMUOrange V Orange Vee Black Triangle DEMUOrange V Orange Vee Black Triangle DEMUOrange V Orange Vee Black Triangle DEMUOrange V Orange Vee Black Triangle DEMUOrange V Orange Vee Black Triangle DEMUOrange V Orange Vee Black Triangle DEMUOrange V Orange Vee Black Triangle DEMUOrange V Orange Vee Black Triangle DEMUOrange V Orange Vee Black Triangle DEMUOrange V Orange Vee Black Triangle DEMUOrange V Orange Vee Black Triangle DEMUOrange V Orange Vee Black Triangle DEMUOrange V Orange Vee Black Triangle DEMUOrange V Orange Vee Black Triangle DEMUOrange V Orange Vee Black Triangle DEMUOrange V Orange Vee Black Triangle DEMUOrange V Orange Vee Black Triangle DEMUOrange V Orange Vee Black Triangle DEMUOrange V Orange Vee Black Triangle DEMUOrange V Orange Vee Black Triangle DEMUOrange V Orange Vee Black Triangle DEMUOrange V Orange Vee Black Triangle DEMUOrange V Orange Vee Black Triangle DEMUOrange V Orange Vee Black Triangle DEMUOrange V Orange Vee Black Triangle DEMUOrange V Orange Vee Black Triangle DEMUOrange V Orange Vee Black Triangle DEMUOrange V Orange Vee Black Triangle DEMUOrange V Orange Vee Black Triangle DEMUOrange V Orange Vee Black Triangle DEMUOrange V Orange Vee Black Triangle DEMUOrange V Orange Vee Black Triangle DEMUOrange V Orange Vee Black Triangle DEMUOrange V Orange Vee Black Triangle DEMU Orange V Orange Vee Black Triangle DEMUOrange V Orange Vee Black Triangle DEMUOrange V Orange Vee Black Triangle DEMU Orange V Orange Vee Black Triangle DEMUOrange V Orange Vee Black Triangle DEMU Orange V Orange Vee Black Triangle DEMU Orange V Orange Vee Black Triangle DEMUOrange V Orange Vee Black Triangle DEMUOrange V Orange Vee Black Triangle DEMUOrange V Orange Vee Black Triangle DEMUOrange V Orange Vee Black Triangle DEMUOrange V Orange Vee Black Triangle DEMUOrange V Orange Vee Black Triangle DEMUOrange V Orange Vee Black Triangle DEMUOrange V Orange Vee Black Triangle DEMUOrange V Orange Vee Black Triangle DEMUOrange V Orange Vee Black Triangle  DEMUOrange V Orange Vee Black Triangle DEMUOrange V Orange Vee Black Triangle DEMUOrange V Orange Vee Black Triangle DEMUOrange V Orange Vee Black Triangle DEMUOrange V Orange Vee Black Triangle DEMUOrange V Orange Vee Black Triangle DEMUOrange V Orange Vee Black Triangle DEMUOrange V Orange Vee Black Triangle DEMUOrange V Orange Vee Black Triangle DEMUOrange V Orange Vee Black Triangle DEMUOrange V Orange Vee Black Triangle DEMUOrange V Orange Vee Black Triangle DEMUOrange V Orange Vee Black Triangle DEMUOrange V Orange Vee Black Triangle DEMUOrange V Orange Vee Black Triangle DEMUOrange V Orange Vee Black Triangle DEMUOrange V Orange Vee Black Triangle DEMUOrange V Orange Vee Black Triangle DEMUOrange V Orange Vee Black Triangle DEMUOrange V Orange Vee Black Triangle DEMUOrange V Orange Vee Black Triangle DEMUOrange V Orange Vee Black Triangle DEMUOrange V Orange Vee Black Triangle DEMUOrange V Orange Vee Black Triangle DEMUOrange V Orange Vee Black Triangle DEMUOrange V Orange Vee Black Triangle DEMUOrange V Orange Vee Black Triangle DEMUOrange V Orange Vee Black Triangle DEMUOrange V Orange Vee Black Triangle DEMUOrange V Orange Vee Black Triangle DEMUOrange V Orange Vee Black Triangle DEMUOrange V Orange Vee Black Triangle DEMUOrange V Orange Vee Black Triangle DEMUOrange V Orange Vee Black Triangle DEMUOrange V Orange Vee Black Triangle DEMUOrange V Orange Vee Black Triangle DEMUOrange V Orange Vee Black Triangle DEMUOrange V Orange Vee Black Triangle DEMUOrange V Orange Vee Black Triangle DEMUOrange V Orange Vee Black Triangle DEMUOrange V Orange Vee Black Triangle DEMUOrange V Orange Vee Black Triangle DEMUOrange V Orange Vee Black Triangle DEMUOrange V Orange Vee Black Triangle DEMUOrange V Orange Vee Black Triangle DEMUOrange V Orange Vee Black Triangle DEMUOrange V Orange Vee Black Triangle DEMUOrange V Orange Vee Black Triangle DEMUOrange V Orange Vee Black Triangle DEMUOrange V Orange Vee Black Triangle DEMUOrange V Orange Vee Black Triangle DEMUOrange V Orange Vee Black Triangle DEMUOrange V Orange Vee Black Triangle DEMUOrange V Orange Vee Black Triangle DEMUOrange V Orange Vee Black Triangle DEMUOrange V Orange Vee Black Triangle DEMUOrange V Orange Vee Black Triangle DEMUOrange V Orange Vee Black Triangle DEMUOrange V Orange Vee Black Triangle DEMUOrange V Orange Vee Black Triangle DEMUOrange V Orange Vee Black Triangle DEMUOrange V Orange Vee Black Triangle DEMUOrange V Orange Vee Black Triangle DEMUOrange V Orange Vee Black Triangle DEMUOrange V Orange Vee Black Triangle DEMUOrange V Orange Vee Black Triangle DEMUOrange V Orange Vee Black Triangle DEMUOrange V Orange Vee Black Triangle DEMUOrange V Orange Vee Black Triangle DEMUOrange V Orange Vee Black Triangle DEMUOrange V Orange Vee Black Triangle DEMUOrange V Orange Vee Black Triangle DEMUOrange V Orange Vee Black Triangle DEMUOrange V Orange Vee Black Triangle DEMU Orange V Orange Vee Black Triangle DEMU Orange V Orange Vee Black Triangle DEMUOrange V Orange Vee Black Triangle DEMUOrange V Orange Vee Black Triangle DEMUOrange V Orange Vee Black Triangle DEMUOrange V Orange Vee Black Triangle DEMUOrange V Orange Vee Black Triangle DEMUOrange V Orange Vee Black Triangle DEMUOrange V Orange Vee Black Triangle DEMUOrange V Orange Vee Black Triangle DEMUOrange V Orange Vee Black Triangle DEMUOrange V Orange Vee Black Triangle DEMUOrange V Orange Vee Black Triangle DEMUOrange V Orange Vee Black Triangle DEMUOrange V Orange Vee Black Triangle DEMUOrange V Orange Vee Black Triangle DEMUOrange V Orange Vee Black Triangle DEMUOrange V Orange Vee Black Triangle DEMUOrange V Orange Vee Black Triangle DEMUOrange V Orange Vee Black Triangle DEMUOrange V Orange Vee Black Triangle DEMUOrange V Orange Vee Black Triangle DEMUOrange V Orange Vee Black Triangle DEMUOrange V Orange Vee Black Triangle DEMUOrange V Orange Vee Black Triangle DEMUOrange V Orange Vee Black Triangle DEMUOrange V Orange Vee Black Triangle DEMUOrange V Orange Vee Black Triangle DEMUOrange V Orange Vee Black Triangle DEMUOrange V Orange Vee Black Triangle DEMUOrange V Orange Vee Black Triangle DEMUOrange V Orange Vee Black Triangle DEMUOrange V Orange Vee Black Triangle DEMUOrange V Orange Vee Black Triangle DEMUOrange V Orange Vee Black Triangle DEMUOrange V Orange Vee Black Triangle DEMUOrange V Orange Vee Black Triangle DEMUOrange V Orange Vee Black Triangle DEMUOrange V Orange Vee Black Triangle DEMUOrange V Orange Vee Black Triangle DEMUOrange V Orange Vee Black Triangle DEMUOrange V Orange Vee Black Triangle DEMUOrange V Orange Vee Black Triangle DEMUOrange V Orange Vee Black Triangle DEMUOrange V Orange Vee Black Triangle DEMUOrange V Orange Vee Black Triangle DEMUOrange V Orange Vee Black Triangle DEMUOrange V Orange Vee Black Triangle DEMUOrange V Orange Vee Black Triangle DEMUOrange V Orange Vee Black Triangle DEMUOrange V Orange Vee Black Triangle DEMUOrange V Orange Vee Black Triangle DEMUOrange V Orange Vee Black Triangle DEMUOrange V Orange Vee Black Triangle DEMUOrange V Orange Vee Black Triangle DEMUOrange V Orange Vee Black Triangle DEMUOrange V Orange Vee Black Triangle DEMUOrange V Orange Vee Black Triangle DEMUOrange V Orange Vee Black Triangle DEMUOrange V Orange Vee Black Triangle DEMUOrange V Orange Vee Black Triangle DEMUOrange V Orange Vee Black Triangle DEMUOrange V Orange Vee Black Triangle DEMUOrange V Orange Vee Black Triangle DEMUOrange V Orange Vee Black Triangle DEMUOrange V Orange Vee Black Triangle DEMUOrange V Orange Vee Black Triangle DEMUOrange V Orange Vee Black Triangle DEMUOrange V Orange Vee Black Triangle DEMUOrange V Orange Vee Black Triangle DEMUOrange V Orange Vee Black Triangle DEMUOrange V Orange Vee Black Triangle DEMUOrange V Orange Vee Black Triangle DEMUOrange V Orange Vee Black Triangle DEMUOrange V Orange Vee Black Triangle DEMUOrange V Orange Vee Black Triangle DEMUOrange V Orange Vee Black Triangle DEMUOrange V Orange Vee Black Triangle DEMUOrange V Orange Vee Black Triangle DEMUOrange V Orange Vee Black Triangle DEMUOrange V Orange Vee Black Triangle DEMUOrange V Orange Vee Black Triangle DEMUOrange V Orange Vee Black Triangle DEMUOrange V Orange Vee Black Triangle DEMUOrange V Orange Vee Black Triangle DEMUOrange V Orange Vee Black Triangle DEMU Orange V Orange Vee Black Triangle DEMU Orange V Orange Vee Black Triangle DEMUOrange V Orange Vee Black Triangle DEMUOrange V Orange Vee Black Triangle DEMUOrange V Orange Vee Black Triangle DEMUOrange V Orange Vee Black Triangle DEMUOrange V Orange Vee Black Triangle DEMUOrange V Orange Vee Black Triangle DEMUOrange V Orange Vee Black Triangle DEMUOrange V Orange Vee Black Triangle DEMUOrange V Orange Vee Black Triangle DEMUOrange V Orange Vee Black Triangle DEMUOrange V Orange Vee Black Triangle DEMUOrange V Orange Vee Black Triangle DEMUOrange V Orange Vee Black Triangle DEMUOrange V Orange Vee Black Triangle DEMUOrange V Orange Vee Black Triangle DEMUOrange V Orange Vee Black Triangle DEMUOrange V Orange Vee Black Triangle DEMUOrange V Orange Vee Black Triangle DEMUOrange V Orange Vee Black Triangle DEMUOrange V Orange Vee Black Triangle DEMUOrange V Orange Vee Black Triangle DEMUOrange V Orange Vee Black Triangle DEMUOrange V Orange Vee Black Triangle DEMUOrange V Orange Vee Black Triangle DEMUOrange V Orange Vee Black Triangle DEMUOrange V Orange Vee Black Triangle DEMUOrange V Orange Vee Black Triangle DEMUOrange V Orange Vee Black Triangle DEMUOrange V Orange Vee Black Triangle DEMUOrange V Orange Vee Black Triangle DEMUOrange V Orange Vee Black Triangle DEMUOrange V Orange Vee Black Triangle DEMUOrange V Orange Vee Black Triangle DEMUOrange V Orange Vee Black Triangle DEMUOrange V Orange Vee Black Triangle DEMUOrange V Orange Vee Black Triangle DEMUOrange V Orange Vee Black Triangle DEMUOrange V Orange Vee Black Triangle DEMUOrange V Orange Vee Black Triangle DEMUOrange V Orange Vee Black Triangle DEMUOrange V Orange Vee Black Triangle DEMUOrange V Orange Vee Black Triangle DEMUOrange V Orange Vee Black Triangle DEMUOrange V Orange Vee Black Triangle DEMUOrange V Orange Vee Black Triangle DEMUOrange V Orange Vee Black Triangle DEMUOrange V Orange Vee Black Triangle DEMUOrange V Orange Vee Black Triangle DEMUOrange V Orange Vee Black Triangle DEMUOrange V Orange Vee Black Triangle DEMUOrange V Orange Vee Black Triangle DEMUOrange V Orange Vee Black Triangle DEMUOrange V Orange Vee Black Triangle DEMUOrange V Orange Vee Black Triangle DEMUOrange V Orange Vee Black Triangle DEMUOrange V Orange Vee Black Triangle DEMUOrange V Orange Vee Black Triangle DEMUOrange V Orange Vee Black Triangle DEMUOrange V Orange Vee Black Triangle DEMUOrange V Orange Vee Black Triangle DEMUOrange V Orange Vee Black Triangle DEMUOrange V Orange Vee Black Triangle DEMUOrange V Orange Vee Black Triangle DEMUOrange V Orange Vee Black Triangle DEMUOrange V Orange Vee Black Triangle DEMUOrange V Orange Vee Black Triangle DEMUOrange V Orange Vee Black Triangle DEMUOrange V Orange Vee Black Triangle DEMUOrange V Orange Vee Black Triangle DEMUOrange V Orange Vee Black Triangle DEMUOrange V Orange Vee Black Triangle DEMUOrange V Orange Vee Black Triangle DEMUOrange V Orange Vee Black Triangle DEMUOrange V Orange Vee Black Triangle DEMUOrange V Orange Vee Black Triangle DEMUOrange V Orange Vee Black Triangle DEMUOrange V Orange Vee Black Triangle DEMUOrange V Orange Vee Black Triangle DEMUOrange V Orange Vee Black Triangle DEMUOrange V Orange Vee Black Triangle DEMUOrange V Orange Vee Black Triangle DEMUOrange V Orange Vee Black Triangle DEMUOrange V Orange Vee Black Triangle DEMUOrange V Orange Vee Black Triangle DEMU Orange V Orange Vee Black Triangle DEMU Orange V Orange Vee Black Triangle DEMUOrange V Orange Vee Black Triangle DEMUOrange V Orange Vee Black Triangle DEMUOrange V Orange Vee Black Triangle DEMUOrange V Orange Vee Black Triangle DEMUOrange V Orange Vee Black Triangle DEMUOrange V Orange Vee Black Triangle DEMUOrange V Orange Vee Black Triangle DEMUOrange V Orange Vee Black Triangle DEMUOrange V Orange Vee Black Triangle DEMUOrange V Orange Vee Black Triangle DEMUOrange V Orange Vee Black Triangle DEMUOrange V Orange Vee Black Triangle DEMUOrange V Orange Vee Black Triangle DEMUOrange V Orange Vee Black Triangle DEMUOrange V Orange Vee Black Triangle DEMUOrange V Orange Vee Black Triangle DEMUOrange V Orange Vee Black Triangle DEMUOrange V Orange Vee Black Triangle DEMUOrange V Orange Vee Black Triangle DEMUOrange V Orange Vee Black Triangle DEMUOrange V Orange Vee Black Triangle DEMUOrange V Orange Vee Black Triangle DEMUOrange V Orange Vee Black Triangle DEMUOrange V Orange Vee Black Triangle DEMUOrange V Orange Vee Black Triangle DEMUOrange V Orange Vee Black Triangle DEMUOrange V Orange Vee Black Triangle DEMUOrange V Orange Vee Black Triangle DEMUOrange V Orange Vee Black Triangle DEMUOrange V Orange Vee Black Triangle DEMUOrange V Orange Vee Black Triangle DEMUOrange V Orange Vee Black Triangle DEMUOrange V Orange Vee Black Triangle DEMUOrange V Orange Vee Black Triangle DEMUOrange V Orange Vee Black Triangle DEMUOrange V Orange Vee Black Triangle DEMUOrange V Orange Vee Black Triangle DEMUOrange V Orange Vee Black Triangle DEMUOrange V Orange Vee Black Triangle DEMUOrange V Orange Vee Black Triangle DEMUOrange V Orange Vee Black Triangle DEMUOrange V Orange Vee Black Triangle DEMUOrange V Orange Vee Black Triangle DEMUOrange V Orange Vee Black Triangle DEMUOrange V Orange Vee Black Triangle DEMUOrange V Orange Vee Black Triangle DEMUOrange V Orange Vee Black Triangle DEMUOrange V Orange Vee Black Triangle DEMUOrange V Orange Vee Black Triangle DEMUOrange V Orange Vee Black Triangle DEMUOrange V Orange Vee Black Triangle DEMUOrange V Orange Vee Black Triangle DEMUOrange V Orange Vee Black Triangle DEMUOrange V Orange Vee Black Triangle DEMUOrange V Orange Vee Black Triangle DEMUOrange V Orange Vee Black Triangle DEMUOrange V Orange Vee Black Triangle DEMUOrange V Orange Vee Black Triangle DEMUOrange V Orange Vee Black Triangle DEMUOrange V Orange Vee Black Triangle DEMUOrange V Orange Vee Black Triangle DEMUOrange V Orange Vee Black Triangle DEMUOrange V Orange Vee Black Triangle DEMUOrange V Orange Vee Black Triangle DEMUOrange V Orange Vee Black Triangle DEMUOrange V Orange Vee Black Triangle DEMUOrange V Orange Vee Black Triangle DEMUOrange V Orange Vee Black Triangle DEMUOrange V Orange Vee Black Triangle DEMUOrange V Orange Vee Black Triangle DEMUOrange V Orange Vee Black Triangle DEMUOrange V Orange Vee Black Triangle DEMUOrange V Orange Vee Black Triangle DEMUOrange V Orange Vee Black Triangle DEMUOrange V Orange Vee Black Triangle DEMUOrange V Orange Vee Black Triangle DEMUOrange V Orange Vee Black Triangle DEMUOrange V Orange Vee Black Triangle DEMUOrange V Orange Vee Black Triangle DEMUOrange V Orange Vee Black Triangle DEMUOrange V Orange Vee Black Triangle DEMUOrange V Orange Vee Black Triangle DEMUOrange V Orange Vee Black Triangle DEMUOrange V Orange Vee Black Triangle DEMU Orange V Orange Vee Black Triangle DEMU Orange V Orange Vee Black Triangle DEMUOrange V Orange Vee Black Triangle DEMUOrange V Orange Vee Black Triangle DEMUOrange V Orange Vee Black Triangle DEMUOrange V Orange Vee Black Triangle DEMUOrange V Orange Vee Black Triangle DEMUOrange V Orange Vee Black Triangle DEMUOrange V Orange Vee Black Triangle DEMUOrange V Orange Vee Black Triangle DEMUOrange V Orange Vee Black Triangle DEMUOrange V Orange Vee Black Triangle DEMUOrange V Orange Vee Black Triangle DEMUOrange V Orange Vee Black Triangle DEMUOrange V Orange Vee Black Triangle DEMUOrange V Orange Vee Black Triangle DEMUOrange V Orange Vee Black Triangle DEMUOrange V Orange Vee Black Triangle DEMUOrange V Orange Vee Black Triangle DEMUOrange V Orange Vee Black Triangle DEMUOrange V Orange Vee Black Triangle DEMUOrange V Orange Vee Black Triangle DEMUOrange V Orange Vee Black Triangle DEMUOrange V Orange Vee Black Triangle DEMUOrange V Orange Vee Black Triangle DEMUOrange V Orange Vee Black Triangle DEMUOrange V Orange Vee Black Triangle DEMUOrange V Orange Vee Black Triangle DEMUOrange V Orange Vee Black Triangle DEMUOrange V Orange Vee Black Triangle DEMUOrange V Orange Vee Black Triangle DEMUOrange V Orange Vee Black Triangle DEMUOrange V Orange Vee Black Triangle DEMUOrange V Orange Vee Black Triangle DEMUOrange V Orange Vee Black Triangle DEMUOrange V Orange Vee Black Triangle DEMUOrange V Orange Vee Black Triangle DEMUOrange V Orange Vee Black Triangle DEMUOrange V Orange Vee Black Triangle DEMUOrange V Orange Vee Black Triangle DEMUOrange V Orange Vee Black Triangle DEMUOrange V Orange Vee Black Triangle DEMUOrange V Orange Vee Black Triangle DEMUOrange V Orange Vee Black Triangle DEMUOrange V Orange Vee Black Triangle DEMUOrange V Orange Vee Black Triangle DEMUOrange V Orange Vee Black Triangle DEMUOrange V Orange Vee Black Triangle DEMUOrange V Orange Vee Black Triangle DEMUOrange V Orange Vee Black Triangle DEMUOrange V Orange Vee Black Triangle DEMUOrange V Orange Vee Black Triangle DEMUOrange V Orange Vee Black Triangle DEMUOrange V Orange Vee Black Triangle DEMUOrange V Orange Vee Black Triangle DEMUOrange V Orange Vee Black Triangle DEMUOrange V Orange Vee Black Triangle DEMUOrange V Orange Vee Black Triangle DEMUOrange V Orange Vee Black Triangle DEMUOrange V Orange Vee Black Triangle DEMUOrange V Orange Vee Black Triangle DEMUOrange V Orange Vee Black Triangle DEMUOrange V Orange Vee Black Triangle DEMUOrange V Orange Vee Black Triangle DEMUOrange V Orange Vee Black Triangle DEMUOrange V Orange Vee Black Triangle DEMUOrange V Orange Vee Black Triangle DEMUOrange V Orange Vee Black Triangle DEMUOrange V Orange Vee Black Triangle DEMUOrange V Orange Vee Black Triangle DEMUOrange V Orange Vee Black Triangle DEMUOrange V Orange Vee Black Triangle DEMUOrange V Orange Vee Black Triangle DEMUOrange V Orange Vee Black Triangle DEMUOrange V Orange Vee Black Triangle DEMUOrange V Orange Vee Black Triangle DEMUOrange V Orange Vee Black Triangle DEMUOrange V Orange Vee Black Triangle DEMUOrange V Orange Vee Black Triangle DEMUOrange V Orange Vee Black Triangle DEMUOrange V Orange Vee Black Triangle DEMUOrange V Orange Vee Black Triangle DEMUOrange V Orange Vee Black Triangle DEMUOrange V Orange Vee Black Triangle DEMUOrange V Orange Vee Black Triangle DEMUOrange V Orange Vee Black Triangle DEMU Orange V Orange Vee Black Triangle DEMU Orange V Orange Vee Black Triangle DEMUOrange V Orange Vee Black Triangle DEMUOrange V Orange Vee Black Triangle DEMUOrange V Orange Vee Black Triangle DEMUOrange V Orange Vee Black Triangle DEMUOrange V Orange Vee Black Triangle DEMUOrange V Orange Vee Black Triangle DEMUOrange V Orange Vee Black Triangle DEMUOrange V Orange Vee Black Triangle DEMUOrange V Orange Vee Black Triangle DEMUOrange V Orange Vee Black Triangle DEMUOrange V Orange Vee Black Triangle DEMUOrange V Orange Vee Black Triangle DEMUOrange V Orange Vee Black Triangle DEMUOrange V Orange Vee Black Triangle DEMUOrange V Orange Vee Black Triangle DEMUOrange V Orange Vee Black Triangle DEMUOrange V Orange Vee Black Triangle DEMUOrange V Orange Vee Black Triangle DEMUOrange V Orange Vee Black Triangle DEMUOrange V Orange Vee Black Triangle DEMUOrange V Orange Vee Black Triangle DEMUOrange V Orange Vee Black Triangle DEMUOrange V Orange Vee Black Triangle DEMUOrange V Orange Vee Black Triangle DEMUOrange V Orange Vee Black Triangle DEMUOrange V Orange Vee Black Triangle DEMUOrange V Orange Vee Black Triangle DEMUOrange V Orange Vee Black Triangle DEMUOrange V Orange Vee Black Triangle DEMUOrange V Orange Vee Black Triangle DEMUOrange V Orange Vee Black Triangle DEMUOrange V Orange Vee Black Triangle DEMUOrange V Orange Vee Black Triangle DEMUOrange V Orange Vee Black Triangle DEMUOrange V Orange Vee Black Triangle DEMUOrange V Orange Vee Black Triangle DEMUOrange V Orange Vee Black Triangle DEMUOrange V Orange Vee Black Triangle DEMUOrange V Orange Vee Black Triangle DEMUOrange V Orange Vee Black Triangle DEMUOrange V Orange Vee Black Triangle DEMUOrange V Orange Vee Black Triangle DEMUOrange V Orange Vee Black Triangle DEMUOrange V Orange Vee Black Triangle DEMUOrange V Orange Vee Black Triangle DEMUOrange V Orange Vee Black Triangle DEMUOrange V Orange Vee Black Triangle DEMUOrange V Orange Vee Black Triangle DEMUOrange V Orange Vee Black Triangle DEMUOrange V Orange Vee Black Triangle DEMUOrange V Orange Vee Black Triangle DEMUOrange V Orange Vee Black Triangle DEMUOrange V Orange Vee Black Triangle DEMUOrange V Orange Vee Black Triangle DEMUOrange V Orange Vee Black Triangle DEMUOrange V Orange Vee Black Triangle DEMUOrange V Orange Vee Black Triangle DEMUOrange V Orange Vee Black Triangle DEMUOrange V Orange Vee Black Triangle DEMUOrange V Orange Vee Black Triangle DEMUOrange V Orange Vee Black Triangle DEMUOrange V Orange Vee Black Triangle DEMUOrange V Orange Vee Black Triangle DEMUOrange V Orange Vee Black Triangle DEMUOrange V Orange Vee Black Triangle DEMUOrange V Orange Vee Black Triangle DEMUOrange V Orange Vee Black Triangle DEMUOrange V Orange Vee Black Triangle DEMUOrange V Orange Vee Black Triangle DEMUOrange V Orange Vee Black Triangle DEMUOrange V Orange Vee Black Triangle DEMUOrange V Orange Vee Black Triangle DEMUOrange V Orange Vee Black Triangle DEMUOrange V Orange Vee Black Triangle DEMUOrange V Orange Vee Black Triangle DEMUOrange V Orange Vee Black Triangle DEMUOrange V Orange Vee Black Triangle DEMUOrange V Orange Vee Black Triangle DEMUOrange V Orange Vee Black Triangle DEMUOrange V Orange Vee Black Triangle DEMUOrange V Orange Vee Black Triangle DEMUOrange V Orange Vee Black Triangle DEMUOrange V Orange Vee Black Triangle DEMUOrange V Orange Vee Black Triangle DEMU Orange V Orange Vee Black Triangle DEMU Orange V Orange Vee Black Triangle DEMUOrange V Orange Vee Black Triangle DEMUOrange V Orange Vee Black Triangle DEMUOrange V Orange Vee Black Triangle DEMUOrange V Orange Vee Black Triangle DEMUOrange V Orange Vee Black Triangle DEMUOrange V Orange Vee Black Triangle DEMUOrange V Orange Vee Black Triangle DEMUOrange V Orange Vee Black Triangle DEMUOrange V Orange Vee Black Triangle DEMUOrange V Orange Vee Black Triangle DEMUOrange V Orange Vee Black Triangle DEMUOrange V Orange Vee Black Triangle DEMUOrange V Orange Vee Black Triangle DEMUOrange V Orange Vee Black Triangle DEMUOrange V Orange Vee Black Triangle DEMUOrange V Orange Vee Black Triangle DEMUOrange V Orange Vee Black Triangle DEMUOrange V Orange Vee Black Triangle DEMUOrange V Orange Vee Black Triangle DEMUOrange V Orange Vee Black Triangle DEMUOrange V Orange Vee Black Triangle DEMUOrange V Orange Vee Black Triangle DEMUOrange V Orange Vee Black Triangle DEMUOrange V Orange Vee Black Triangle DEMUOrange V Orange Vee Black Triangle DEMUOrange V Orange Vee Black Triangle DEMUOrange V Orange Vee Black Triangle DEMUOrange V Orange Vee Black Triangle DEMUOrange V Orange Vee Black Triangle DEMUOrange V Orange Vee Black Triangle DEMUOrange V Orange Vee Black Triangle DEMUOrange V Orange Vee Black Triangle DEMUOrange V Orange Vee Black Triangle DEMUOrange V Orange Vee Black Triangle DEMUOrange V Orange Vee Black Triangle DEMUOrange V Orange Vee Black Triangle DEMUOrange V Orange Vee Black Triangle DEMUOrange V Orange Vee Black Triangle DEMUOrange V Orange Vee Black Triangle DEMUOrange V Orange Vee Black Triangle DEMUOrange V Orange Vee Black Triangle DEMUOrange V Orange Vee Black Triangle DEMUOrange V Orange Vee Black Triangle DEMUOrange V Orange Vee Black Triangle DEMUOrange V Orange Vee Black Triangle DEMUOrange V Orange Vee Black Triangle DEMUOrange V Orange Vee Black Triangle DEMUOrange V Orange Vee Black Triangle DEMUOrange V Orange Vee Black Triangle DEMUOrange V Orange Vee Black Triangle DEMUOrange V Orange Vee Black Triangle DEMUOrange V Orange Vee Black Triangle DEMUOrange V Orange Vee Black Triangle DEMUOrange V Orange Vee Black Triangle DEMUOrange V Orange Vee Black Triangle DEMUOrange V Orange Vee Black Triangle DEMUOrange V Orange Vee Black Triangle DEMUOrange V Orange Vee Black Triangle DEMUOrange V Orange Vee Black Triangle DEMUOrange V Orange Vee Black Triangle DEMUOrange V Orange Vee Black Triangle DEMUOrange V Orange Vee Black Triangle DEMUOrange V Orange Vee Black Triangle DEMUOrange V Orange Vee Black Triangle DEMUOrange V Orange Vee Black Triangle DEMUOrange V Orange Vee Black Triangle DEMUOrange V Orange Vee Black Triangle DEMUOrange V Orange Vee Black Triangle DEMUOrange V Orange Vee Black Triangle DEMUOrange V Orange Vee Black Triangle DEMUOrange V Orange Vee Black Triangle DEMUOrange V Orange Vee Black Triangle DEMUOrange V Orange Vee Black Triangle DEMUOrange V Orange Vee Black Triangle DEMUOrange V Orange Vee Black Triangle DEMUOrange V Orange Vee Black Triangle DEMUOrange V Orange Vee Black Triangle DEMUOrange V Orange Vee Black Triangle DEMUOrange V Orange Vee Black Triangle DEMUOrange V Orange Vee Black Triangle DEMUOrange V Orange Vee Black Triangle DEMUOrange V Orange Vee Black Triangle DEMUOrange V Orange Vee Black Triangle DEMUOrange V Orange Vee Black Triangle DEMU Orange V Orange Vee Black Triangle DEMU Orange V Orange Vee Black Triangle DEMUOrange V Orange Vee Black Triangle DEMUOrange V Orange Vee Black Triangle DEMUOrange V Orange Vee Black Triangle DEMUOrange V Orange Vee Black Triangle DEMUOrange V Orange Vee Black Triangle DEMUOrange V Orange Vee Black Triangle DEMUOrange V Orange Vee Black Triangle DEMUOrange V Orange Vee Black Triangle DEMUOrange V Orange Vee Black Triangle DEMUOrange V Orange Vee Black Triangle DEMUOrange V Orange Vee Black Triangle DEMUOrange V Orange Vee Black Triangle DEMUOrange V Orange Vee Black Triangle DEMUOrange V Orange Vee Black Triangle DEMUOrange V Orange Vee Black Triangle DEMUOrange V Orange Vee Black Triangle DEMUOrange V Orange Vee Black Triangle DEMUOrange V Orange Vee Black Triangle DEMUOrange V Orange Vee Black Triangle DEMUOrange V Orange Vee Black Triangle DEMUOrange V Orange Vee Black Triangle DEMUOrange V Orange Vee Black Triangle DEMUOrange V Orange Vee Black Triangle DEMUOrange V Orange Vee Black Triangle DEMUOrange V Orange Vee Black Triangle DEMUOrange V Orange Vee Black Triangle DEMUOrange V Orange Vee Black Triangle DEMUOrange V Orange Vee Black Triangle DEMUOrange V Orange Vee Black Triangle