BR British Rail Crimson & Cream Crimson and Cream Crimson Cream Blood & Custard Blood Custard Blood and Custard BR British Rail Crimson & Cream Crimson and Cream Crimson Cream Blood & Custard Blood Custard Blood and Custard BR British Rail Crimson & Cream Crimson and Cream Crimson Cream Blood & Custard Blood Custard Blood and Custard
Southern
Formation of Pull-Push Trains
(1949 - 1954)
The following is a Summary of Vehicles Fitted with "Air Control"
apparatus for working Pull and Push Services between 1949 and 1954.
<![if !vml]>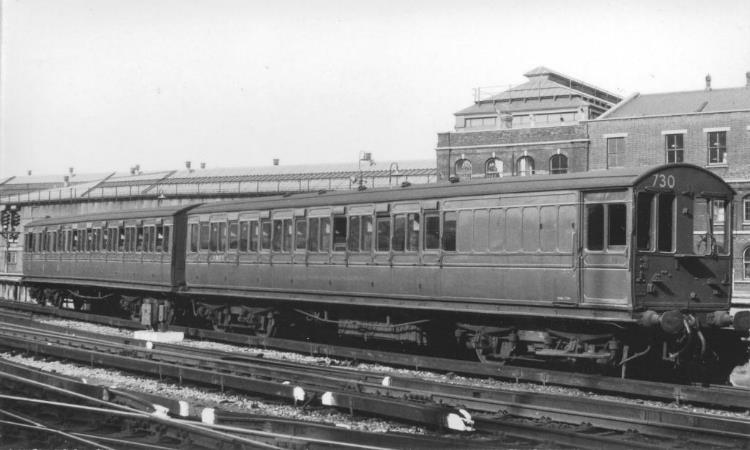 <![endif]>
Pull-Push set no.730 at north-end Brighton platform 3 on 13th September 1948. It is entirely possible that this might be the stock for the Brighton - Horsham service awaiting its locomotive. The train would then start from the south-end of platform 3 thence heading off to Hove and stations to Horsham.
© Joe Kent
FORMATION OF PULL AND PUSH TRAINS

Summary of Vehicles Fitted with "Air Control" apparatus for working Pull and Push Services.

Set No.

Vehicles

Compts

Seats

Rstn

Alloc.

Set No.

Vehicles

Compts

Seats

Rstn.

Alloc.

Description

No.

1

3

1

3

Description

No.

1

3

1

3

1

Lav 3rd Bke

2620

-

7

-

68

3

W

381

Third Bke

4052

-

7½

-

62

4

W

Lav Cpo. Bke

6488

2

4

10

38

1

Compo Bke

6560

2

4½

12

38

4

2

Lav 3rd Bke

2604

-

7

-

68

3

W

382

Third Bke

4053

-

7½

-

62

4

W

Lav Cpo. Bke

6487

2

4

10

38

1

Compo Bke

6561

2

4½

12

38

4

3

Lav 3rd Bke

2609

-

7

-

68

3

W

383

Third Bke

3211

-

7½

-

62

4

W

Lav Cpo. Bke

6490

2

4

10

38

1

Compo Bke

6562

2

4½

12

38

4

4

Lav 3rd Bke

2605

-

7

-

68

3

W

384

Third Bke

3212

-

7½

-

62

4

W

Lav Cpo. Bke

6491

2

4

10

38

1

Compo Bke

6563

2

4½

12

38

4

5

Lav 3rd Bke

2621

-

7

-

68

3

W

385

Third Bke

3213

-

7½

-

62

4

W

Lav Cpo. Bke

6495

2

4

10

38

1

Compo Bke

6564

2

4½

12

38

4

6

Lav 3rd Bke

2612

-

7

-

68

3

W

481

Cor 3rd Bke

3584

-

1

-

56

1

*

Lav Cpo. Bke

6496

2

4

10

38

1

Cor Third

914

-

3

-

48

1

31

Lav 3rd Bke

3474

-

8

-

80

1

W

482

Cor 3rd Bke

3583

-

1

-

56

1

*

Lav Compo

4744

2

6

12

60

1

Cor Third

915

-

3

-

48

1

32

Lav 3rd Bke

3055

-

4

-

38

1

W

503

Cor Compo

6367

3

6

19

48

0

I. of

Lav Compo

4745

2

6

12

60

1

Cor 3rd Bke

4169

7

-

56

0

W.

33

Lav 3rd Bke

3069

-

4

-

38

1

W

504

Cor 3rd Bke

3820

-

8

-

64

0

E

Lav Compo

4746

2

6

12

60

1

Cor Compo

6236

3

6

19

48

0

34

Lav 3rd Bke

3054

-

4

-

38

1

W

505

Cor 3rd Bke

4167

7

-

56

0

I. of

Lav Compo

4747

2

6

12

58

0

Cor Compo

6366

3

6

19

48

0

W.

35

Lav 3rd Bke

3056

-

4

-

38

1

W

650

Third

2087

-

8

-

80

0

E

Lav Compo

4748

2

6

12

58

0

Compo Bke

6940

3

4

24

40

0

36

Lav 3rd Bke

3070

-

4

-

38

1

W

651

Third

1960

-

8

-

80

0

E

Lav Compo

4749

2

6

12

58

0

Compo Bke

6941

3

4

24

40

0

37

Compo Bke

6410

2

5

13

40

0

C

652

Third

1

-

9

-

90

0

E

Third

608

-

8

-

80

1

Cor Cpo Bke

6428

2

4

13

32

1

653

Third

2

-

9

-

90

0

E

363

Third

737

-

2

-

73

6

W

Cor Cpo Bke

6429

2

4

13

32

1

Third Bke

2623

-

3

-

54

6

654

Third

3

-

9

-

90

0

E

Cor Cpo Bke

6430

2

4

13

32

1

373

Third

738

-

2

-

73

6

W

655

Third

4

-

9

-

90

0

E

Third Bke

2622

-

3

-

54

6

Cor Cpo Bke

6431

2

4

13

32

1

656

Third

1057

-

10

-

100

0

E

374

Third

739

-

2

-

73

6

W

Cpo Bke

6406

2

5

16

50

1

Third Bke

2624

-

3

-

54

6

657

Third

1077

-

10

-

100

0

E

Cpo Bke

6407

2

5

16

50

1

A

Midhurst Branch

C

L.C.D. Workings

*

Dunton Green and Westerham Branch

E

L.E.D. Workings

IoW

Isle of Wight

W

Western Section

FORMATION OF PULL AND PUSH TRAINS--continued.

Set No.

Vehicles

Compts

Seats

Rstn

Alloc.

Set No.

Vehicles

Compts

Seats

Rstn.

Alloc.

Description

No.

1

3

1

3

Description

No.

1

3

1

3

658

Third

1088

-

10

-

100

0

E

731

Cor 3rd Bke

2641

-

4

-

32

1

PM

Cpo Bke

6408

2

5

16

50

1

Cor Compo

4756

2

4

12

32

1

659

Third Bke

3324

-

6

-

60

0

E

732

Cor 3rd Bke

2642

-

4

-

32

1

EB

Lav Cpo. Bke

6409

2

4

14

38

0

Cor Compo

4757

2

4

12

32

1

660

Third Bke

3505

-

7

-

54

0

BI

733

Cor 3rd Bke

2643

-

4

-

32

1

EB

Compo

5473

2

5

20

50

0

Cor Compo

4758

2

4

12

32

1

661

Third Bke

3433

-

8

-

80

0

BI

734

Cor 3rd Bke

2644

-

4

-

32

1

W

Compo

5301

2

5

16

50

0

Cor Compo

4759

2

4

12

32

1

662

Third Bke

3546

-

7

-

54

0

W

735

Cor 3rd Bke

2645

-

4

-

32

1

W

Compo

5503

2

5

20

50

0

Cor Compo

4760

2

4

12

32

1

714

Third Bke

3467

-

8

-

80

0

E

736

Cor 3rd Bke

2646

-

4

-

32

1

HT

Cor Compo

6237

4

5

25

40

0

Cor Compo

4761

2

4

12

32

1

715

Cor 3rd Bke

3475

-

8

-

80

0

E

737

Cor 3rd Bke

2647

-

4

-

32

1

PM

Compo

5298

4

3

24

30

0

Cor Compo

4762

2

4

12

32

1

716

Cor 3rd Bke

3848

-

8

-

64

0

E

738

Cor 3rd Bke

2648

-

4

-

32

1

GA

Cor Compo

6239

4

5

25

40

0

Cor Compo

4763

2

4

12

32

1

717

Cor 3rd Bke

3849

-

8

-

64

0

E

739

Cor 3rd Bke

2649

-

4

-

32

1

HT

Cor Compo

6240

4

5

25

40

0

Cor Compo

4764

2

4

12

32

1

719

Cor 3rd Bke

3851

-

6

-

48

0

C

753

Third

2191

-

8

-

80

0

C

Cor Compo

6242

2

7

13

56

0

Cor Cpo Bke

6929

3

4

24

40

0

721

Cor 3rd Bke

3853

-

6

-

48

0

C

755

Third

2188

-

8

-

80

0

E

Cor Compo

6248

2

7

13

56

0

Cor Cpo Bke

6931

2

5

16

50

0

722

Cor 3rd Bke

3854

-

6

-

48

0

E

757

Third

2190

-

8

-

80

0

C

Cor Compo

6249

2

7

13

56

0

Cor Cpo Bke

6933

2

5

16

50

0

723

Cor 3rd Bke

3855

-

6

-

48

0

E

758

Third

2187

-

8

-

80

0

C

Cor Compo

6250

2

7

13

56

0

Cor Cpo Bke

6934

2

5

16

50

0

759

Third

2193

-

8

-

80

0

C

725

Cor 3rd Bke

3822

-

8

-

64

0

E

Cpo Bke

6935

2

5

16

50

0

Cor Compo

6244

2

7

13

56

0

Third

1050

-

10

-

100

0

W

Third

1093

-

10

-

100

0

W

726

Cor 3rd Bke

3821

-

8

-

64

0

E

Third

1098

-

10

-

100

0

W

Cor Compo

6245

2

7

13

56

0

Third Bke

3823

-

8

-

64

0

A

727

Cor 3rd Bke

3824

-

8

-

64

0

C

Third Bke

3847

-

8

-

64

0

A

Cor Compo

6246

2

7

13

56

0

Cor Cpo Bke

6987

2

5

12

40

0

I of W

729

Cor 3rd Bke

3826

-

7

-

56

0

C

4-whl Van

1996

-

-

-

-

0

E

Cor Compo

6202

3

6

19

48

0

4-whl Van

2001

-

-

-

-

0

C

730

Cor 3rd Bke

3827

-

7

-

56

0

C

4-whl Van

2002

-

-

-

-

0

C

Cor Compo

6203

3

6

19

48

0

4-whl Van

2004

-

-

-

-

0

E

4-whl Van

2005

-

-

-

-

0

E

A

Midhurst Branch

C

L.C.D. Workings

BI

Bexhill West Branch

HT

Hawkhurst Branch

E

L.E.D. Workings

EB

Eastbourne-Hailsham

I of W

Isle of Wight

W

Western Section

GA

Gravesend W. St. Branch

PM

Pulborough-Midhurst
FORMATION OF PULL AND PUSH TRAINS

Summary of Vehicles Fitted with  "Air Control"  apparatus for working Pull and Push Services.

Standby Sets at--Gillingham (Kent),  Pulborough and Tonbridge.

Set No.

Vehicles

Compts

Seats

Rstn

Alloc.

Set No.

Vehicles

Compts

Seats

Rstn

Alloc.

Description

No.

1

3

1

3

Description

No.

1

3

1

3

1

Lav 3rd Bke

2620

-

7

-

68

3

W

381

Third Bke

4052

-

8

-

62

4

W

Lav Cpo. Bke

6488

2

4

10

38

1

Compo Bke

6560

2

5

12

38

4

2

Lav 3rd Bke

2604

-

7

-

68

3

W

383

Third Bke

3211

-

8

-

62

4

W

Lav Cpo. Bke

6487

2

4

10

38

1

Compo Bke

6562

2

5

12

38

4

3

Lav 3rd Bke

2609

-

7

-

68