BR British Rail Crimson & Cream Crimson and Cream Crimson Cream Blood & Custard Blood Custard Blood and Custard BR British Rail Crimson & Cream Crimson and Cream Crimson Cream Blood & Custard Blood Custard Blood and Custard BR British Rail Crimson & Cream Crimson and Cream Crimson Cream Blood & Custard Blood Custard Blood and Custard
British Rail Southern Region design
MLV
(Nos. E68000 & 68001-68010)
<![if !vml]>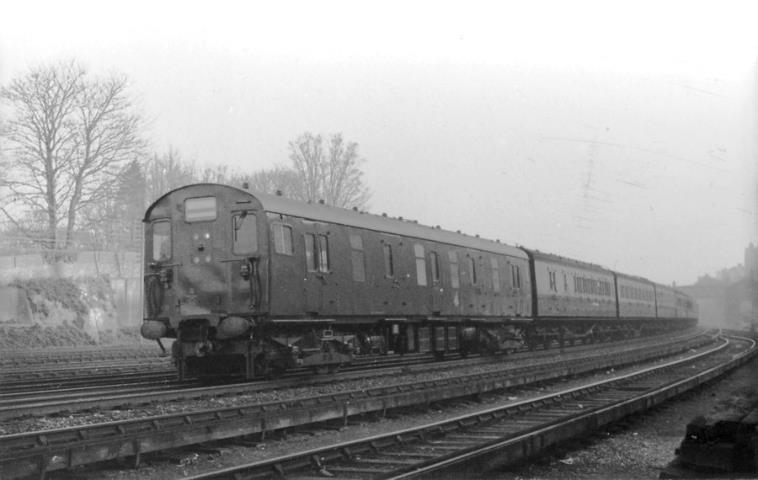 <![endif]>
An MLV leads a TLV and a mixed-livery 12-CEP formation through Faversham
© D. Twibell Collection, Courtesy Transport Treasury
An unidentified MLV leads a TLV and a 12-CEP formation through Faversham on a Dover Marine to Victoria via Chatham and the Catford Loop boat train on the 21st April 1968.The MLV has yet to display its' identity on the cab front as well as the bodysides. Examination of this colour transparency indicates that the CEP's are in each of the three liveries they carried, namely green, blue and blue/grey.
To the left of MLV can be seen an EDL coupled to a Mark 1 BSK; this being from one of the two paper trains from Victoria to Dover. Both trains terminated at Dover Marine and the stock was made up into one empty van train that went to Bricklayers Arms sometime in the morning. This train also conveyed the "South Eastern" BSK.
The 'South Eastern' train was booked as a passenger service to Folkestone Central; thereafter as a staff train for Dover Marine (although few argued if there was a fare paying passenger for Dover!).
The 'Chatham' service split at Faversham with a locomotive plus BSK and vans would form the Ramsgate portion. Another locomotive and BSK would then attach to the remaining vans before heading for Dover. At Dover it was shunted into Dover Town Yard by the station pilot (after having been cleaned and watered) and attached to the 11.55hrs freight from Dover Town to Faversham. This train usually only consisted of several Interfrigo ferry vans of fruit and was air-braked. As the paper train vans were only vacuum-braked the BSKs had to be dual-braked.
When this train got to Faversham the BSK would be detached and berthed in the short siding ready for the following morning. The loco that worked the train back to Dover arrived several hours before departure, and pre-heated the coach. With a daily return journey of only 50 miles this BSK had a pretty leisurely existence until swopped over to another diagram.
The locomotives used for the paper train varied over the years but could be either a Class 33, 71 or 73.
Motor Luggage Vans
To make full use of the facilities provided in the Kent Coast Electrification scheme, it was decided to provide a number of Motor Luggage Vans (MLVs) mainly to enable the large amounts of luggage to be conveyed on electrically operated Boat Trains between London and the channel ports at Dover Western Docks and Folkestone Harbour. These units were to be capable of hauling short van trains as well as being provided with traction batteries to enable them to work for short periods in non-electrified sidings.
The Southern Region's MLVs were based on an earlier design of MLV built at Eastleigh during the autumn of 1955 for use on the South Tyneside line.
Tyneside Motor Luggage Van
E68000
E68000 was built at Eastleigh to Diagram No. 499 and differed from the later BR(S) MLVs in having two motor bogies giving four EE507 motors totalling 1000hp. This unique vehicle was laid out with a driver's cab at both ends (entered from behind from the luggage areas) with two large luggage areas, one each side of a central guard's compartment. The two luggage areas were 27' 2" and 21' 6" long with in intervening guard's compartment being 6' 9" wide. Both luggage areas had a long-hinged seat along the right-hand side when looking forwards.
There were four pairs of double doors along each bodyside; those pairs towards the outer ends (close to the cab) were equipped with one inward and one outward opening door; both with windows and the inwards opening door being that closest to the cab. The remaining pairs of doors both opened outwards and only one had a window; this being the left-hand door when viewing the bodyside.
The guard's compartment had an inwards opening door equipped with a droplight window. There were also four large windows in the bodyside, the outermost two being centrally placed between the two pairs of double doors of each luggage area. The remaining two windows were located towards the centre of the coach being asymmetrically placed each side of the guard's door, that to the left of the door being of frosted glass to give the guard privacy. All these windows were divided roughly ¼ & ¾ by a horizontal bar across them towards the top.
Driving cab ends had a central panel with four white lights (placed in a square) with a red tail light in the centre of then (arranged like a 'five' on a dice). Above this was a large combined destination and route display, with a large aperture at the top for destination and a smaller one below for the route. These displays were displayed on roller blinds and illuminated from behind.
The usual whistle was mounted above the driver's observation light which had a windscreen wiper; the offside observation light was not so fitted. The vehicle was finished in plain green (with no lining) and the first style BR crest was placed below the window to the right of the guard's door. The two 8' 9" wheelbase motor bogies were centred at 46' 6" centre; both carried shoe gear. E68000 was not equipped with traction batteries.
Delivery and Testing on the Southern
E68000 was delivered to Peckham Rye shops week ended 29th October 1955 for extensive trials and suffered some faults and a fire. However, it was tested on the BR(S) hauling trains of 6, then 8 coaches from Brighton to London Bridge and back on 24th and 25th November 1955. It was then used hauling goods trains from Norwood to Three Bridges and Horsham, working the 12.45pm Norwood Junction to Horsham on Monday 5th December 1955, before being sent to South Gosforth, arriving there on 3rd January 1956.
Tyneside, Liverpool and back for Scrapping
On 2nd & 3rd March 1956 E68000 worked demonstration trips from Newcastle to South Shields and went into traffic from 19th March 1956.
Following the conversion of the Tyneside electrified lines to diesel multiple unit operation, E68000 was transferred to Southport for use on the Liverpool to Southport line, going there from 10th August 1963 and being renumbered M68000. In service it erroneously appeared with an 'M' suffix (M68000M); this number being carried on the cab front between the former jumper cable sockets.
M68000M also carried a full-width yellow warning panel, was equipped with two marker lights (probably tail lamps) one each side above but slightly offset (outside) from each buffer. Although it retained a drop buckeye it had lost its compression bar and also gained two diagonal conduits up to the cab windows from where the compression bar was once mounted (does anyone know the purpose of these?). 
The Tyneseide marker lights had been plated-in and the vehicle endorse 'FISH TRAFFIC THIS END' on one of the cab fronts just below and outside of the second man's cab light as well as on the vehicle sides between two pairs of the double doors. Livery was a darker green to the BR(S) emu green; this matching the Southport electric units.
It was taken out of use in 1965; there being a rare published photograph (Merseyside Electrics pub. Ian Allan) shewing it in use at for parcels traffic Formby station on 8th May 1965.
Once out of use it was stored at Meols Cop (Southport) until officially withdrawal on 25th March 1967 and scrapping by W. Willoughby of Ashington, Northumberland during August 1967 in a yard at Choppington (then adjacent to Portland Park football ground) more renown for breaking buses.
Southern Region Motor Luggage Vans
68001 - 68010
Two vehicles, numbered 68001 & 68002 were ordered for 'Phase 1' of the Kent Coast scheme, and a further eight, 68003 to 68010 followed with 'Phase 2'. Lot numbers were 30458 (68001/2) and 30623 (68003 ‑ 10), these being ordered 22nd February 1957 (30458) and 29th July 1959 (30623). The first two (68001/2) were delivered in May 1959 and were ready for the commencement of electric services on 15th June 1959; the remainder being in traffic by March 1961.
BR(S) MLV Vehicles
All the BR(S) MLVs were built at Eastleigh on standard 63' 6" length underframes fabricated at Ashford. These vehicles were 64' 6" long over bodywork, the length over buffers (extended) being 67' 1". Gangway connections were not provided for security reasons; the luggage on boat trains being conveyed under customs seal and the vehicles therefore had the standard non‑gangwayed cab end design as used for the BR type 2 HAP and 2 EPB units.
Each vehicle consisted of a driver's cab 4' 2½" deep, entered via a small 6' 7½" wide guard's compartment with a single inward-opening door on each side, this end of the vehicle being the No. 1 end. Adjacent to the guard's compartment was the large luggage area, 27' 7¾" long and provided with two pairs of outward opening doors on each side. At the other end was the smaller luggage area, 18' 6" long with a single pair of outward opening doors each side. Finally, there was an entrance vestibule with inwards opening doors giving access to the remaining driving cab.
The MLVs had a capacity of 132 cu. yds, being divided as 80 cu. yds in the large luggage area, 52 cu. yds in the smaller. Through access from one end of the vehicle to the other was possible as each dividing partition had a sliding door. Overall vehicle weight was 45 tons unladen and 7 tons of luggage was permitted.
There were three large windows along the bodysides of the vehicles. From the No. 1 (guard's compartment) end there weren't any windows between the guard's door and first pair of double doors as the bodysides here had six hinged covers to allow access to the traction batteries. The first window was centrally between the next two sets of double doors, the second window was centrally between the next two sets of double doors; the third was between the last set of double doors and the No. 2 end cab vestibule door, this window being much closer to both sets of doors than the first two. All of these side windows had a horizontal dividing bar across them towards the top dividing them roughly ¼ & ¾.
All vehicles were identical in appearance, although the first two had 1957 'phase 1' equipment, the remainder 1957 'phase 2' equipment but in a 'phase 1' style body, these being built with conduits and wiring for Westinghouse AWS equipment although this was sealed out of use.
The first two MLVs (68001 & 68002) had the electrical code AF, the remainder being AF‑1A. All were to Diagram No. 498. Each was mounted on BR Mk 3 bogies; the No. 1 end being the 8' 9" wheelbase motorbogie being and fitted with two EE507 250hp motors whilst the No. 2 end was an 8' 6" wheelbase bogie identical to those used under the driving trailer cabs of the BR type 2 HAP units. Both bogies were equipped with shoegear.
When built the first two MLVs had different fuse boxes and battery access hatches from the later eight. In later years further changes to the access hatches appear to have been made to most (if not all) of the MLVs.
To enable the MLVs vehicles to run 'off the juice' (mainly in sidings at Dover and Folkestone) they had banks of batteries to supply power at 200V for the traction motors, compressors and vacuum exhausters; these being charged by an auxiliary generator coupled to the motor generator when the unit was on the third rail. The batteries were located along the bodysides in the larger luggage bay at the No. 1 end of the vehicle and were accessed by six exterior access flaps.
In order to further increase the usefulness of the MLVs they were equipped with vacuum exhausters which enabled them to be used as locomotives hauling vacuum braked parcels vans (for which a vacuum brake connection was provided at each end at solebar level). 100-ton loads were allowed to be hauled, though this was reduced to 50 tons up the steeply graded Folkestone Harbour branch. It was possible to use the first two MLVs (68001 & 68002) to convert the air braking of a train into vacuum by marshalling them between such vehicles and few runs were made in the early 1960s with one of these coupled between an EMU and a loco-hauled Bulleid 3-set. The final batch of eight MLVs did not have this facility.
The MLVs had the usual Westinghouse automatic air brake supplemented by the usual EP brake and were fitted with buckeye couplers and standard brake hose and jumper cables. This enabled them to run in multiple with all post 1951 type electric units.
All the MLVs were delivered in all‑over green livery and initially did not carry unit numbers, just the vehicle number (with an S prefix) in the usual coaching stock position on the bodysides. The first two were equipped with whistles but the final batch of eight was delivered with air horns.
Dates completed were as follows:
68001            25th April 1959
68002            5th May 1959
68003            23rd December 1960 (in traffic by 14th February 1961).
68004            29th December 1960
68005            4th January 1961
68006            16th January 1961
68007            24th February 1961
68008            9th March 1961
68009            14th March 1961
68010            28th March 1961
Into Traffic
MLV number 68001 was delivered to Selhurst by 5th May 1959 before moving to Peckham Rye on 12th May 1959 for further testing and inspection at Waterloo on Thursday 4th June. 1959. Number 68002 was subsequently used on some test trips hauling freight stock between Norwood and Three Bridges yards on 25th/26th June 1959.
From 18th January 1960, one of the MLVs was diagrammed to work an evening parcels train from Cannon Street to Dartford and back with a trailing load of up to four vans. From 22nd February 1960 a further trip was then diagrammed for the other MLV at 7.0pm from Holborn Viaduct to Wrotham, returning at 8.37pm. From this date the MLV off the Dartford train then ran empty to Holborn Viaduct where both MLVs were coupled prior to working the 11.16pm vans to Victoria; this train having a permitted tail load of 200 tons.
Following delivery of the second batch of MLVs their area of operations was increased and they were occasionally used for other special movements; on 16th March 1961 number 68002 hauled Pullman cars Perseus & Zena and a van from Stewarts Lane to Lancing works, whilst on the following day 68001 was seen on a working from Lancing to Stewarts Lane hauling three loco-hauled corridor coaches.
One MLV (believed to be 68009) was used for some static AWS tests based at Wimbledon S&T depot during 1961.
<![if !vml]>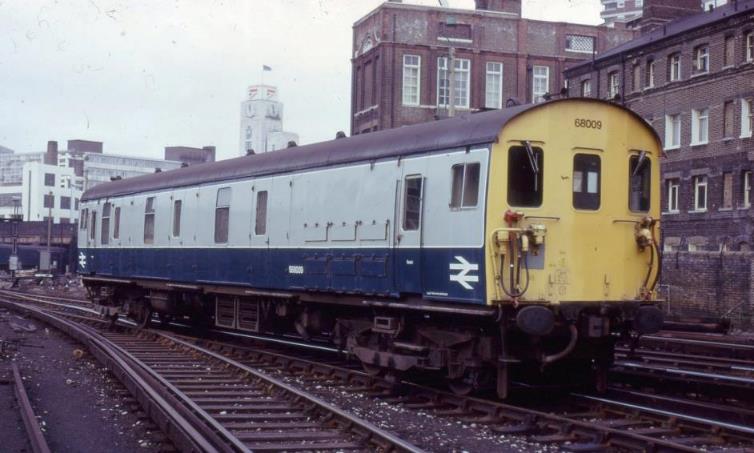 <![endif]> 
In its typical position an unidentified MLV awaits its next duty at
Grosvenor Shed (Victoria) as 4 SUB no.4688 rattles past
© BlooandCustard
BR Corporate Liveries
MLVs gained small yellow warning panels on cab ends from January 1964 and several also had the vehicle number painted onto the cab end in the usual unit-number position, though without the 'S' prefix.
All later received blue/grey livery with full yellow ends (and numbers), though following accident repairs 68004 was painted all‑over blue with full yellow ends in March 1967 and carried the vehicle number with an 'S' prefix in smaller figures than normal on the cab end. 68004 did not gain blue/grey until about August 1970; it also had the high-level BR symbol with the coach number directly below close to the cab end on the bodysides.
Number 68001 was the last MLV to run in green livery up to (about) July 1970.
Pre-preservation livery painting dates were as follows:
Original Number

Green small warning panel

Rail Blue full yellow end

Blue /Grey

London South East Sector 1

London South East Sector 2

Rail Blue

Royal Mail Red

Network South-East

68001

N/K

No

10-Apr-70

Jun-85

No

No

Feb-89#1

c.Jun-89

68002

N/K

No

2-Oct-68

No

No

No

No

Jun-89 #1

68003

27-May-65

No

19-Feb-68

Mar-86

No

Yes#1

Wdn

68004

11-Aug-64

30-Mar-67

15-Sep-70

No

No

No

27-Oct-88#1

Jul-89

68005

N/K

No

16-Oct-67

Mar-86

Wdn#1

68006

11-Dec-66

No

21-Jun-69

No

27-Jun-88#1

Scrapped#3

68007

26-Nov-66

No

14-Jan-70

No

c.May-87#2

Wdn#4

68008

15-Mar-65

No

11-Sep-69

Jun-86

Wdn#1

68009

31-Dec-65

No

10-Mar-70

No

Jul-86

Wdn#1

68010

11-Oct-65

No

18-Aug-69

No

4-Dec-86

Wdn#1

Livery notes

Green small warning panel

Yellow warning panels may not have been applied to 68001, 68002 & in particular 68005. If anyone has information on these please contact us!

Rail blue full yellow ends

68004 undertook a repaint (Lancing?) following accident damage before the adoption of Blue /Grey livery.

Blue /Grey

BR corporate livery

London & South East Sector 1

Two-tone brown /orange ('Jaffa Cake')

London & South East Sector 2

Two-tone brown /orange but with black border to orange band

Network South-East livery

Later livery version (darker blue with orange electrification band across the cab front above the windows (higher than cantrail level but below the unit numbers).

Rail Blue

As painted following arrival at Strawberry Hill depot May 1993 (numbered 9003 at this time)

Royal Mail red livery

Royal Mail livery discontinued following the 'Merstham' mail train robbery.

Network South-East

Final main-line service livery of the MLV (1989-on)

#1

Renumbered by this time

#2

1987 renumbering may have taken place at the same time

#3

Scrapped March 1994 following a collision with 4 CEP no. 1559 at Ramsgate on 6th December 1991.

#4

Scrapped in preservation at Coventry 30th November 2006.

<![if !supportMisalignedColumns]>
<![endif]>
BR TOPS
Under the BR TOPS computer system, the MLVs were initially allocated Class No. 422/1 in 1972; this later being amended to Class 419 during 1975. A BR design code was later allocated, these being EX560.0A for 68001 /68002 and EX560.1B for the remainder.
The MLVs were also shown in the BR TOPS computer system twice (once as locomotives and once multiple unit stock) making them unique in this respect. This facilitated their use (in pairs) hauling 'water trains' between Dover and Ramsgate, these running about 1984 during a water shortage and took water from a well on BR property at Dover for use in the carriage washing plant at Ramsgate depot. Up to two four-wheel vacuum-braked tanks were hauled on each occasion.
The TLVs (68201 – 68206)
On occasions the amount of luggage carried on certain Boat Trains exceeded the capacity of the MLVs requiring the employment of two MLVs. However, this led to an excessive power to weight ratio and the conductor rail index of 16 for a 2xMLV + 12-car CEP (or CEP/BEP/CEP) formation was the maximum that the electrical equipment in the substations could handle.
In order to avoid this, six loco‑hauled Mk 1 BG vans were converted during 1968 and classified as Trailer Luggage Vans (TLVs). The conversion included air & EP braking and fitment of high-level jumper /air hose connections for use between the MLV and an adjacent 4 CEP unit. The TLVs were numbered as 68201 ‑ 68206.
They were not fitted with driving cabs and this led to staffing arguments with the unions as to whether they were a multiple unit or a hauled vehicle for the purposes of shunting.
The TLV were unpopular due to the problems of shunting them and all were withdrawn from these duties in 1975. By this time, the amount of luggage being conveyed had declined so that one MLV could handle all the traffic satisfactorily.
<![if !vml]>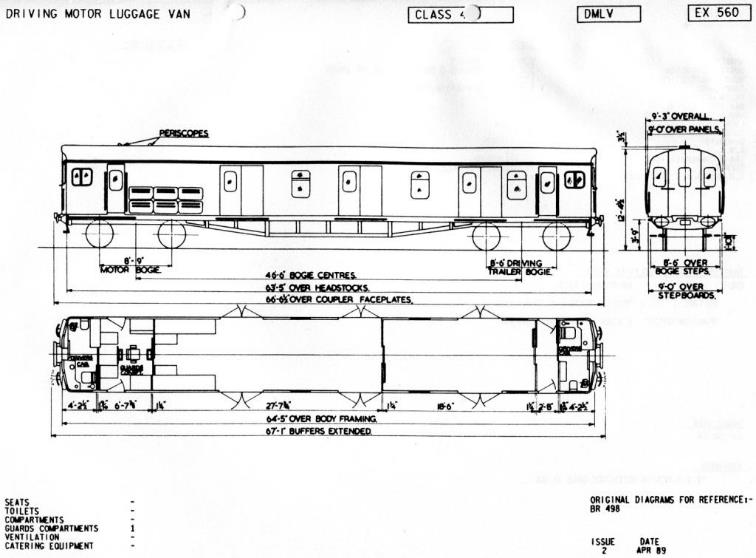 <![endif]>
MLV 68002 and an unidentified TLV on the rear of a CEP formation leaving Victoria.
© Dave Smith
MLV Modifications for Parcels Traffic & AWS
Further decline in the amount of registered luggage traffic led to the increasing use of MLVs on parcels trains, usually operating singly, though sometimes hauling vans. For instance, during 1972 one MLV was diagrammed to run empty from Victoria to Bricklayers Arms and then worked the 05V00 Bricklayers Arms to Epsom van train; this involved some use of the traction batteries in the sidings at Bricklayers Arms.
However, a number of instances of overrunning signals and a buffer stop collision on 18th April 1985 led to the 'blacking' of the MLVs by drivers. The problems occurred when a defect in the braking system reduced its effectiveness so the MLVs were banned from running solo whilst a programme of modifications was carried out at Selhurst. This was to fit them with an additional brake cylinder whilst separating the braking of each bogie so that in the event of failure, only 50% of the braking system was affected.
Whilst this programme was being carried out, certain mail train workings operated with a 2 HAP 'runner' attached to the MLV with HAP units 6011/87/103 being retained for this purpose beyond their planned withdrawal dates. All the MLVs were eventually modified and were also fitted with a Speed Sensing device (SSF) to enable then to run under Driver Only Operating (DOO) conditions. This increased their sphere of operations considerably, particularly on the Central Division with regular workings at various times to destinations such as East Grinstead, Seaford, Littlehampton and Bognor Regis.
The MLVs were also all fitted with AWS equipment at this time (they were amongst the last units to be equipped) with the AWS equipment being made operational as follows:
| | | | |
| --- | --- | --- | --- |
| 68001 | July 1985 | 68006 | December 1985 |
| 68002 | March 1984 | 68007 | April 1984 |
| 68003 | November 1984 | 68008 | July 1986 |
| 68004 | April 1985 | 68009 | April 1984 |
| 68005 | January 1986 | 68010 | June 1985 |
Incidents
| | |
| --- | --- |
| Date | Notes |
| c. May 1960 | Around May 1960 MLV number 68001 was damaged (location unknown) and sent to Eastleigh for repairs on 6th June 1960; it was released on 2nd July 1960. |
| 25th February 1966 | Number 68001 was further damaged in buffer stop collision at Victoria on 25th February 1966. |
| 6th November 1986 | On 6th November 1986 68005 was badly damaged in a buffer stop collision at Redhill when it struck a bridge parapet. Repairs at Slade Green and Selhurst followed and the vehicle was released 10th June 1987. |
| 15th March 1987 | MLV 68001 was further damaged in a buffer stop collision at Ramsgate depot 15th March 1987 and left hanging partly over the viaduct, but the MLV was soon repaired. |
| 8th March 1989 | Merstham; the 'Great' MLV Robbery (see below) |
| 6th December 1991 | As a consequence of a collision with 4 CEP number 1559 at Ramsgate on 6th December 1991, MLV number 9006 (former 68006) was withdrawn. After a period of storage at Ramsgate (thence Eastleigh) it was moved to Gwent Demolition, Margam for scrapping on 15th March 1994; being cut‑up w/e 26th March 1994. |
<![if !vml]>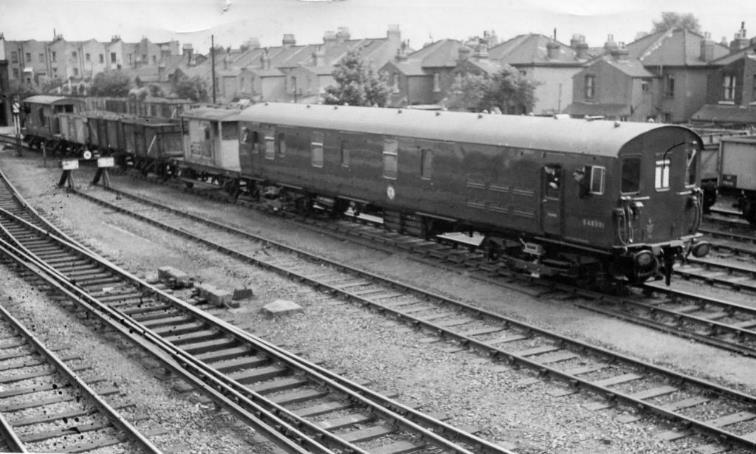 <![endif]>
MLV 68002 on the front of a CEP formation passing Snowdown
Note the siding's overhead wiring for the BR)S) electric locomotives
© www.BloodandCustard.com
The 'Great' MLV Robbery
Due to increasing use on mail trains, MLV numbers 9001-5/7/9 were allocated to the 'Parcels Sector' under the BR 'sectorisation' scheme and three were repainted into Royal Mail red livery, the first 9004 in October 1988 followed by 9009 and 9001 soon after. However, 9004 was held up and robbed near Merstham whilst working a Brighton to London Bridge mail train on 8th March 1989 and a decision to repaint the red livery units into NSE livery to make them less conspicuous was taken shortly after; so they lost this distinctive livery.
Renumbering & Further Livery Changes
In early 1986 some MLVs began to be repainted into the new L&SE two-tone brown livery (known as 'Jaffa Cake'), 68001/3/5/6/7/8/9/10 being so done.
Early in 1987 the MLVs were allocated unit numbers for the first time as units 9001 ‑ 9010, the first two (9001 /9004) were renumbered in February 1987, 9002/3/6/8/9/10 following in March 1987 with 9005 & 9007 later after repair. Several (including 9001/2/3/6/8) also had their bodyside numbers changed in error, these quickly reverted to 68xxx. These unit numbers were applied low down over the cab windows rather than high up in the centre as previously.
Network South-East
From early 1989 (starting with 9002) the MLVs were repainted into the red /white /blue NSE livery, though without the upswept arrangement at the cab ends.
From May 1990 the carriage of mails on BR(S) passenger trains ceased and with very little remaining work on Boat trains the MLVs had hardly any diagrammed work, most being used at various depots as shunting horses.
Into Decline
Unit numbers 9003 /9007 /9008 /9009/ 9010 were out of use during the summer of 1990, stored at Ramsgate and later (Ashford) Chart Leacon. In May 1991 unit numbers 9001 /9003 /9005 /9007‑9009 were officially withdrawn from service and stored, the remaining four being withdrawn from 30th September 1991 for further departmental use.
Following a collision at Ramsgate on 6th December 1991, MLV number 9006 was withdrawn and after a period of storage at Ramsgate (thence Eastleigh) was scrapped at Margam w/e 26th March 1994.
All the MLVs were officially renumbered into the departmental number series as 931091 ‑ 931099 & 931090 respectively though not all were physically renumbered as they were stored out of use. However, 931092 (9002) and 931090 (9010) were renumbered at Ramsgate.
At Slade Green no.931091 (9001) was numbered 091 and no.931094 (9004) & 931095 (9005) were in use at Ramsgate.
MLV number 9007 was not renumbered 9007 being stored derelict at Ramsgate. Following collision damage 9006 was stripped at Bournemouth and held at Eastleigh pending disposal for scrapping. Number 931098 was stored at Slade Green.
In an attempt to find further work for the MLVs, a trial took place on 15th June 1992 with nos.931091 /931092 hauling the Ashford Breakdown Crane and Tool Van on a circular trip from Ashford to Dover, Deal, Minster and back to Ashford via Canterbury East. Stops were made on Guston bank and a short period of battery operation tried. Although the conclusion was that they would be suitable for such use nothing further came of this scheme.
During May 1993 MLV nos.9003 and 9009 (not renumbered) moved to Strawberry Hill where they were overhauled for depot 'horses' and 9003 painted in all‑over rail blue whilst no.9009 retained the now defunct LSE 'Jaffa Cake' colours. Whilst at Strawberry Hill number 9003 was also fitted with Sandite equipment, though this may never have been used.
Privatisation & Porterbrook
Despite the MLVs now seeing very little use, under the BR privatisation arrangements all (except scrapped 68006) were allocated to the ownership of the Porterbrook train leasing company from 1st April 1994.
Number 931098 was hauled by a 4 VEP unit from Slade Green to Ramsgate (10th May 1996) and on 23rd May 1996 Ramsgate was cleared of all remaining MLVs with units 931092 /931094 /931095 /931097 /931098 /931010 running to Ashford, though not all were under power. These MLVs continued (with the addition of 931091) from Ashford to Strawberry Hill on 24th June 1996 and all nine MLVs were then subject to inspection for possible use as 'Sandite' units on the Merseyrail third rail system.
Late in June 1996 all nine MLVs were hauled from Strawberry Hill to Bournemouth for further storage.
Restrictions
There were no restrictions for MLVs running as a single vehicle. However, they were subject to a maximum trailing load of 100 tons gross when hauling tail traffic, except between Folkestone East and Folkestone Harbour when the maximum trailing load was 50 tons gross (information correct to 6th May 1968).
Sale and Disposal
Around June 1998 MLV 68001 was sold to the EPB Preservation Group and later moved to the East Kent Railway at Shepherd's Well where it operates with 2 EPB 5759.
MLV number 931092 was restored to use (circa September 1998) for use as a depot shunter at Bournemouth.
Six further MLVs were sold for preservation about March 2000 with all moving by road from Bournemouth to their new homes, two of which moved on 28th March 2000.
MLVs 68003 & 68004 went to the Mid Norfolk Railway at Wymondham arriving 17th March 2000 and 15th March 2000 respectively, 68005 & 68008 to the Suburban Electric Railway Association at Coventry and 68009 & 68010 to the Colne Valley Railway at Castle Hedingham. 68007 was later sold to the Bullied Electric Preservation, joining 68005/8 at Coventry.
Preservation
The 2012 MLV preservation notes are as follows:
Type AF
68001 /9001 /931091                 East Kent Railway, Shepherd's Well (Green livery)
68002 /9002 /931092                 East Kent Railway, Shepherd's Well (NSE livery)
Type AF‑1A
68003 /9003                                 Eden Valley Railway, Warcop (Green livery)
68004 /9004 /931094                 Mid Norfolk Railway, Dereham (Green livery)
68005 /9005 /931095                 Eden Valley Railway, Warcop (Green/L&SE livery)
68006 /9006                                 SCRAPPED, Gwent Demolition, Margam March 1994
68007/9007                                  SCRAPPED, Coventry Railway Centre November 2006
68008 /9008 /931098                 East Kent Railway, Shepherd's Well (NSE livery)
68009 /9009                                 East Kent Railway, Shepherd's Well (L&SE livery)
68010 /9010 /931090                     Wensleydale Railway, Leeming Bar (Green livery)
Individual Vehicle Preservation Notes
68001            Sold about June 1998 to the EPB preservation group and later moved by road to the East Kent Railway based at Shepherd's Well. It was progressively restored to green livery and used occasionally on battery power to haul 2 EPB unit number 5759 on passenger trains.
68002            Still at Bournemouth Depot 1th January 2004 and used occasionally as a 'depot shunter'. Moved by road to East Kent Railway at Shepherd's Well on 3/4th February 2004.
68003            Initial sale to a Bulleid Electric Preservation Society (BEPS) shareholder and moved to the Mid‑Norfolk Railway at Dereham and used as a store shed for use with restoration work on 4 EPB unit 5176. MLV did not carry its departmental number on sale. 68003 later resold to a private individual and moved to the Eden Valley Railway at Warcop where it was restored to working order and able to move under battery power. Repainted green during 2003.
68004            Sold to a group of Class 50 Locomotive Association members and moved to the Mid‑Norfolk Railway at Dereham. Currently in use as a PWay store by the railway. One side in L&SE livery, the other side painted into green (maybe all-green by now).
68005            Purchased by a BEPS shareholder and moved to the Coventry Railway Centre at Coventry Airport. MLV had been quite heavily stripped and was sold again in 2001 to the owner of 68003. It was moved to join 68003 at the Eden Valley Railway, Warcop where restoration is under way. One side green whilst the other remains in L&SE livery (maybe all-green by now). Useable on battery power.
68006            (Scrapped 1994).
68007            Scrapped 2006.
Purchased by a BEPS shareholder and moved to the Coventry Railway Centre at Coventry Airport for spares. Remained there as a store and later sold to EPB Preservation Group and scrapped at Coventry 30th November 2006 with the remains removed during November 2006.
68008            Purchased by a SERA shareholder and moved to the Coventry Railway Centre at Coventry Airport. Carried unit number '098' when sold. Sold to the East Kent Railway in May 2005 but not moved to Shepherd's Well until 7th September 2007.
68009            Purchased by Colne Valley Diesels and moved to the Colne Valley Railway at Castle Hedingham for use as a store. When sold it was not fitted with a headlight. Moved to East Kent Railway at Shepherd's Well in early 2009.
68010            Purchased by Colne Valley Diesels and moved to the Colne Valley Railway at Castle Hedingham for use as a store. This coach was headlight fitted on sale. It was later moved to the Wensleydale Railway at Leeming Bar (ownership details unknown). Now being restored, painted green with full yellow ends.
Thanks go to author John Atkinson with additional input and editorial by C. Watts
The MLV in Model Form
Until recently the BR(S) MLV was only available in kit form; the most recent version being from DC kits.
Silver-Fox Models marketed a ready-to-run MLV although this is now understood to be out of production.
Replica Railways announced a ready-to run version and displayed full body-mouldings and parts (which are available) before producing a motorised chassis which is currently sold in its own right for use under many multiple-unit types along with items such as jumper cables etc. It was understood that the ready-to-run MLV was awaiting completion when Bachmann announced it was producing its own MLV.
Complementing its 4-Cep unit, Bachmann released its MLV during July 2012 (initially in three versions catalogue no. 31-265, 266 & 267) before further versions were produced:
68001

BR(S) all-over Green with whistles
1959 to at least 1964/65   

(Catalogue number 31-265)

68006

BR(S) Green with yellow warning panel & two-tone horns
11-Dec-64 to 21-Jun-68

(Catalogue number 31-266)

68009

BR corporate Blue /Grey
10-Mar-70 to 1986

(Catalogue number 31-267)

68004

BR corporate all-over Blue with full yellow ends
30-Mar-67 to c.Aug-70

(Catalogue number 31-267Z)
Limited Edition for
Invicta Model Rail Ltd

9004
<![if !supportLineBreakNewLine]>
<![endif]>

Royal Mail Livery
(Bodyside number is 68004)
27-Oct-88 to Jul-89

(Catalogue number 31-265Z)
Limited Edition for Bachmann collector's Club

9004

Network South-East livery
Later version (darker blue) & bodyside number is 68004
Jul-89 to withdrawal

(Catalogue number 31-268)

68008

London & South East Sector 1 'Jaffa Cake' Livery
Jun-86 to Mar-87 (when renumbered as 9008)

(Catalogue number 31-269)
A comprehensive review has been taken by the Southern Electric Group.
Unfortunately, some of the green versions appear to suffer from visible white glue around the window apertures; a quality-control problem not often found on blue grey models where the window glazing surrounds are painted black.
Finally!
Smithfield Sidings
There is an unconfirmed but credible report that an MLV was taken into Smithfield Sidings instead of reversal at Blackfriars (exact date unknown).
The London Bridge Mail Train
There are a number of reports that an MLV was diagrammed for an overnight mail train between London Bridge and Ashford and this had on occasions diverted via Redhill because of engineering possessions; locomotive assistance being booked between the then non-electrified section between Redhill and Tonbridge. This reporting further suggests there were occasions when the MLV had to run between Redhill and Tonbridge using its traction batteries following a lack of available locomotive.
The London Bridge to Dover and Margate weekday mail train was quite long with Margate section (one or two vans) being detached from the rear upon arrival at Ashford (usually platform 3); the locomotive taking the front section forward to Dover. Certainly, between early 1983 (and probably from 1976) until the service finished in 1986 it was at Ashford where an MLV collected the detached vans taking them forward (02:33 dep) to Margate. There were also times when the train only ran to Canterbury or Dover (for example engineering works).
Sample timings supplied by Clive Standen from his guard's journals are as follows:
Wednesday 19th September 1984

Train reporting number 1R31 (Headcode 01)

Booked Time

Actual Time

Ashford (68005+1xBG)

02.33 dep

02:14 dep

Canterbury West

02:53 arr

02:34 arr

MLV runs round BG

Canterbury West

03:30 dep

03:26 dep

Ashford sidings

03:50 arr

03:46 arr
Thursday 20th September 1984

(Dover Special 4 duty)

Train reporting number 5R31 (Headcode not recorded)

Booked Time

Actual Time

Ashford (68003+1xBG)

03:54 dep

03:40 dep

Folkestone East

04:14 pass

Canterbury West

03:30 dep

03:26 dep

Dover Priory sidings

04:40 arr

04:05 arr
Saturday 22nd September 1984

Train reporting number 1R31 (Headcode 01)

Booked Time

Actual Time

Ashford (68009+1xBG)

02.33 dep

02:20 dep

Canterbury West

02:53 arr

02:39 arr

Canterbury West

03:08 dep

02:47 dep

Ramsgate

03:27 pass

03:05 pass

Margate

03:36 arr

03:16 arr

BG placed into the parcels dock

Margate (68009 ecs)

04:00 dep

03:37 dep

Ramsgate sidings

04:08 arr

03:37 arr

The turn continued with the 05.47 Ramsgate to Charing Cross via Dover as far as Ashford where the night turn finished.
As for the reports from Redhill to Tonbridge, with a couple of exceptions starting with the climb out of Redhill as well as climbs just after Nutfield station and on the approach to Godstone station, as well as approximately the two-miles of level on both the approaches to (and through) Bletchingley and Penshurst Tunnels the line from Redhill to Tonbridge is essentially on a falling gradient much of which is steeper than 1 in 300. 
However, during the 1980s many of the MLVs struggled to undertake more than a few shunting moves (if any) before the batteries flattened, so even a solo MLV working across nearly twenty miles between Redhill and Tonbridge would appear improbable. Furthermore, the operating department would not want to risk needing to recover a stranded train. Although if any reader can confirm otherwise, BloodandCustard would be most interested!
Thanks go Clive Standen and C. Watts.
ALL PHOTOGRAPHS ARE COPYRIGHT
<![if !vml]>
<![endif]>
Blood and Custard Blood & Custard Crimson & Cream Crimson and Cream Plum and Spilt Milk Blood and Custard Blood & Custard Crimson & Cream Crimson and Cream Plum and Spilt Milk Blood and Custard Blood & Custard Crimson & Cream Crimson and Cream Plum and Spilt Milk Blood and Custard Blood & Custard Crimson & Cream Crimson and Cream Plum and Spilt Milk Blood and Custard Blood & Custard Crimson & Cream Crimson and Cream Plum and Spilt Milk Blood and Custard Blood & Custard Crimson & Cream Crimson and Cream Plum and Spilt Milk Blood and Custard Blood & Custard Crimson & Cream Crimson and Cream Plum and Spilt Milk Blood and Custard Blood & Custard Crimson & Cream Crimson and Cream Plum and Spilt Milk Blood and Custard Blood & Custard Crimson & Cream Crimson and Cream Plum and Spilt Milk Blood and Custard Blood & Custard Crimson & Cream Crimson and Cream Plum and Spilt Milk Blood and Custard Blood & Custard Crimson & Cream Crimson and Cream Plum and Spilt Milk Blood and Custard Blood & Custard Crimson & Cream Crimson and Cream Plum and Spilt Milk Blood and Custard Blood & Custard Crimson & Cream Crimson and Cream Plum and Spilt Milk Blood and Custard Blood & Custard Crimson & Cream Crimson and Cream Plum and Spilt Milk Blood and Custard Blood & Custard Crimson & Cream Crimson and Cream Plum and Spilt Milk Blood and Custard Blood & Custard Crimson & Cream Crimson and Cream Plum and Spilt Milk Blood and Custard Blood & Custard Crimson & Cream Crimson and Cream Plum and Spilt Milk Blood and Custard Blood & Custard Crimson & Cream Crimson and Cream Plum and Spilt Milk Blood and Custard Blood & Custard Crimson & Cream Crimson and Cream Plum and Spilt Milk Blood and Custard Blood & Custard Crimson & Cream Crimson and Cream Plum and Spilt Milk Blood and Custard Blood & Custard Crimson & Cream Crimson and Cream Plum and Spilt Milk Blood and Custard Blood & Custard Crimson & Cream Crimson and Cream Plum and Spilt Milk Blood and Custard Blood & Custard Crimson & Cream Crimson and Cream Plum and Spilt Milk Blood and Custard Blood & Custard Crimson & Cream Crimson and Cream Plum and Spilt Milk Blood and Custard Blood & Custard Crimson & Cream Crimson and Cream Plum and Spilt Milk Blood and Custard Blood & Custard Crimson & Cream Crimson and Cream Plum and Spilt Milk Blood and Custard Blood & Custard Crimson & Cream Crimson and Cream Plum and Spilt Milk Blood and Custard Blood & Custard Crimson & Cream Crimson and Cream Plum and Spilt Milk Blood and Custard Blood & Custard Crimson & Cream Crimson and Cream Plum and Spilt Milk Blood and Custard Blood & Custard Crimson & Cream Crimson and Cream Plum and Spilt Milk Blood and Custard Blood & Custard Crimson & Cream Crimson and Cream Plum and Spilt Milk Blood and Custard Blood & Custard Crimson & Cream Crimson and Cream Plum and Spilt Milk Blood and Custard Blood & Custard Crimson & Cream Crimson and Cream Plum and Spilt Milk Blood and Custard Blood & Custard Crimson & Cream Crimson and Cream Plum and Spilt Milk Blood and Custard Blood & Custard Crimson & Cream Crimson and Cream Plum and Spilt Milk Blood and Custard Blood & Custard Crimson & Cream Crimson and Cream Plum and Spilt Milk Blood and Custard Blood & Custard Crimson & Cream Crimson and Cream Plum and Spilt Milk Blood and Custard Blood & Custard Crimson & Cream Crimson and Cream Plum and Spilt Milk Blood and Custard Blood & Custard Crimson & Cream Crimson and Cream Plum and Spilt Milk Blood and Custard Blood & Custard Crimson & Cream Crimson and Cream Plum and Spilt Milk Blood and Custard Blood & Custard Crimson & Cream Crimson and Cream Plum and Spilt Milk Blood and Custard Blood & Custard Crimson & Cream Crimson and Cream Plum and Spilt Milk Blood and Custard Blood & Custard Crimson & Cream Crimson and Cream Plum and Spilt Milk Blood and Custard Blood & Custard Crimson & Cream Crimson and Cream Plum and Spilt Milk Blood and Custard Blood & Custard Crimson & Cream Crimson and Cream Plum and Spilt Milk Blood and Custard Blood & Custard Crimson & Cream Crimson and Cream Plum and Spilt Milk Blood and Custard Blood & Custard Crimson & Cream Crimson and Cream Plum and Spilt Milk Blood and Custard Blood & Custard Crimson & Cream Crimson and Cream Plum and Spilt Milk Blood and Custard Blood & Custard Crimson & Cream Crimson and Cream Plum and Spilt Milk Blood and Custard Blood & Custard Crimson & Cream Crimson and Cream Plum and Spilt Milk Blood and Custard Blood & Custard Crimson & Cream Crimson and Cream Plum and Spilt Milk Blood and Custard Blood & Custard Crimson & Cream Crimson and Cream Plum and Spilt Milk Blood and Custard Blood & Custard Crimson & Cream Crimson and Cream Plum and Spilt Milk Blood and Custard Blood & Custard Crimson & Cream Crimson and Cream Plum and Spilt Milk Blood and Custard Blood & Custard Crimson & Cream Crimson and Cream Plum and Spilt Milk Blood and Custard Blood & Custard Crimson & Cream Crimson and Cream Plum and Spilt Milk Blood and Custard Blood & Custard Crimson & Cream Crimson and Cream Plum and Spilt Milk Blood and Custard Blood & Custard Crimson & Cream Crimson and Cream Plum and Spilt Milk Blood and Custard Blood & Custard Crimson & Cream Crimson and Cream Plum and Spilt Milk Blood and Custard Blood & Custard Crimson & Cream Crimson and Cream Plum and Spilt Milk Blood and Custard Blood & Custard Crimson & Cream Crimson and Cream Plum and Spilt Milk Blood and Custard Blood & Custard Crimson & Cream Crimson and Cream Plum and Spilt Milk Blood and Custard Blood & Custard Crimson & Cream Crimson and Cream Plum and Spilt Milk Blood and Custard Blood & Custard Crimson & Cream Crimson and Cream Plum and Spilt Milk Blood and Custard Blood & Custard Crimson & Cream Crimson and Cream Plum and Spilt Milk Blood and Custard Blood & Custard Crimson & Cream Crimson and Cream Plum and Spilt Milk Blood and Custard Blood & Custard Crimson & Cream Crimson and Cream Plum and Spilt Milk Blood and Custard Blood & Custard Crimson & Cream Crimson and Cream Plum and Spilt Milk Blood and Custard Blood & Custard Crimson & Cream Crimson and Cream Plum and Spilt Milk Blood and Custard Blood & Custard Crimson & Cream Crimson and Cream Plum and Spilt Milk Blood and Custard Blood & Custard Crimson & Cream Crimson and Cream Plum and Spilt Milk Blood and Custard Blood & Custard Crimson & Cream Crimson and Cream Plum and Spilt Milk Blood and Custard Blood & Custard Crimson & Cream Crimson and Cream Plum and Spilt Milk Blood and Custard Blood & Custard Crimson & Cream Crimson and Cream Plum and Spilt Milk Blood and Custard Blood & Custard Crimson & Cream Crimson and Cream Plum and Spilt Milk Blood and Custard Blood & Custard Crimson & Cream Crimson and Cream Plum and Spilt Milk Blood and Custard Blood & Custard Crimson & Cream Crimson and Cream Plum and Spilt Milk Blood and Custard Blood & Custard Crimson & Cream Crimson and Cream Plum and Spilt Milk Blood and Custard Blood & Custard Crimson & Cream Crimson and Cream Plum and Spilt Milk Blood and Custard Blood & Custard Crimson & Cream Crimson and Cream Plum and Spilt Milk Blood and Custard Blood & Custard Crimson & Cream Crimson and Cream Plum and Spilt Milk Blood and Custard Blood & Custard Crimson & Cream Crimson and Cream Plum and Spilt Milk Blood and Custard Blood & Custard Crimson & Cream Crimson and Cream Plum and Spilt Milk Blood and Custard Blood & Custard Crimson & Cream Crimson and Cream Plum and Spilt Milk Blood and Custard Blood & Custard Crimson & Cream Crimson and Cream Plum and Spilt Milk Blood and Custard Blood & Custard Crimson & Cream Crimson and Cream Plum and Spilt Milk Blood and Custard Blood & Custard Crimson & Cream Crimson and Cream Plum and Spilt Milk Blood and Custard Blood & Custard Crimson & Cream Crimson and Cream Plum and Spilt Milk Blood and Custard Blood & Custard Crimson & Cream Crimson and Cream Plum and Spilt Milk Blood and Custard Blood & Custard Crimson & Cream Crimson and Cream Plum and Spilt Milk Blood and Custard Blood & Custard Crimson & Cream Crimson and Cream Plum and Spilt Milk Blood and Custard Blood & Custard Crimson & Cream Crimson and Cream Plum and Spilt Milk Blood and Custard Blood & Custard Crimson & Cream Crimson and Cream Plum and Spilt Milk Blood and Custard Blood & Custard Crimson & Cream Crimson and Cream Plum and Spilt Milk Blood and Custard Blood & Custard Crimson & Cream Crimson and Cream Plum and Spilt Milk Blood and Custard Blood & Custard Crimson & Cream Crimson and Cream Plum and Spilt Milk Blood and Custard Blood & Custard Crimson & Cream Crimson and Cream Plum and Spilt Milk Blood and Custard Blood & Custard Crimson & Cream Crimson and Cream Plum and Spilt Milk Blood and Custard Blood & Custard Crimson & Cream Crimson and Cream Plum and Spilt Milk Blood and Custard Blood & Custard Crimson & Cream Crimson and Cream Plum and Spilt Milk Blood and Custard Blood & Custard Crimson & Cream Crimson and Cream Plum and Spilt Milk Blood and Custard Blood & Custard Crimson & Cream Crimson and Cream Plum and Spilt Milk Blood and Custard Blood & Custard Crimson & Cream Crimson and Cream Plum and Spilt Milk Blood and Custard Blood & Custard Crimson & Cream Crimson and Cream Plum and Spilt Milk Blood and Custard Blood & Custard Crimson & Cream Crimson and Cream Plum and Spilt Milk Blood and Custard Blood & Custard Crimson & Cream Crimson and Cream Plum and Spilt Milk Blood and Custard Blood & Custard Crimson & Cream Crimson and Cream Plum and Spilt Milk Blood and Custard Blood & Custard Crimson & Cream Crimson and Cream Plum and Spilt Milk Blood and Custard Blood & Custard Crimson & Cream Crimson and Cream Plum and Spilt Milk Blood and Custard Blood & Custard Crimson & Cream Crimson and Cream Plum and Spilt Milk Blood and Custard Blood & Custard Crimson & Cream Crimson and Cream Plum and Spilt Milk Blood and Custard Blood & Custard Crimson & Cream Crimson and Cream Plum and Spilt Milk Blood and Custard Blood & Custard Crimson & Cream Crimson and Cream Plum and Spilt Milk Blood and Custard Blood & Custard Crimson & Cream Crimson and Cream Plum and Spilt Milk Blood and Custard Blood & Custard Crimson & Cream Crimson and Cream Plum and Spilt Milk Blood and Custard Blood & Custard Crimson & Cream Crimson and Cream Plum and Spilt Milk Blood and Custard Blood & Custard Crimson & Cream Crimson and Cream Plum and Spilt Milk Blood and Custard Blood & Custard Crimson & Cream Crimson and Cream Plum and Spilt Milk Blood and Custard Blood & Custard Crimson & Cream Crimson and Cream Plum and Spilt Milk Blood and Custard Blood & Custard Crimson & Cream Crimson and Cream Plum and Spilt Milk Blood and Custard Blood & Custard Crimson & Cream Crimson and Cream Plum and Spilt Milk Blood and Custard Blood & Custard Crimson & Cream Crimson and Cream Plum and Spilt Milk Blood and Custard Blood & Custard Crimson & Cream Crimson and Cream Plum and Spilt Milk Blood and Custard Blood & Custard Crimson & Cream Crimson and Cream Plum and Spilt Milk Blood and Custard Blood & Custard Crimson & Cream Crimson and Cream Plum and Spilt Milk Blood and Custard Blood & Custard Crimson & Cream Crimson and Cream Plum and Spilt Milk Blood and Custard Blood & Custard Crimson & Cream Crimson and Cream Plum and Spilt Milk Blood and Custard Blood & Custard Crimson & Cream Crimson and Cream Plum and Spilt Milk Blood and Custard Blood & Custard Crimson & Cream Crimson and Cream Plum and Spilt Milk Blood and Custard Blood & Custard Crimson & Cream Crimson and Cream Plum and Spilt Milk Blood and Custard Blood & Custard Crimson & Cream Crimson and Cream Plum and Spilt Milk Blood and Custard Blood & Custard Crimson & Cream Crimson and Cream Plum and Spilt Milk Blood and Custard Blood & Custard Crimson & Cream Crimson and Cream Plum and Spilt Milk Blood and Custard Blood & Custard Crimson & Cream Crimson and Cream Plum and Spilt Milk Blood and Custard Blood & Custard Crimson & Cream Crimson and Cream Plum and Spilt Milk Blood and Custard Blood & Custard Crimson & Cream Crimson and Cream Plum and Spilt Milk Blood and Custard Blood & Custard Crimson & Cream Crimson and Cream Plum and Spilt Milk Blood and Custard Blood & Custard Crimson & Cream Crimson and Cream Plum and Spilt Milk Blood and Custard Blood & Custard Crimson & Cream Crimson and Cream Plum and Spilt Milk Blood and Custard Blood & Custard Crimson & Cream Crimson and Cream Plum and Spilt Milk Blood and Custard Blood & Custard Crimson & Cream Crimson and Cream Plum and Spilt Milk Blood and Custard Blood & Custard Crimson & Cream Crimson and Cream Plum and Spilt Milk Blood and Custard Blood & Custard Crimson & Cream Crimson and Cream Plum and Spilt Milk Blood and Custard Blood & Custard Crimson & Cream Crimson and Cream Plum and Spilt Milk Blood and Custard Blood & Custard Crimson & Cream Crimson and Cream Plum and Spilt Milk Blood and Custard Blood & Custard Crimson & Cream Crimson and Cream Plum and Spilt Milk Blood and Custard Blood & Custard Crimson & Cream Crimson and Cream Plum and Spilt Milk Blood and Custard Blood & Custard Crimson & Cream Crimson and Cream Plum and Spilt Milk Blood and Custard Blood & Custard Crimson & Cream Crimson and Cream Plum and Spilt Milk Blood and Custard Blood & Custard Crimson & Cream Crimson and Cream Plum and Spilt Milk Blood and Custard Blood & Custard Crimson & Cream Crimson and Cream Plum and Spilt Milk Blood and Custard Blood & Custard Crimson & Cream Crimson and Cream Plum and Spilt Milk Blood and Custard Blood & Custard Crimson & Cream Crimson and Cream Plum and Spilt Milk Blood and Custard Blood & Custard Crimson & Cream Crimson and Cream Plum and Spilt Milk Blood and Custard Blood & Custard Crimson & Cream Crimson and Cream Plum and Spilt Milk Blood and Custard Blood & Custard Crimson & Cream Crimson and Cream Plum and Spilt Milk Blood and Custard Blood & Custard Crimson & Cream Crimson and Cream Plum and Spilt Milk Blood and Custard Blood & Custard Crimson & Cream Crimson and Cream Plum and Spilt Milk Blood and Custard Blood & Custard Crimson & Cream Crimson and Cream Plum and Spilt Milk Blood and Custard Blood & Custard Crimson & Cream Crimson and Cream Plum and Spilt Milk Blood and Custard Blood & Custard Crimson & Cream Crimson and Cream Plum and Spilt Milk Blood and Custard Blood & Custard Crimson & Cream Crimson and Cream Plum and Spilt Milk Blood and Custard Blood & Custard Crimson & Cream Crimson and Cream Plum and Spilt Milk Blood and Custard Blood & Custard Crimson & Cream Crimson and Cream Plum and Spilt Milk Blood and Custard Blood & Custard Crimson & Cream Crimson and Cream Plum and Spilt Milk Blood and Custard Blood & Custard Crimson & Cream Crimson and Cream Plum and Spilt Milk Blood and Custard Blood & Custard Crimson & Cream Crimson and Cream Plum and Spilt Milk Blood and Custard Blood & Custard Crimson & Cream Crimson and Cream Plum and Spilt Milk Blood and Custard Blood & Custard Crimson & Cream Crimson and Cream Plum and Spilt Milk Blood and Custard Blood & Custard Crimson & Cream Crimson and Cream Plum and Spilt Milk Blood and Custard Blood & Custard Crimson & Cream Crimson and Cream Plum and Spilt Milk Blood and Custard Blood & Custard Crimson & Cream Crimson and Cream Plum and Spilt Milk Blood and Custard Blood & Custard Crimson & Cream Crimson and Cream Plum and Spilt Milk Blood and Custard Blood & Custard Crimson & Cream Crimson and Cream Plum and Spilt Milk Blood and Custard Blood & Custard Crimson & Cream Crimson and Cream Plum and Spilt Milk Blood and Custard Blood & Custard Crimson & Cream Crimson and Cream Plum and Spilt Milk Blood and Custard Blood & Custard Crimson & Cream Crimson and Cream Plum and Spilt Milk Blood and Custard Blood & Custard Crimson & Cream Crimson and Cream Plum and Spilt Milk Blood and Custard Blood & Custard Crimson & Cream Crimson and Cream Plum and Spilt Milk Blood and Custard Blood & Custard Crimson & Cream Crimson and Cream Plum and Spilt Milk Blood and Custard Blood & Custard Crimson & Cream Crimson and Cream Plum and Spilt Milk Blood and Custard Blood & Custard Crimson & Cream Crimson and Cream Plum and Spilt Milk Blood and Custard Blood & Custard Crimson & Cream Crimson and Cream Plum and Spilt Milk Blood and Custard Blood & Custard Crimson & Cream Crimson and Cream Plum and Spilt Milk Blood and Custard Blood & Custard Crimson & Cream Crimson and Cream Plum and Spilt Milk Blood and Custard Blood & Custard Crimson & Cream Crimson and Cream Plum and Spilt Milk Blood and Custard Blood & Custard Crimson & Cream Crimson and Cream Plum and Spilt Milk Blood and Custard Blood & Custard Crimson & Cream Crimson and Cream Plum and Spilt Milk Blood and Custard Blood & Custard Crimson & Cream Crimson and Cream Plum and Spilt Milk Blood and Custard Blood & Custard Crimson & Cream Crimson and Cream Plum and Spilt Milk Blood and Custard Blood & Custard Crimson & Cream Crimson and Cream Plum and Spilt Milk Blood and Custard Blood & Custard Crimson & Cream Crimson and Cream Plum and Spilt Milk Blood and Custard Blood & Custard Crimson & Cream Crimson and Cream Plum and Spilt Milk Blood and Custard Blood & Custard Crimson & Cream Crimson and Cream Plum and Spilt Milk Blood and Custard Blood & Custard Crimson & Cream Crimson and Cream Plum and Spilt Milk Blood and Custard Blood & Custard Crimson & Cream Crimson and Cream Plum and Spilt Milk Blood and Custard Blood & Custard Crimson & Cream Crimson and Cream Plum and Spilt Milk Blood and Custard Blood & Custard Crimson & Cream Crimson and Cream Plum and Spilt Milk Blood and Custard Blood & Custard Crimson & Cream Crimson and Cream Plum and Spilt Milk Blood and Custard Blood & Custard Crimson & Cream Crimson and Cream Plum and Spilt Milk Blood and Custard Blood & Custard Crimson & Cream Crimson and Cream Plum and Spilt Milk Blood and Custard Blood & Custard Crimson & Cream Crimson and Cream Plum and Spilt Milk Blood and Custard Blood & Custard Crimson & Cream Crimson and Cream Plum and Spilt Milk Blood and Custard Blood & Custard Crimson & Cream Crimson and Cream Plum and Spilt Milk Blood and Custard Blood & Custard Crimson & Cream Crimson and Cream Plum and Spilt Milk Blood and Custard Blood & Custard Crimson & Cream Crimson and Cream Plum and Spilt Milk Blood and Custard Blood & Custard Crimson & Cream Crimson and Cream Plum and Spilt Milk Blood and Custard Blood & Custard Crimson & Cream Crimson and Cream Plum and Spilt Milk Blood and Custard Blood & Custard Crimson & Cream Crimson and Cream Plum and Spilt Milk Blood and Custard Blood & Custard Crimson & Cream Crimson and Cream Plum and Spilt Milk Blood and Custard Blood & Custard Crimson & Cream Crimson and Cream Plum and Spilt Milk Blood and Custard Blood & Custard Crimson & Cream Crimson and Cream Plum and Spilt Milk Blood and Custard Blood & Custard Crimson & Cream Crimson and Cream Plum and Spilt Milk Blood and Custard Blood & Custard Crimson & Cream Crimson and Cream Plum and Spilt Milk Blood and Custard Blood & Custard Crimson & Cream Crimson and Cream Plum and Spilt Milk Blood and Custard Blood & Custard Crimson & Cream Crimson and Cream Plum and Spilt Milk Blood and Custard Blood & Custard Crimson & Cream Crimson and Cream Plum and Spilt Milk Blood and Custard Blood & Custard Crimson & Cream Crimson and Cream Plum and Spilt Milk Blood and Custard Blood & Custard Crimson & Cream Crimson and Cream Plum and Spilt Milk Blood and Custard Blood & Custard Crimson & Cream Crimson and Cream Plum and Spilt Milk Blood and Custard Blood & Custard Crimson & Cream Crimson and Cream Plum and Spilt Milk Blood and Custard Blood & Custard Crimson & Cream Crimson and Cream Plum and Spilt Milk Blood and Custard Blood & Custard Crimson & Cream Crimson and Cream Plum and Spilt Milk Blood and Custard Blood & Custard Crimson & Cream Crimson and Cream Plum and Spilt Milk Blood and Custard Blood & Custard Crimson & Cream Crimson and Cream Plum and Spilt Milk