British Rail Southern Region design
4 PEP & 2 PEP
(4001 & 4002)
<![if !vml]>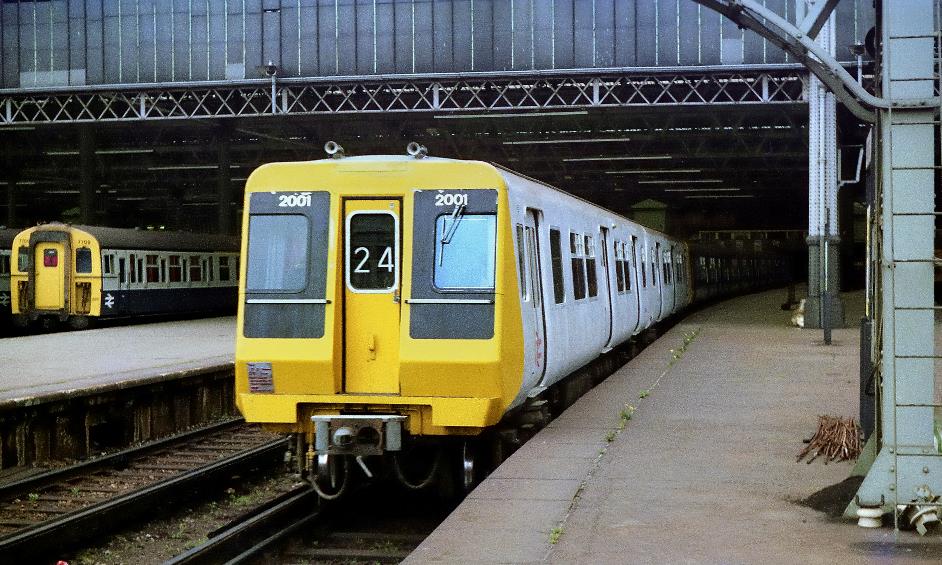 <![endif]>
Unit no.2001 at Waterloo on 28th May 1974
© Chris Wilson
2 & 4 Car Experimental Units
During 1970 British Railways decided to design a new type of suburban train with many modern design features and ten vehicles were ordered from York works and constructed there from late 1970 until early 1972, these eventually being formed into two 4-car and one 2-car unit. In June 1973 they were delivered to the Southern Region for extensive testing prior to introduction to passenger service.
Vehicle Design
Vehicles were constructed with aluminium bodies to an integral design with no separate underframe; these coaches being an entirely different shape to earlier vehicles. The bodysides curved out from floor level to give maximum width at waist height, then tapered inwards slightly to form the bodysides and ending with a much flatter roofline than hitherto.
All vehicles were motor coaches with small 100hp motors mounted on each axle, though not all vehicles were equipped with driving cabs. These vehicles were mounted on two types of experimental bogies, the D.O.C. 1 type designed for minimum weight and maintenance and an Air‑Flexicoil type with air bags supporting the coach bodies directly onto the bogie frames.
Three sub-types of vehicle were constructed, type A having a driving cab at one end and fitted with a compressor, type B again having a driving cab at one end and fitted with a motor alternator (MA) set and batteries to supply 110v for lighting and control purposes, and type C fitted with a compressor but no driving position.
Vehicles were coupled together by a solid bar coupling within units and a Scharfenberg automatic coupler was provided at driving cab ends to join units mechanically, electrically and pneumatically. As a consequence, the cab ends of the units had an uncluttered design as they did not carry the typical BR(S) separate jumper or air hose connections provided at the end of the units.
The cab ends were of an entirely new design with the cab front sloping gently backwards from waist height with the driver and second man's observation lights being separated by an emergency end door recessed into this sloping end; this door being equipped with the standard SR type two position route indicator box.
All buffing loads at unit ends were taken by the Scharfenberg coupler, no side buffers being fitted. Coaches provided with driving cabs had this cab located in a cubicle in the nearside corner of a lobby with a single leaf sliding door located on each side, and there were two further pairs of double leaf sliding doors positioned along the bodysides. Non-driving vehicles had three pairs of double leaf doors on each side. All vehicles had sealed double glazed windows, though ventilation problems meant that these were soon altered and provided with sliding ventilators in the top third of the window opening prior to public service commencing in June 1973.
These vehicles were ordered to LOT 30818 [one type A and five type B coaches with driving cabs and numbered 64300 (A) and 64301‑5 (B)], and LOT 30819 (four type C non-driving coaches numbered 62426‑29). These vehicles were formed into pairs, electrically wired together with a type A + B car for the 2-car unit and pairs of B + C cars to make up each 2-car unit.
There were no power jumpers at the end of these vehicle pairs but a shoebeam was provided each side at both ends, meaning that the 4-car units had shoebeams in the conventional positions on each side at unit ends and two further sets each side on the centremost bogies of the unit. Traction motors were an EE‑AEI 100hp design mounted on each axle giving the 2-car unit 800hp and the 2-car sets 1600hp.
All coaches were equipped with rheostatic and air operated disc brakes, the air brake, a 7 step EP, being used to bring the units to a stop from about 15 MPH, above that speed the rheostatic brake being effective, energy generated by this form of braking being used to feed the heating circuits in cold weather, these working at line voltage, otherwise this energy was dissipated through resistors. The electric brake was 'Westcode' with an energise to release feature to ensure a fail-safe mode. Control and auxiliary circuits operated at 110v supplied from the MA sets on each unit, these also supplying the fluorescent lighting.
Gangway connections were provided at all vehicle ends where no driving cab was located, giving access throughout the 4-car units and within the 2-car set also, but passenger access between adjacent units was not possible despite each cab end having a central door. Seating was arranged 2x2 each side of the central gangway and in bays between the glazed draught screens by the sliding door openings, driving coaches seating 68 and intermediate coaches seating 72. The lobby at cab ends could be used by passengers when the cab was not in use, this area being separated from the rest of the coach by a sliding door. No separate guard's compartment was provided, the guard using the rearmost driving cab, where door controls were provided.
As delivered each door had buttons mounted adjacent on the draught screens for passenger door control, but these were removed before units entered passenger service and replaced by vertical handles fitted on the doors themselves, operation of the door being initiated by passengers starting to slide the doors open (or closed) using these handles, whence the power door equipment took over to complete the door operation. Any doors left open could be closed by the guard prior to starting the train, an orange door indicator light mounted at roof level on the side of each vehicle extinguished when all doors were closed and electrically locked on that vehicle. This light also served to indicate a vehicle where the passenger emergency alarm had been activated.
Seating in the units was also of a new type with cushions mounted into a plastic seating unit, the cushions being removable for easy cleaning or replacement, though these seats had low backs and proved unpopular with passengers and two vehicles were later fitted with a higher backed design.
The 4 PEP units were 267' 2" long and weighed 140 tons and seated 280 second, the 2-car set being 133' 0" long, weighing 70 tons and seating 136. Each vehicle weighed 35 tons. The first completed vehicles of each type (64300 and 62426, both finished late in 1970) were despatched from York to Derby for extensive technical evaluation, resulting in coaches not being allocated to units in numerical order, and the two 4-car units were turned out in all-blue livery whilst those of the 2-car unit were left unpainted with coach numbers and BR logo in red instead of the usual white. All units had yellow cab ends, though with an area of black around each cab window, and the units were delivered to the BR(S) as 4001 and 4002 (4 PEP) in blue livery and 2001 (2 PEP) in unpainted silver.
It was intended to classify these units as PER (Prototype Electro Rheostatic) but this was soon changed to 'PEP' probably for public relations reasons. However, this soon drew the nickname Pack 'Em Perpendicular.
<![if !vml]>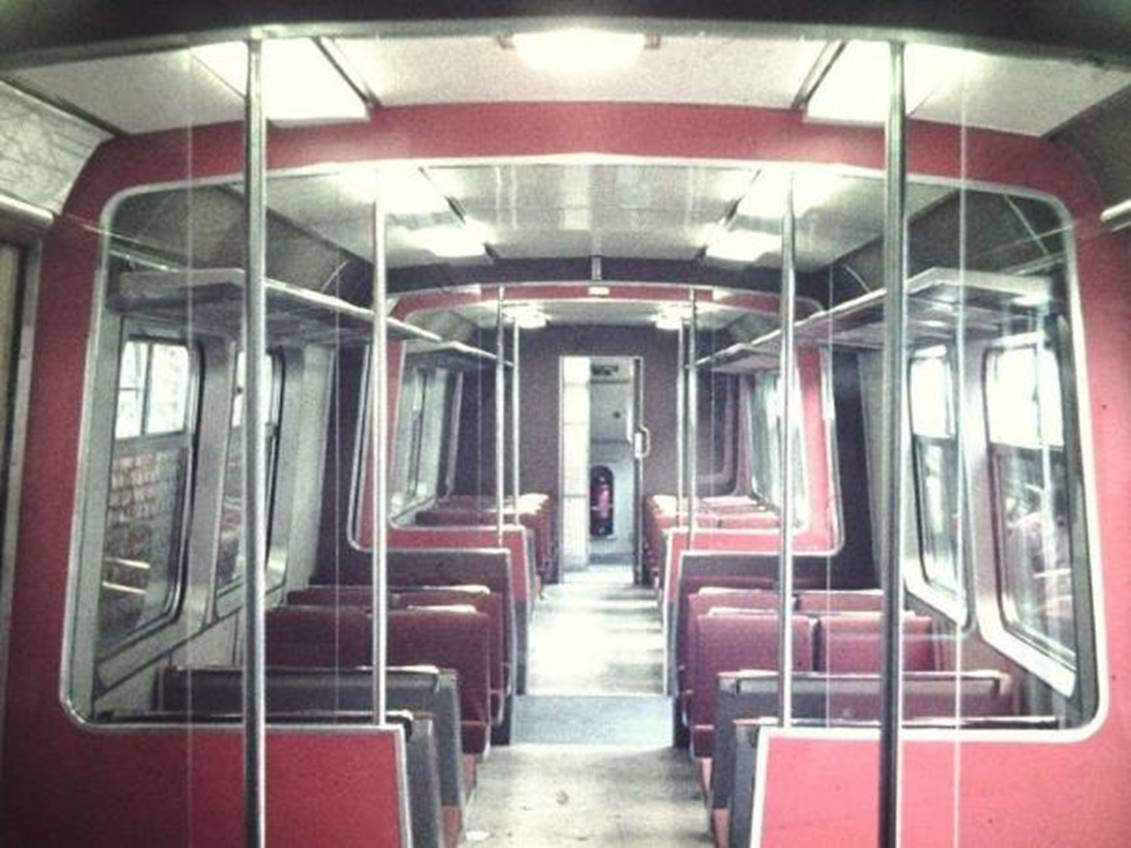 <![endif]>
Interior of a PEP driving coach
© BloodandCustard
Delivery & Testing
Both 4-car units were delivered direct from York, the 2-car from Derby after testing had been completed, and went to the South Western division based at Strawberry Hill and Wimbledon Park depots, the first unit arriving at Wimbledon Park on 7-Jul-71. Unit 4001 ran empty to Selhurst 13‑Sep‑71 and was used for a press launch at Charing Cross the following day before returning to the SWD and test running began in August.
Unit 4001 was in use on the SWD for platform clearance tests in May 1972 and ran similar tests on the Central division commencing 18‑Jul‑72. It visited Eastleigh for modifications between 14‑Aug‑72 and 14‑Sep‑72.
Unit 4002 was delivered from York to Stratford by 4‑Nov‑71 and arrived at Wimbledon Park 11‑Nov‑71. It too visited Eastleigh between 5‑Oct‑72 and 3‑Nov‑72 for modification, possibly the fitting of opening windows in the passenger saloons.
Unit 2001 made a similar trip to Eastleigh between 20‑Nov‑72 and 12‑Dec‑72, also for modifications.
An extensive testing programme was then completed prior to the units entering passenger service from 4-Jun-73 (4001) and 4002 was in service from 18‑Jun-73 following a further visit to Eastleigh between 17‑May‑73 and 8‑Jun‑73. On the first day (Monday 4th June) unit 4001 worked the 11.43 Hampton Court to Waterloo, from Tuesday it also worked the 10.56 from Waterloo to Hampton Court and this was increased to three trips per day from the next week.
<![if !vml]>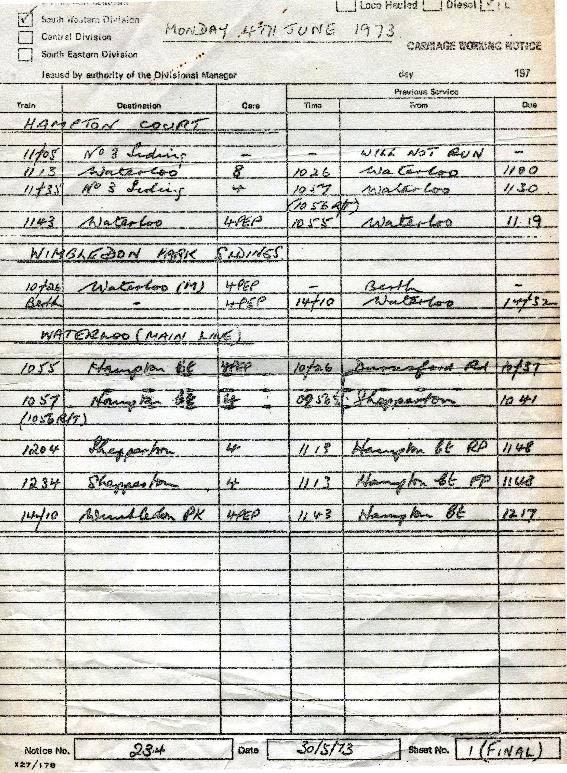 <![endif]>
Routes cleared for use by these units were from Waterloo to Shepperton, Hampton Court and Chessington South also the route via East Putney to Wimbledon Park depot. Units worked in combinations of four, six or eight coaches on the SWD. A full day's diagram was introduced from 2-Jul-73 consisting of:
| | | | | | | |
| --- | --- | --- | --- | --- | --- | --- |
| | xx†xx | Wimbledon Park | Waterloo | 07.06 | Waterloo | Chessington South |
| | 07.47 | Chessington South | Waterloo | 08.26 | Waterloo | Hampton Court |
| | 09.13 | Hampton Court | Waterloo | 10.04 | Waterloo | Shepperton |
| | 10.56 | Shepperton | Waterloo | 11.56 | Waterloo | Hampton Court |
| | 12.43 | Hampton Court | Waterloo | 13.34 | Waterloo | Shepperton |
| | 14.26 | Shepperton | Waterloo | 15.26 | Waterloo | Hampton Court |
| | 17.23 | Hampton Court | Waterloo | 18.04 | Waterloo | Shepperton |
| | 18.56 | Shepperton | Waterloo | 19.56 | Waterloo | Hampton Court |
| | 20.43 | Hampton Court | Waterloo | 21.34 | Waterloo | Shepperton |
| | 22.26 | Shepperton | Waterloo | xx†xx | Waterloo | Wimbledon Park |
Following a further visit to Eastleigh for modifications for unit 2001 between 11‑Jun‑73 and 25‑Jun‑73, all three units were transferred briefly to the SED from 13-Aug-73 until 17‑Sep‑73 and the following routes were passed for their operation: Charing Cross /Cannon Street to Sevenoaks and Bromley North also to Dartford via Sidcup & Bexleyheath. Whilst on the SED the train operated normally as a 10-car formation, this not being possible in passenger service on the SWD due to platform lengths.
During their first week on the SED the train was booked to work:
| | | | | | | |
| --- | --- | --- | --- | --- | --- | --- |
| | xx†xx | Slade Green         | Dartford | 10.52 | Dartford | Charing Cross (via SU) |
| | 11.43 | Charing Cross | Dartford (via SU) | 12.32 | Dartford | Cannon Street (via SU) |
| | 13.26 | Cannon Street         | Dartford (via SU) | xx†xx | Dartford | Slade Green |
From Wednesday 15-Aug-73 for the rest of that week two earlier trips were added at 09.12 ex Dartford to Charing Cross and 10.03 Charing Cross back to Dartford (both again via Sidcup).
A fuller day's diagram was then devised from 20-Aug-73 as follows:
| | | | | | | |
| --- | --- | --- | --- | --- | --- | --- |
| | xx†xx | Slade Green | Dartford | 06.32 | Dartford | Cannon Street (via BX) |
| | 07.22 | Cannon Street | Barnehurst | xx†xx  | Barnehurst | Crayford |
| | 08.05 | Crayford | Cannon Street (via SU) | 08.57 | Cannon Street | Bromley North |
| | 09.28 | Bromley North | Charing Cross | 10.03 | Charing Cross | Dartford (via SU) |
| | 10.52 | Dartford | Charing Cross (via SU) | 11.43 | Charing Cross | Dartford (via SU) |
| | 12.32 | Dartford | Cannon Street (via SU) | 13.43 | Cannon Street | Bromley North |
| | 14.19 | Bromley North | Cannon Street | 15.26 | Cannon Street | Dartford (via SU) |
| | xx†xx  | Dartford | Charing Cross | 17.08 | Charing Cross | Dartford (via BX) |
| | 18.24 | Dartford | Charing Cross (via BX) | 19.19 | Charing Cross | Sevenoaks |
| | 20.31 | Sevenoaks | Charing Cross | 21.23 | Charing Cross | Dartford (via SU) |
| | 22.12 | Dartford | Charing Cross (via SU) | 23.24 | Charing Cross | Dartford (via BX) |
| | xx†xx  | Dartford | Slade Green | | | |
However the units only stayed on the SED for about a month as number of failures, (some of which blocked the line for considerable periods) led to them being banished back to the SWD; the worst at Eltham Well Hall on 23‑Aug‑73 whilst working the 06.32 ex.Dartford. The train was also in trouble during the evening of 28-Aug-73 and suffered brake trouble during the morning of 31-Aug-73 leading to late running.
Units occasionally worked empty over other routes under special arrangements.
TOPS
BR TOPS class for these units were 445 (4 PEP) and 446 (2 PEP).
Eastleigh 1974
The units were all out of use from 18‑Feb‑74 until late April whilst bogie problems were rectified at Eastleigh. Two coaches of unit 4001 (nos. 64302 & 62428) arrived at Eastleigh 25‑Feb‑74 and were not released until 22‑Jul‑74 whilst the remaining two (nos. 62427 & 64301) arrived 25‑Jul‑74 and were released 15‑Aug‑74.
Out of Service & Withdrawal
These units remained in passenger service until 1977, though not diagrammed after 2‑Aug‑76, though the 2-car unit was taken out of traffic from Aug‑74. There was some swapping of vehicles between units resulting in both 4-car units operating for a while with a silver coach formerly in 2001.
Both 4-car units returned from the SR to Derby 13‑Jun‑76 but were back on the SR again from 10‑Jul‑76 though they both then went back to Derby again from 22‑Jul‑76 for further modifications before returning to the SR.
Both went back to Derby once again 7‑Jan‑77 but returned to the SR again 8‑Feb‑77, being stored at Wimbledon Park from Mar‑77 and were officially withdrawn from May-77.
<![if !vml]>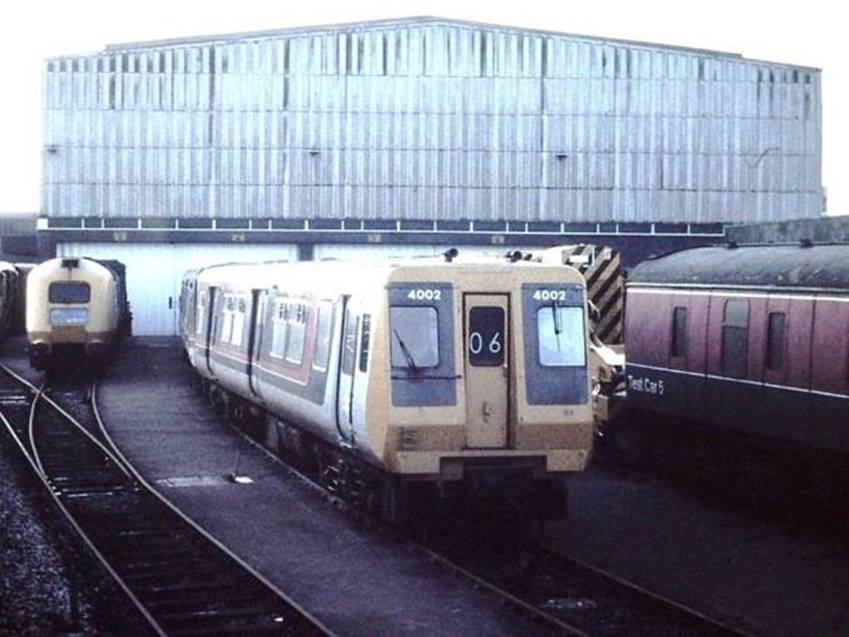 <![endif]>
4 PEP vehicles from unit no.057 (but still numbered 4002) in 'APT' livery outside Derby Test Centre (probably October 1978 to October 1979 else June 1980 to September 1980).
© BloodandCustard
Production Units
Due to the many design differences, the PEPs were unable to run in multiple with any other type of SR unit, and their very restricted route availability was a handicap, however the units yielded much valuable information and were the basis of the design for subsequent batches of suburban stock of similar general pattern, these being:
64 dual-voltage 3-car units for the Great Northern Suburban electrification introduced in 1976 (Class 313).
33 DC 3-car units for Merseyside introduced in 1978 (Class 507).
43 DC 4-car units for the SWD of the Southern Region introduced in 1979 (Class 508).
16 AC 3-car units for the Glasgow area introduced in 1979 (Class 314).
61 AC 4-car units for GE suburban services introduced in 1980 (Class 315).
Unit Formations
Unit formations were as follows with the completion date shown below the unit number, delivery to SR date and coach type (letter code) being shown below the number:
Unit

DMS

MS

MS

DMS

To BR(S)

Withdrawn

Diag. No.

1601

1500

1500

1601

2001
21-Jan-72

64300*
(A)

-

-

64305*
(B)
64303
64305*
64301

8-Jun-72

Aug-74

4001
7-Jul-71

64301
(B)
64305*
64303

62427
(C)

62428
(C)

64302
(B)

16-Jul-71

May-77

4002
3-Nov-71

64303
(B)
64305*
64303
64305*

62426
(C)

62429
(C)

64304
(B)

5-Nov-71

May-77

* = 'Silver' unpainted coach, all others being in blue livery.
<![if !vml]>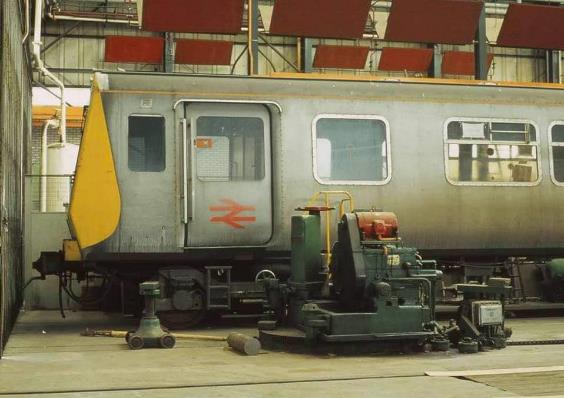 <![endif]>
Silver BR-liveried 2 PEP test unit no.920001 coach ex.64300 in the Derby Research Centre on Saturday, 21st July 1979.
© Motorman Colin Whitbread
Individual Unit Notes
2001, 4001 & 4002

2001

Unit noted on test from Derby hauled by Co‑Bo S15705 3‑Jun‑72. DMS 64305 exchanged with 64303 (ex.4002) 15‑Sep‑73. Unit returned to Derby 12‑Nov‑73 but was back on the BR(S) again by 1‑Dec‑73.

Reverted to original formation from Apr‑74. 64305 then exchanged with 64301 (ex.4001) Aug‑74 and unit to York from 30‑Aug‑74 and deleted from BR(S) stock during Sep‑74.
Both vehicles renumbered into departmental stock (64300 becoming ADB975430, 64301 becoming ADB975432) these vehicles becoming part of test unit 920 001.

4001

DMS 64301 exchanged with 'silver' 64305 (ex.2001) Aug‑74.

Unit withdrawn during 1977 and DMS 64305 exchanged with 64303 (ex.4002) and unit into departmental service, renumbered as 056 from May‑79.

All coaches renumbered into ADB97xxxx series (see below).

4002

DMS 64303 exchanged with 'silver' 64305 (ex.2001) 15‑Sep‑73.

Reverted to original from Apr‑74. Vehicles 64304 & 62429 both fitted with higher backed seating during 1975.

Unit withdrawn during 1977 and DMS 64303 exchanged with 'silver' 64305 (ex.4001) and unit into departmental service, officially numbered 057 though still displaying 4002 on cab ends. These numbers were not altered until Oct‑79.

All coaches renumbered into ADB97xxxx series (see below).
PEP Units in Departmental Service
All ten PEP vehicles were taken into departmental service following their withdrawal from public traffic in Aug‑74 (2001) and during May-77 (4001 & 4002).
Unit formations are shown below with details of departmental use shown in the further notes. All coach numbers were prefixed ADB.
Unit

Formed

DMS

MS

MS

DMS

Withdrawn

920001
(2001)

c.Apr-75

975430
(64300)

975431
(New)

975432
(64301)

Feb-87

056
(4001)

c.1977

975848
(64303)

975845
(62427)

975846
(62428)

975847
(64302)

c.Apr-86

057
(4002)

c.1977

975844
(64305)

975849
(62426)

975850
(62429)

975851
(64304)

c.Jun-90
Individual Departmental Unit Notes
920001, 056 & 057

920001

The two vehicles taken out of use in 1974 (DMS 64300 & 64301) were both taken to York works and a new centre coach (built to LOT 30880 & numbered ADB975431) was inserted; the two DMS also being renumbered as ADB975430 (64300) and ADB975432 (64301). Both these cars were re-fitted with prototype traction equipment, one by Brush, the other by GEC (which was which?).

The new centre coach was equipped with a pantograph and main transformer for overhead 25kv AC power collection and this vehicle was painted blue, (ADB975430 remained in 'silver' livery). It also differed from the MS vehicles of the original PEP units in having only two pairs of double‑opening sliding doors along the bodyside as opposed to three on the PEP coaches. It also had a diesel generator to power the instrumentation during tests and was just a bare shell and fitted out as a workshop.

This 3-car unit was numbered as 920001 and was used as the prototype Class 313 test bed.

It returned to Clapham Jct from York 18‑Apr‑75 where some modifications were carried out, returning to Derby for further tests 12‑Jun‑75.

The unit then moved to the Eastern Region based at Ilford from Jul‑75 and ran trials on the GE section (usually between Colchester and Clacton) until 31‑Jan‑76 when it was transferred to the LT&S section until Mar‑76. Plans to introduce similar units on the Glasgow suburban system led to the transfer of this unit from LT&S to Hyndland Depot 17‑Mar‑76 as a Class 314 prototype and the unit worked further tests in the Glasgow area until returning to Ilford 28‑Aug‑76. The unit was hauled to Glasgow, but returned south under its own power.

Further tests took place on the GE section 5‑Sep‑76 and LT&S 6‑Sep‑76 before the unit went back to Derby Research where it remained for most of 1977; though it was running again in the Glasgow area in the autumn of 1977.

The unit was stored at Rugby during the first half of 1978, being taken to York works 12‑May‑78 and ending at Derby Research once again by Jul‑78. The unit saw little further use and was withdrawn and sold from Derby RTC Feb‑87, both former PEP vehicles being scrapped by V. Berry, Leicester (ADB975430 in Feb‑87 & ADB975432 in Apr‑87). The remaining vehicle, ADB975431 was scrapped by C. F. Booth, Rotherham during Nov‑87.

This unit cleared the way for thyristor-controlled DC converters to be used on production trains, and also opened the way for Brush as a supplier of multiple unit propulsion equipment.

056

Following withdrawal of 4001 during 1977, one DMS ('silver' 64305) was exchanged with blue 64303 and all four coaches renumbered into the departmental series. The unit however saw little departmental use, being stored at Wimbledon Park until 26‑Jun‑80, when it was taken to Derby Research. It was renumbered as 056 from May‑79. All four coaches were sent from Derby to Birds, Long Marston for scrapping 22‑Apr‑86 and cut up Jul‑86.

057

Following withdrawal of 4002 during 1977, one DMS (no.64303) was exchanged with 'silver' 64305 and the unit taken from Wimbledon Park to Derby 17‑Aug‑78. All four coaches were repainted into a similar livery to the experimental APT units during October 1978.

The unit returned to the BR(S) at Strawberry Hill 3‑Oct‑79 for testing of experimental 'export' bogies, returning once again to Derby 6‑Dec‑79.

Unit back to Strawberry Hill 17‑Mar‑80 and coaches renumbered into departmental series during Apr‑80, though unit no. 4002 still displayed on cab ends.

A further period at Derby from 26‑Jun‑80 and return to the BR(S) 12‑Sep‑80 saw the unit used for testing BP25 air-sprung bogies until Mar‑81 when it was then stored at Wimbledon Park until removed to Clapham Yard 22‑Feb‑83. Unit then stored out of use until 5‑Jun‑90 when returned to Strawberry Hill for stripping.

Hauled to C. F. Booth, Rotherham 16‑Nov‑90 for scrapping.
Thanks go to research author John Atkinson, webpage author, editorial and additional information from C.Watts along with the many photographers listed below their images.
ALL TEXT AND PHOTOGRAPHS ARE COPYRIGHT
<![if !vml]>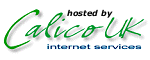 <![endif]>
Blood and Custard Blood & Custard Crimson & Cream Crimson and Cream Plum and Spilt Milk Blood and Custard Blood & Custard Crimson & Cream Crimson and Cream Plum and Spilt Milk Blood and Custard Blood & Custard Crimson & Cream Crimson and Cream Plum and Spilt Milk Blood and Custard Blood & Custard Crimson & Cream Crimson and Cream Plum and Spilt Milk Blood and Custard Blood & Custard Crimson & Cream Crimson and Cream Plum and Spilt Milk Blood and Custard Blood & Custard Crimson & Cream Crimson and Cream Plum and Spilt Milk Blood and Custard Blood & Custard Crimson & Cream Crimson and Cream Plum and Spilt Milk Blood and Custard Blood & Custard Crimson & Cream Crimson and Cream Plum and Spilt Milk Blood and Custard Blood & Custard Crimson & Cream Crimson and Cream Plum and Spilt Milk Blood and Custard Blood & Custard Crimson & Cream Crimson and Cream Plum and Spilt Milk Blood and Custard Blood & Custard Crimson & Cream Crimson and Cream Plum and Spilt Milk Blood and Custard Blood & Custard Crimson & Cream Crimson and Cream Plum and Spilt Milk Blood and Custard Blood & Custard Crimson & Cream Crimson and Cream Plum and Spilt Milk Blood and Custard Blood & Custard Crimson & Cream Crimson and Cream Plum and Spilt Milk Blood and Custard Blood & Custard Crimson & Cream Crimson and Cream Plum and Spilt Milk Blood and Custard Blood & Custard Crimson & Cream Crimson and Cream Plum and Spilt Milk Blood and Custard Blood & Custard Crimson & Cream Crimson and Cream Plum and Spilt Milk Blood and Custard Blood & Custard Crimson & Cream Crimson and Cream Plum and Spilt Milk Blood and Custard Blood & Custard Crimson & Cream Crimson and Cream Plum and Spilt Milk Blood and Custard Blood & Custard Crimson & Cream Crimson and Cream Plum and Spilt Milk Blood and Custard Blood & Custard Crimson & Cream Crimson and Cream Plum and Spilt Milk Blood and Custard Blood & Custard Crimson & Cream Crimson and Cream Plum and Spilt Milk Blood and Custard Blood & Custard Crimson & Cream Crimson and Cream Plum and Spilt Milk Blood and Custard Blood & Custard Crimson & Cream Crimson and Cream Plum and Spilt Milk Blood and Custard Blood & Custard Crimson & Cream Crimson and Cream Plum and Spilt Milk Blood and Custard Blood & Custard Crimson & Cream Crimson and Cream Plum and Spilt Milk Blood and Custard Blood & Custard Crimson & Cream Crimson and Cream Plum and Spilt Milk Blood and Custard Blood & Custard Crimson & Cream Crimson and Cream Plum and Spilt Milk Blood and Custard Blood & Custard Crimson & Cream Crimson and Cream Plum and Spilt Milk Blood and Custard Blood & Custard Crimson & Cream Crimson and Cream Plum and Spilt Milk Blood and Custard Blood & Custard Crimson & Cream Crimson and Cream Plum and Spilt Milk Blood and Custard Blood & Custard Crimson & Cream Crimson and Cream Plum and Spilt Milk Blood and Custard Blood & Custard Crimson & Cream Crimson and Cream Plum and Spilt Milk Blood and Custard Blood & Custard Crimson & Cream Crimson and Cream Plum and Spilt Milk Blood and Custard Blood & Custard Crimson & Cream Crimson and Cream Plum and Spilt Milk Blood and Custard Blood & Custard Crimson & Cream Crimson and Cream Plum and Spilt Milk Blood and Custard Blood & Custard Crimson & Cream Crimson and Cream Plum and Spilt Milk Blood and Custard Blood & Custard Crimson & Cream Crimson and Cream Plum and Spilt Milk Blood and Custard Blood & Custard Crimson & Cream Crimson and Cream Plum and Spilt Milk Blood and Custard Blood & Custard Crimson & Cream Crimson and Cream Plum and Spilt Milk Blood and Custard Blood & Custard Crimson & Cream Crimson and Cream Plum and Spilt Milk Blood and Custard Blood & Custard Crimson & Cream Crimson and Cream Plum and Spilt Milk Blood and Custard Blood & Custard Crimson & Cream Crimson and Cream Plum and Spilt Milk Blood and Custard Blood & Custard Crimson & Cream Crimson and Cream Plum and Spilt Milk Blood and Custard Blood & Custard Crimson & Cream Crimson and Cream Plum and Spilt Milk Blood and Custard Blood & Custard Crimson & Cream Crimson and Cream Plum and Spilt Milk Blood and Custard Blood & Custard Crimson & Cream Crimson and Cream Plum and Spilt Milk Blood and Custard Blood & Custard Crimson & Cream Crimson and Cream Plum and Spilt Milk Blood and Custard Blood & Custard Crimson & Cream Crimson and Cream Plum and Spilt Milk Blood and Custard Blood & Custard Crimson & Cream Crimson and Cream Plum and Spilt Milk Blood and Custard Blood & Custard Crimson & Cream Crimson and Cream Plum and Spilt Milk Blood and Custard Blood & Custard Crimson & Cream Crimson and Cream Plum and Spilt Milk Blood and Custard Blood & Custard Crimson & Cream Crimson and Cream Plum and Spilt Milk Blood and Custard Blood & Custard Crimson & Cream Crimson and Cream Plum and Spilt Milk Blood and Custard Blood & Custard Crimson & Cream Crimson and Cream Plum and Spilt Milk Blood and Custard Blood & Custard Crimson & Cream Crimson and Cream Plum and Spilt Milk Blood and Custard Blood & Custard Crimson & Cream Crimson and Cream Plum and Spilt Milk Blood and Custard Blood & Custard Crimson & Cream Crimson and Cream Plum and Spilt Milk Blood and Custard Blood & Custard Crimson & Cream Crimson and Cream Plum and Spilt Milk Blood and Custard Blood & Custard Crimson & Cream Crimson and Cream Plum and Spilt Milk Blood and Custard Blood & Custard Crimson & Cream Crimson and Cream Plum and Spilt Milk Blood and Custard Blood & Custard Crimson & Cream Crimson and Cream Plum and Spilt Milk Blood and Custard Blood & Custard Crimson & Cream Crimson and Cream Plum and Spilt Milk Blood and Custard Blood & Custard Crimson & Cream Crimson and Cream Plum and Spilt Milk Blood and Custard Blood & Custard Crimson & Cream Crimson and Cream Plum and Spilt Milk Blood and Custard Blood & Custard Crimson & Cream Crimson and Cream Plum and Spilt Milk Blood and Custard Blood & Custard Crimson & Cream Crimson and Cream Plum and Spilt Milk Blood and Custard Blood & Custard Crimson & Cream Crimson and Cream Plum and Spilt Milk Blood and Custard Blood & Custard Crimson & Cream Crimson and Cream Plum and Spilt Milk Blood and Custard Blood & Custard Crimson & Cream Crimson and Cream Plum and Spilt Milk Blood and Custard Blood & Custard Crimson & Cream Crimson and Cream Plum and Spilt Milk Blood and Custard Blood & Custard Crimson & Cream Crimson and Cream Plum and Spilt Milk Blood and Custard Blood & Custard Crimson & Cream Crimson and Cream Plum and Spilt Milk Blood and Custard Blood & Custard Crimson & Cream Crimson and Cream Plum and Spilt Milk Blood and Custard Blood & Custard Crimson & Cream Crimson and Cream Plum and Spilt Milk Blood and Custard Blood & Custard Crimson & Cream Crimson and Cream Plum and Spilt Milk Blood and Custard Blood & Custard Crimson & Cream Crimson and Cream Plum and Spilt Milk Blood and Custard Blood & Custard Crimson & Cream Crimson and Cream Plum and Spilt Milk Blood and Custard Blood & Custard Crimson & Cream Crimson and Cream Plum and Spilt Milk Blood and Custard Blood & Custard Crimson & Cream Crimson and Cream Plum and Spilt Milk Blood and Custard Blood & Custard Crimson & Cream Crimson and Cream Plum and Spilt Milk Blood and Custard Blood & Custard Crimson & Cream Crimson and Cream Plum and Spilt Milk Blood and Custard Blood & Custard Crimson & Cream Crimson and Cream Plum and Spilt Milk Blood and Custard Blood & Custard Crimson & Cream Crimson and Cream Plum and Spilt Milk Blood and Custard Blood & Custard Crimson & Cream Crimson and Cream Plum and Spilt Milk Blood and Custard Blood & Custard Crimson & Cream Crimson and Cream Plum and Spilt Milk Blood and Custard Blood & Custard Crimson & Cream Crimson and Cream Plum and Spilt Milk Blood and Custard Blood & Custard Crimson & Cream Crimson and Cream Plum and Spilt Milk Blood and Custard Blood & Custard Crimson & Cream Crimson and Cream Plum and Spilt Milk Blood and Custard Blood & Custard Crimson & Cream Crimson and Cream Plum and Spilt Milk Blood and Custard Blood & Custard Crimson & Cream Crimson and Cream Plum and Spilt Milk Blood and Custard Blood & Custard Crimson & Cream Crimson and Cream Plum and Spilt Milk Blood and Custard Blood & Custard Crimson & Cream Crimson and Cream Plum and Spilt Milk Blood and Custard Blood & Custard Crimson & Cream Crimson and Cream Plum and Spilt Milk Blood and Custard Blood & Custard Crimson & Cream Crimson and Cream Plum and Spilt Milk Blood and Custard Blood & Custard Crimson & Cream Crimson and Cream Plum and Spilt Milk Blood and Custard Blood & Custard Crimson & Cream Crimson and Cream Plum and Spilt Milk Blood and Custard Blood & Custard Crimson & Cream Crimson and Cream Plum and Spilt Milk Blood and Custard Blood & Custard Crimson & Cream Crimson and Cream Plum and Spilt Milk Blood and Custard Blood & Custard Crimson & Cream Crimson and Cream Plum and Spilt Milk Blood and Custard Blood & Custard Crimson & Cream Crimson and Cream Plum and Spilt Milk Blood and Custard Blood & Custard Crimson & Cream Crimson and Cream Plum and Spilt Milk Blood and Custard Blood & Custard Crimson & Cream Crimson and Cream Plum and Spilt Milk Blood and Custard Blood & Custard Crimson & Cream Crimson and Cream Plum and Spilt Milk Blood and Custard Blood & Custard Crimson & Cream Crimson and Cream Plum and Spilt Milk Blood and Custard Blood & Custard Crimson & Cream Crimson and Cream Plum and Spilt Milk Blood and Custard Blood & Custard Crimson & Cream Crimson and Cream Plum and Spilt Milk Blood and Custard Blood & Custard Crimson & Cream Crimson and Cream Plum and Spilt Milk Blood and Custard Blood & Custard Crimson & Cream Crimson and Cream Plum and Spilt Milk Blood and Custard Blood & Custard Crimson & Cream Crimson and Cream Plum and Spilt Milk Blood and Custard Blood & Custard Crimson & Cream Crimson and Cream Plum and Spilt Milk Blood and Custard Blood & Custard Crimson & Cream Crimson and Cream Plum and Spilt Milk Blood and Custard Blood & Custard Crimson & Cream Crimson and Cream Plum and Spilt Milk Blood and Custard Blood & Custard Crimson & Cream Crimson and Cream Plum and Spilt Milk Blood and Custard Blood & Custard Crimson & Cream Crimson and Cream Plum and Spilt Milk Blood and Custard Blood & Custard Crimson & Cream Crimson and Cream Plum and Spilt Milk Blood and Custard Blood & Custard Crimson & Cream Crimson and Cream Plum and Spilt Milk Blood and Custard Blood & Custard Crimson & Cream Crimson and Cream Plum and Spilt Milk Blood and Custard Blood & Custard Crimson & Cream Crimson and Cream Plum and Spilt Milk Blood and Custard Blood & Custard Crimson & Cream Crimson and Cream Plum and Spilt Milk Blood and Custard Blood & Custard Crimson & Cream Crimson and Cream Plum and Spilt Milk Blood and Custard Blood & Custard Crimson & Cream Crimson and Cream Plum and Spilt Milk Blood and Custard Blood & Custard Crimson & Cream Crimson and Cream Plum and Spilt Milk Blood and Custard Blood & Custard Crimson & Cream Crimson and Cream Plum and Spilt Milk Blood and Custard Blood & Custard Crimson & Cream Crimson and Cream Plum and Spilt Milk Blood and Custard Blood & Custard Crimson & Cream Crimson and Cream Plum and Spilt Milk Blood and Custard Blood & Custard Crimson & Cream Crimson and Cream Plum and Spilt Milk Blood and Custard Blood & Custard Crimson & Cream Crimson and Cream Plum and Spilt Milk Blood and Custard Blood & Custard Crimson & Cream Crimson and Cream Plum and Spilt Milk Blood and Custard Blood & Custard Crimson & Cream Crimson and Cream Plum and Spilt Milk Blood and Custard Blood & Custard Crimson & Cream Crimson and Cream Plum and Spilt Milk Blood and Custard Blood & Custard Crimson & Cream Crimson and Cream Plum and Spilt Milk Blood and Custard Blood & Custard Crimson & Cream Crimson and Cream Plum and Spilt Milk Blood and Custard Blood & Custard Crimson & Cream Crimson and Cream Plum and Spilt Milk Blood and Custard Blood & Custard Crimson & Cream Crimson and Cream Plum and Spilt Milk Blood and Custard Blood & Custard Crimson & Cream Crimson and Cream Plum and Spilt Milk Blood and Custard Blood & Custard Crimson & Cream Crimson and Cream Plum and Spilt Milk Blood and Custard Blood & Custard Crimson & Cream Crimson and Cream Plum and Spilt Milk Blood and Custard Blood & Custard Crimson & Cream Crimson and Cream Plum and Spilt Milk Blood and Custard Blood & Custard Crimson & Cream Crimson and Cream Plum and Spilt Milk Blood and Custard Blood & Custard Crimson & Cream Crimson and Cream Plum and Spilt Milk Blood and Custard Blood & Custard Crimson & Cream Crimson and Cream Plum and Spilt Milk Blood and Custard Blood & Custard Crimson & Cream Crimson and Cream Plum and Spilt Milk Blood and Custard Blood & Custard Crimson & Cream Crimson and Cream Plum and Spilt Milk Blood and Custard Blood & Custard Crimson & Cream Crimson and Cream Plum and Spilt Milk Blood and Custard Blood & Custard Crimson & Cream Crimson and Cream Plum and Spilt Milk Blood and Custard Blood & Custard Crimson & Cream Crimson and Cream Plum and Spilt Milk Blood and Custard Blood & Custard Crimson & Cream Crimson and Cream Plum and Spilt Milk Blood and Custard Blood & Custard Crimson & Cream Crimson and Cream Plum and Spilt Milk Blood and Custard Blood & Custard Crimson & Cream Crimson and Cream Plum and Spilt Milk Blood and Custard Blood & Custard Crimson & Cream Crimson and Cream Plum and Spilt Milk Blood and Custard Blood & Custard Crimson & Cream Crimson and Cream Plum and Spilt Milk Blood and Custard Blood & Custard Crimson & Cream Crimson and Cream Plum and Spilt Milk Blood and Custard Blood & Custard Crimson & Cream Crimson and Cream Plum and Spilt Milk Blood and Custard Blood & Custard Crimson & Cream Crimson and Cream Plum and Spilt Milk Blood and Custard Blood & Custard Crimson & Cream Crimson and Cream Plum and Spilt Milk Blood and Custard Blood & Custard Crimson & Cream Crimson and Cream Plum and Spilt Milk Blood and Custard Blood & Custard Crimson & Cream Crimson and Cream Plum and Spilt Milk Blood and Custard Blood & Custard Crimson & Cream Crimson and Cream Plum and Spilt Milk Blood and Custard Blood & Custard Crimson & Cream Crimson and Cream Plum and Spilt Milk Blood and Custard Blood & Custard Crimson & Cream Crimson and Cream Plum and Spilt Milk Blood and Custard Blood & Custard Crimson & Cream Crimson and Cream Plum and Spilt Milk Blood and Custard Blood & Custard Crimson & Cream Crimson and Cream Plum and Spilt Milk Blood and Custard Blood & Custard Crimson & Cream Crimson and Cream Plum and Spilt Milk Blood and Custard Blood & Custard Crimson & Cream Crimson and Cream Plum and Spilt Milk Blood and Custard Blood & Custard Crimson & Cream Crimson and Cream Plum and Spilt Milk Blood and Custard Blood & Custard Crimson & Cream Crimson and Cream Plum and Spilt Milk Blood and Custard Blood & Custard Crimson & Cream Crimson and Cream Plum and Spilt Milk Blood and Custard Blood & Custard Crimson & Cream Crimson and Cream Plum and Spilt Milk Blood and Custard Blood & Custard Crimson & Cream Crimson and Cream Plum and Spilt Milk Blood and Custard Blood & Custard Crimson & Cream Crimson and Cream Plum and Spilt Milk Blood and Custard Blood & Custard Crimson & Cream Crimson and Cream Plum and Spilt Milk Blood and Custard Blood & Custard Crimson & Cream Crimson and Cream Plum and Spilt Milk Blood and Custard Blood & Custard Crimson & Cream Crimson and Cream Plum and Spilt Milk Blood and Custard Blood & Custard Crimson & Cream Crimson and Cream Plum and Spilt Milk Blood and Custard Blood & Custard Crimson & Cream Crimson and Cream Plum and Spilt Milk Blood and Custard Blood & Custard Crimson & Cream Crimson and Cream Plum and Spilt Milk Blood and Custard Blood & Custard Crimson & Cream Crimson and Cream Plum and Spilt Milk Blood and Custard Blood & Custard Crimson & Cream Crimson and Cream Plum and Spilt Milk Blood and Custard Blood & Custard Crimson & Cream Crimson and Cream Plum and Spilt Milk Blood and Custard Blood & Custard Crimson & Cream Crimson and Cream Plum and Spilt Milk Blood and Custard Blood & Custard Crimson & Cream Crimson and Cream Plum and Spilt Milk Blood and Custard Blood & Custard Crimson & Cream Crimson and Cream Plum and Spilt Milk Blood and Custard Blood & Custard Crimson & Cream Crimson and Cream Plum and Spilt Milk Blood and Custard Blood & Custard Crimson & Cream Crimson and Cream Plum and Spilt Milk Blood and Custard Blood & Custard Crimson & Cream Crimson and Cream Plum and Spilt Milk Blood and Custard Blood & Custard Crimson & Cream Crimson and Cream Plum and Spilt Milk Blood and Custard Blood & Custard Crimson & Cream Crimson and Cream Plum and Spilt Milk Blood and Custard Blood & Custard Crimson & Cream Crimson and Cream Plum and Spilt Milk Blood and Custard Blood & Custard Crimson & Cream Crimson and Cream Plum and Spilt Milk Blood and Custard Blood & Custard Crimson & Cream Crimson and Cream Plum and Spilt Milk Blood and Custard Blood & Custard Crimson & Cream Crimson and Cream Plum and Spilt Milk Blood and Custard Blood & Custard Crimson & Cream Crimson and Cream Plum and Spilt Milk Blood and Custard Blood & Custard Crimson & Cream Crimson and Cream Plum and Spilt Milk Blood and Custard Blood & Custard Crimson & Cream Crimson and Cream Plum and Spilt Milk Blood and Custard Blood & Custard Crimson & Cream Crimson and Cream Plum and Spilt Milk Blood and Custard Blood & Custard Crimson & Cream Crimson and Cream Plum and Spilt Milk Blood and Custard Blood & Custard Crimson & Cream Crimson and Cream Plum and Spilt Milk Blood and Custard Blood & Custard Crimson & Cream Crimson and Cream Plum and Spilt Milk Blood and Custard Blood & Custard Crimson & Cream Crimson and Cream Plum and Spilt Milk Blood and Custard Blood & Custard Crimson & Cream Crimson and Cream Plum and Spilt Milk Blood and Custard Blood & Custard Crimson & Cream Crimson and Cream Plum and Spilt Milk Blood and Custard Blood & Custard Crimson & Cream Crimson and Cream Plum and Spilt Milk Blood and Custard Blood & Custard Crimson & Cream Crimson and Cream Plum and Spilt Milk Blood and Custard Blood & Custard Crimson & Cream Crimson and Cream Plum and Spilt Milk Blood and Custard Blood & Custard Crimson & Cream Crimson and Cream Plum and Spilt Milk Blood and Custard Blood & Custard Crimson & Cream Crimson and Cream Plum and Spilt Milk Blood and Custard Blood & Custard Crimson & Cream Crimson and Cream Plum and Spilt Milk Blood and Custard Blood & Custard Crimson & Cream Crimson and Cream Plum and Spilt Milk Blood and Custard Blood & Custard Crimson & Cream Crimson and Cream Plum and Spilt Milk Blood and Custard Blood & Custard Crimson & Cream Crimson and Cream Plum and Spilt Milk Blood and Custard Blood & Custard Crimson & Cream Crimson and Cream Plum and Spilt Milk Blood and Custard Blood & Custard Crimson & Cream Crimson and Cream Plum and Spilt Milk Blood and Custard Blood & Custard Crimson & Cream Crimson and Cream Plum and Spilt Milk Blood and Custard Blood & Custard Crimson & Cream Crimson and Cream Plum and Spilt Milk Blood and Custard Blood & Custard Crimson & Cream Crimson and Cream Plum and Spilt Milk Blood and Custard Blood & Custard Crimson & Cream Crimson and Cream Plum and Spilt Milk Blood and Custard Blood & Custard Crimson & Cream Crimson and Cream Plum and Spilt Milk Blood and Custard Blood & Custard Crimson & Cream Crimson and Cream Plum and Spilt Milk Blood and Custard Blood & Custard Crimson & Cream Crimson and Cream Plum and Spilt Milk Blood and Custard Blood & Custard Crimson & Cream Crimson and Cream Plum and Spilt Milk Blood and Custard Blood & Custard Crimson & Cream Crimson and Cream Plum and Spilt Milk Blood and Custard Blood & Custard Crimson & Cream Crimson and Cream Plum and Spilt Milk Blood and Custard Blood & Custard Crimson & Cream Crimson and Cream Plum and Spilt Milk Blood and Custard Blood & Custard Crimson & Cream Crimson and Cream Plum and Spilt Milk