BR British Rail Crimson & Cream Crimson and Cream Crimson Cream Blood & Custard Blood Custard Blood and Custard BR British Rail Crimson & Cream Crimson and Cream Crimson Cream Blood & Custard Blood Custard Blood and Custard BR British Rail Crimson & Cream Crimson and Cream Crimson Cream Blood & Custard Blood Custard Blood and Custard
Southern
Hayling Island
Branch Line
<![if !vml]>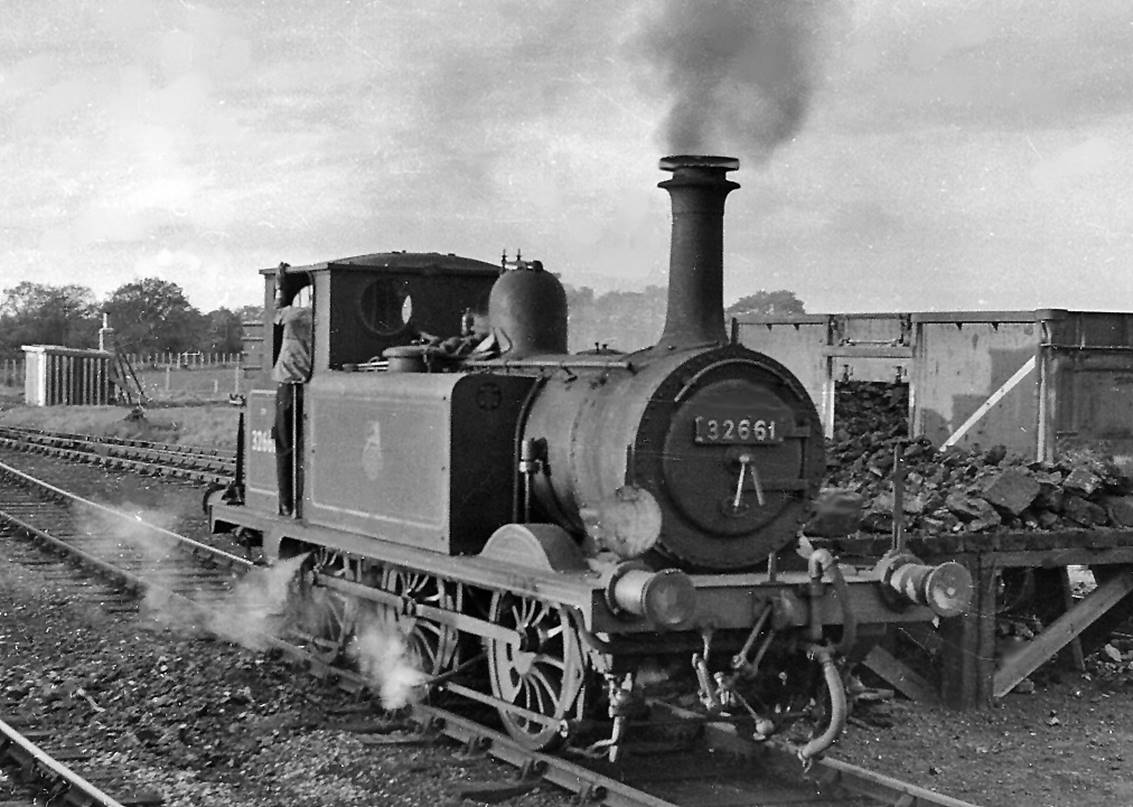 <![endif]>
10th May 1958
At the 'Locomotive Depot', one of the ancient ex-LBSCR A1x class 'Terrier' is being coaled ready for its return to Havant. These owed their survival to being the only engines light enough to cross the Langstone Bridge on the Branch.
No. 32661 was built as an A1 by Stroudley (number 61 'Sutton') in October 1875, rebuilt to A1x in January 1912 and survived until April 1963. Note the spark-arrestor.
© Ben Brooksbank (CC-by-SA/2.0)
Opening
Built by the independent Hayling Railway Company, the 4½ mile branch line from Havant to Hayling Island station opened 17th July 1867 (the section to Langstone Wharf had opened for goods in 1865) before being leased to the London & Brighton South Coast Railway in 1872. Single track with no crossing places, there were intermediate stations at Langstone & North Hayling.
The railway crossed from Hayling Island to the mainland by means of the 1100ft Langstone timber viaduct, this having a central swinging span to enable costal navigation to pass. Because of severe weight restrictions on the bridge the elderly but excellent class A1x 'Terrier' locomotives were employed from 1872; these being based at Fratton.
Rail-Motors
Between January 1907 and 1916 an rail-motor service was operated using a 'Terrier' locomotive and auto-trailer; it was not popular due to overcrowding and the inability to run mixed passengers and goods trains.
World War 2
During World War 2, the railway line was used to its maximum ferrying military stores. Because of its closeness to Portsmouth, the Royal Navy requisitioned the existing holiday camps with Warner's Northney camp becoming HMS Northney 1, Southleigh, Coronation and Sunshine were renamed HMS Northney 2, 3 & 4. The Royal Hotel on the Seafront became HMS Dragonfly.  Besides military staff, many stores and ammunition were brought in by train.
Four sections of the artificial Mulberry harbours were constructed on the island requiring thousands of tons of rubble to be brought in from Havant by train, a major logistical operation.
Closure
Even though passenger traffic was heavy in summer months but very light the rest of the year, the railway's income equalled its outgoings.
However, on 12th December 1962 a meeting of the Transport Users Consultative Committee was convened at Havant Town Hall, the outcome of which was a decision to recommend closure to the Minister of Transport. This was despite the many protests made by locals.
It had been successfully argued that the cost of repairs to Langstone Harbour bridge were unaffordable and the coaching stock was aged, even though 1956-built MkI non-corridor stock was starting to be employed. In 1963 much of the Southern's Mk1 non-corridor stock was transferred to the Western Region only to be scrapped not long after in favour of diesel mechanical units.
Closure came on Saturday, 2nd November 1963 with a Special 'Hayling Railway Farewell Tour' running the following day.
<![if !vml]>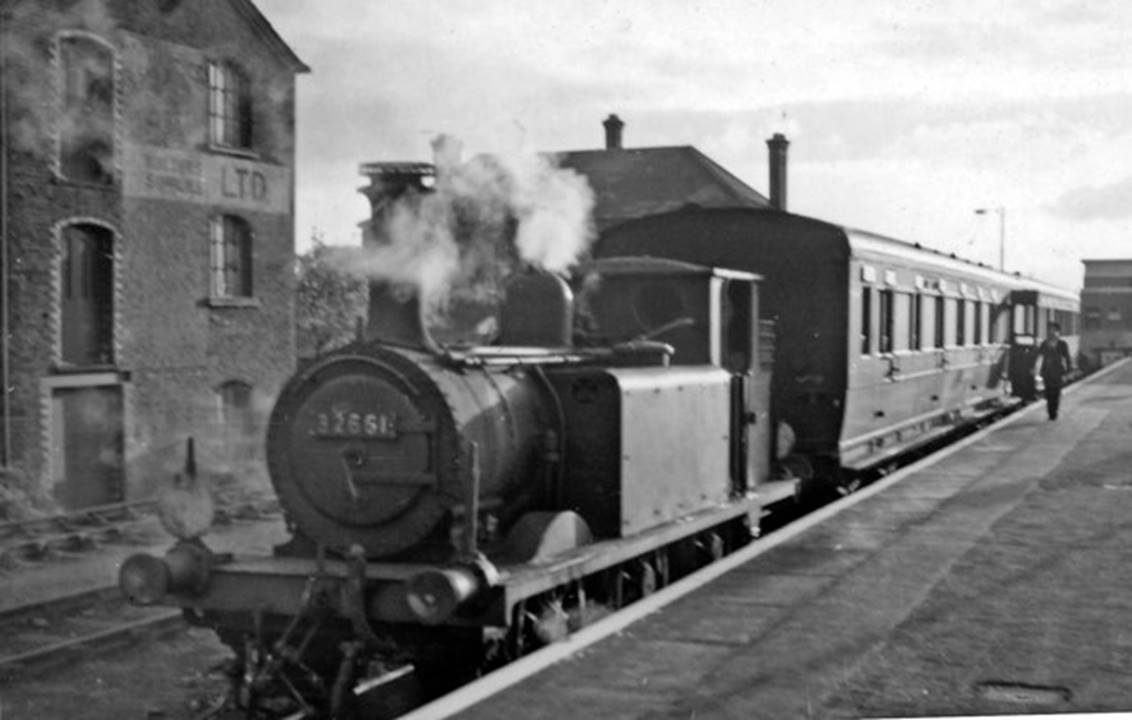 <![endif]>
10th May 1958
In the bay at Havant is ex-LBSCR A1x class no. 32661 (built October 1875 as class A1 no. 61 'Sutton', rebuilt January 1912, withdrawn April 1963).
It was necessary to retain these ancient engines as long as the Branch was retained (owing to the weakness of Langstone Bridge) on Saturday 2nd November 1963 when the line was closed. The following day a Special passenger train was permitted hauled by 32636 & 32670; the last ever train on the branch.
© Ben Brooksbank (CC-by-SA/2.0)
<![if !vml]>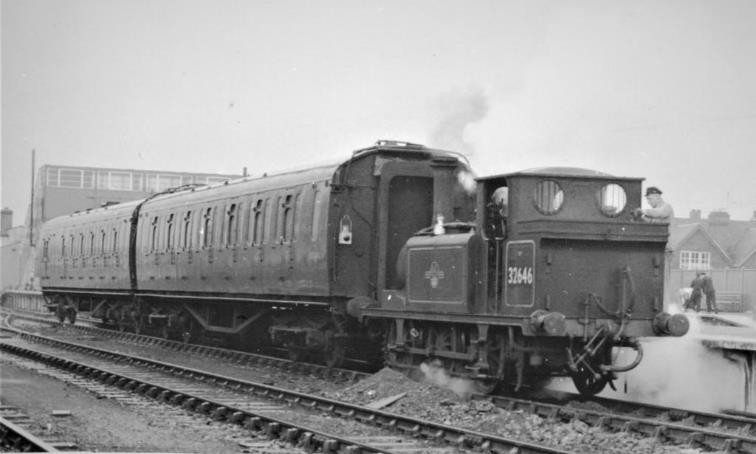 <![endif]>
c.1959
Two Bulleid 'Multidoor' coaches of set 978 at Havant with A1X 'Terrier' no.32646
(CK being S5724S and the BSK probably S2872S)
© Dr T. Gough (Mike King Collection)
<![if !vml]>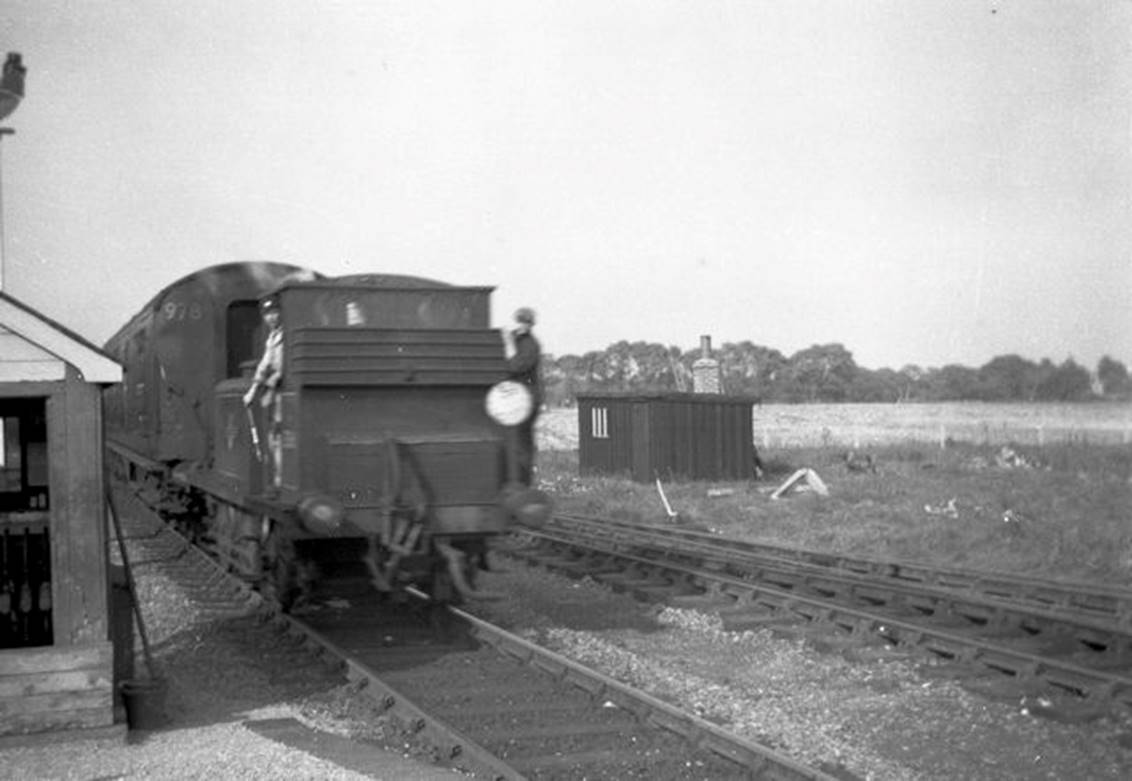 <![endif]>
April 1961
Train arriving at Havant from Hayling Island.
© John Firth (CC-by-SA/2.0)
<![if !vml]>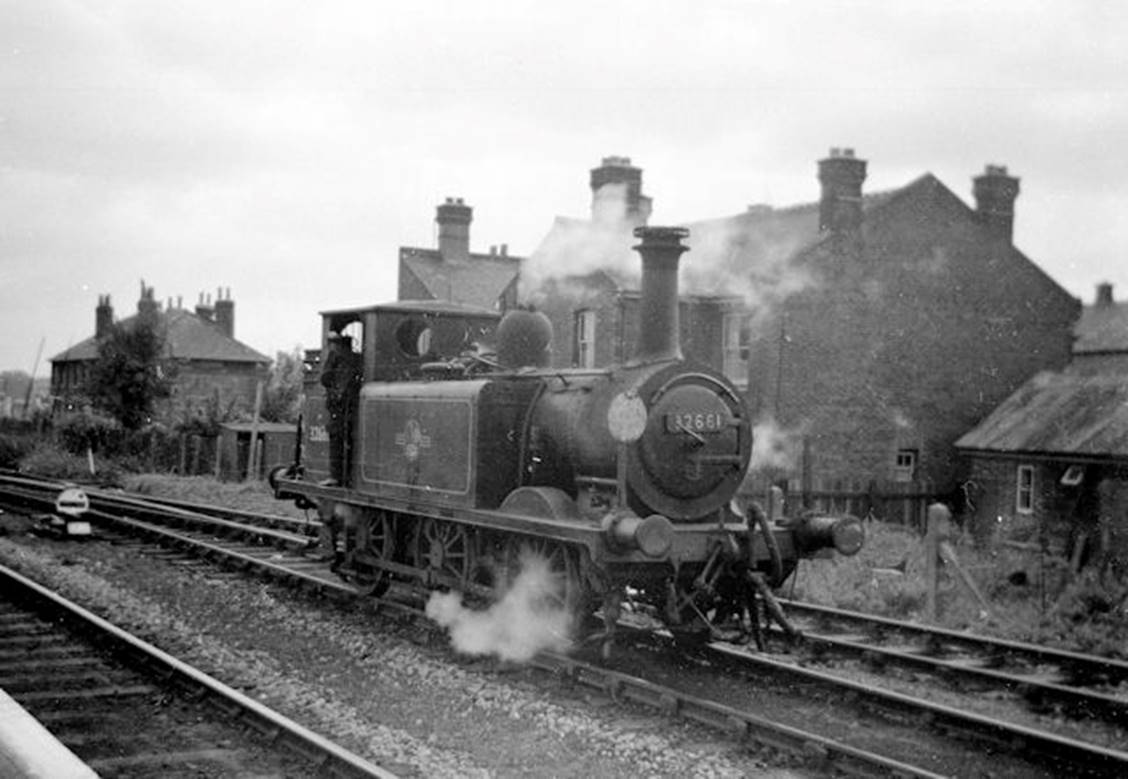 <![endif]>
June 1961
No.32661 in the run round loop at the Hayling Island platform at Havant station.
© John Firth (CC-by-SA/2.0)
<![if !vml]>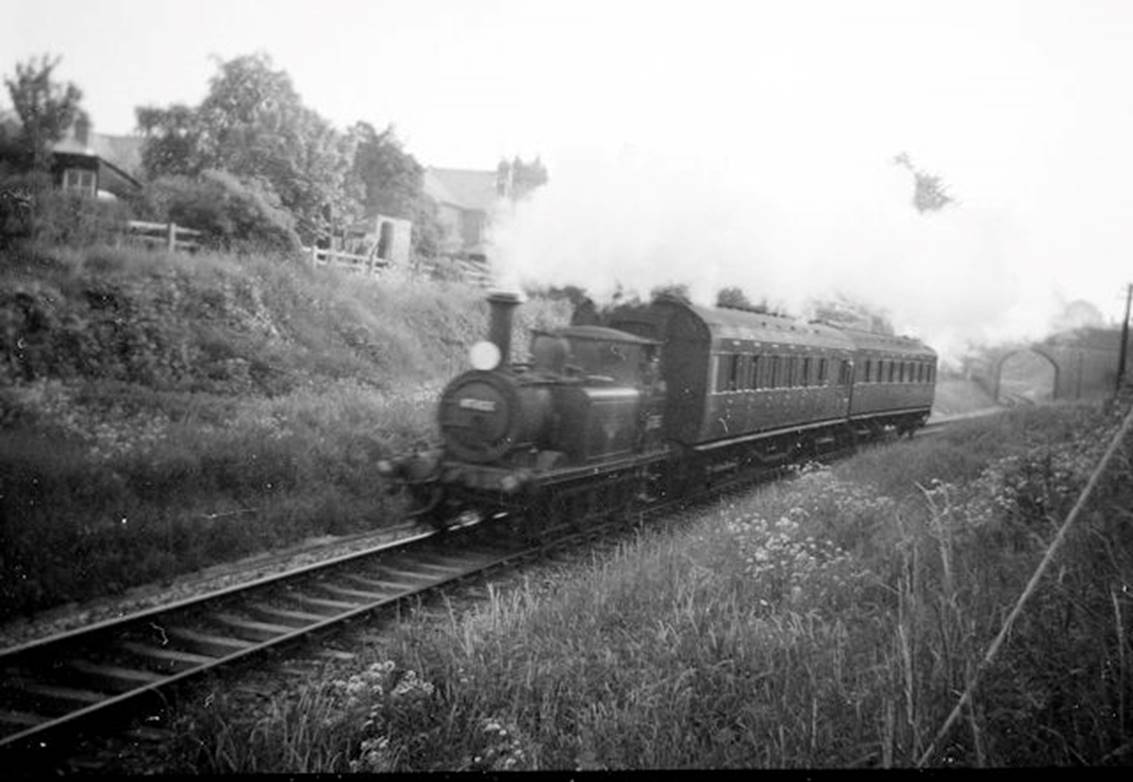 <![endif]>
September 1961
Hayling Island branch train approaching the New Lane level crossing adjacent to the main line at Havant having passed under East Street bridge (the old A27 road).
© John Firth (CC-by-SA/2.0)
<![if !vml]>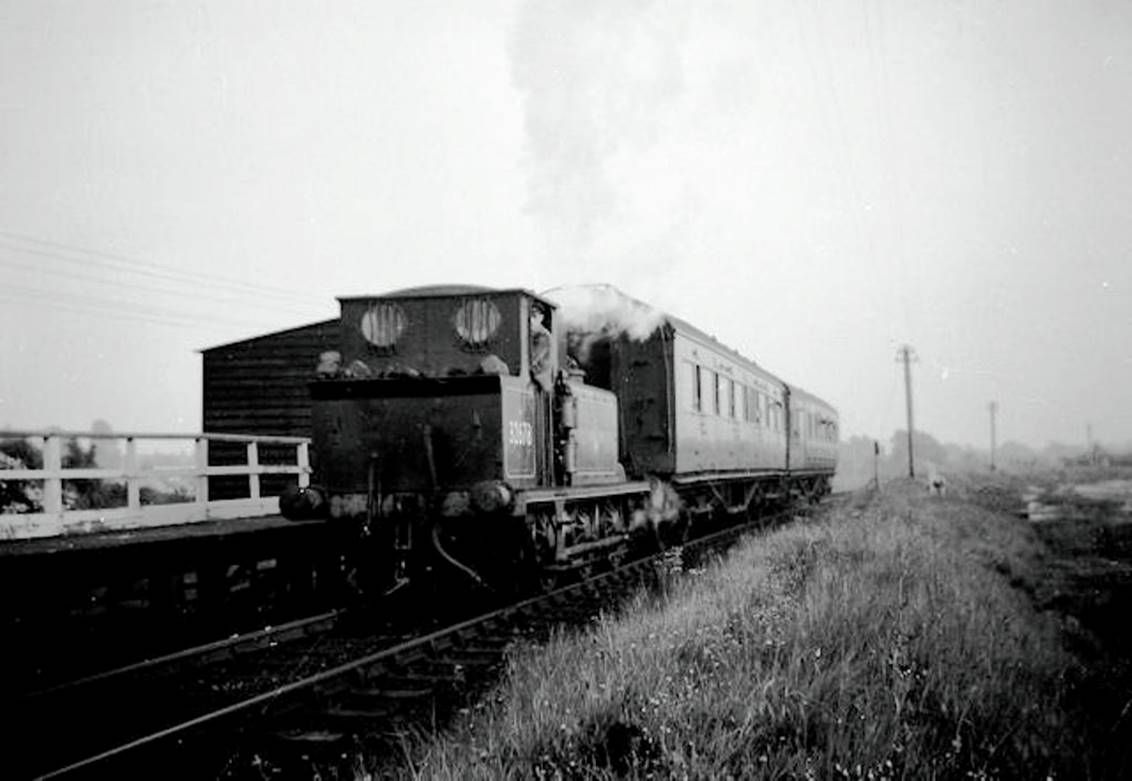 <![endif]>
September 1961
No. 32678 waits to leave North Hayling station with a train for Havant.
© John Firth (CC-by-SA/2.0)
<![if !vml]>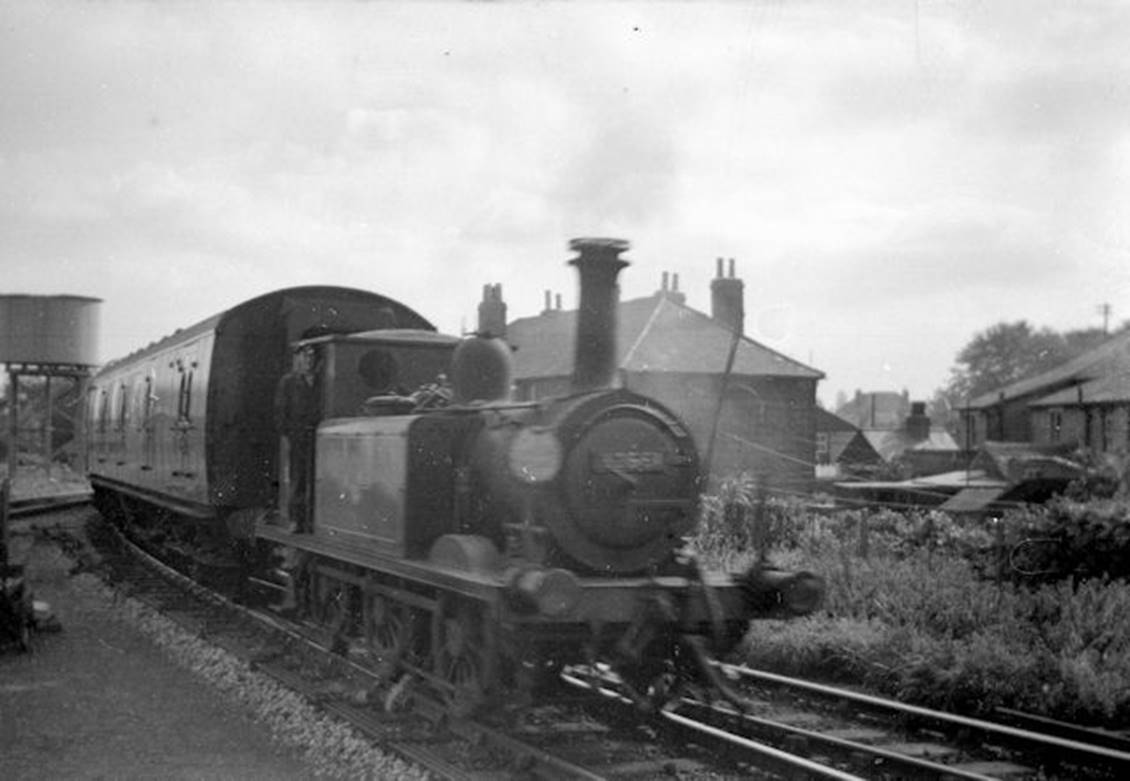 <![endif]>
1961
No.32661 has just crossed New Lane and is entering Havant Station. The first coach is a Bulleid 'Multidoor' Brake Second (probably S2872S), 3 COR set 978 being used on the branch between 1959 and 1962 albeit as a 2 COR (plus loose BSK).
In 1963 driving brake second of pull-push set no.619 was also seen operating with two Mk1 seconds operating on the branch albeit not in pull-push mode.
© John Firth (CC-by-SA/2.0)
c.1962
A1x no.32670 heads for South Hayling, train strengthened with two Mk1 Seconds.
©Dr. T.Gough (Mike King collection)
<![if !vml]>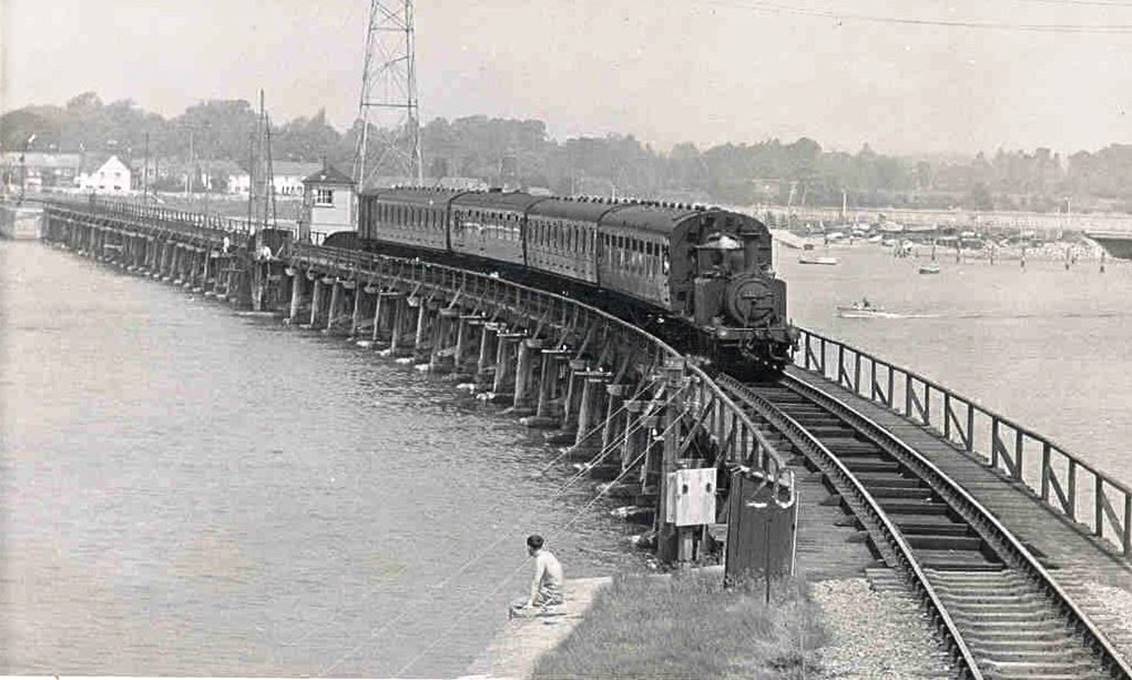 <![endif]>
July /August 1962
Crossing Langstone Bridge with a Hayling train is an unidentified 'Terrier' hauling a four-coach train with 'perambulator' van. The second & fourth Mk1 non-corridor Seconds sandwich a Bulleid BCK (Diag.2406), whilst the first coach is most interesting as it appears to be a WR Collett 60' Third (Diag.C77 – compt side being visible).
© (Glen Woods collection)
<![if !vml]>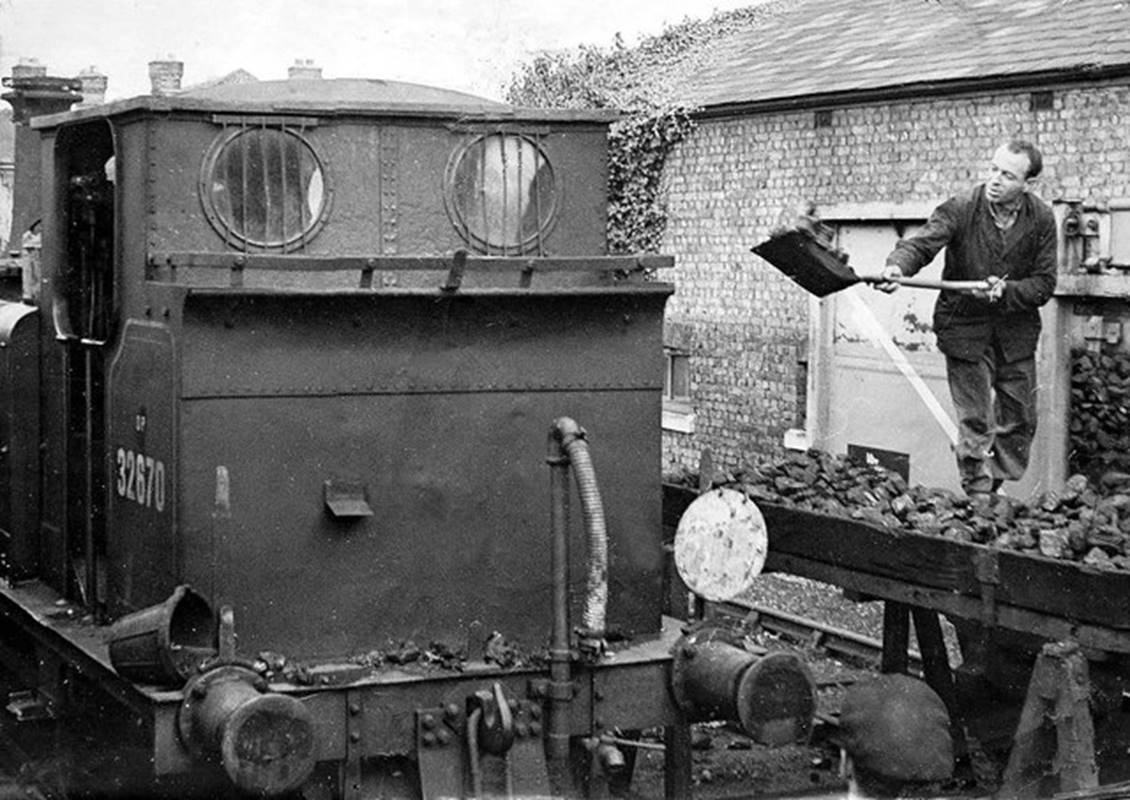 <![endif]>
3rd August 1963
The glamour of steam? - not as far as this fireman was concerned!
The reality of manual coaling of the A1x tank locomotives was the order of the day at Havant for operation of the Hayling branch line and was probably done this way at Havant since the line opened in 1865.
© John Lucas (CC-by-SA/2.0)
<![if !vml]>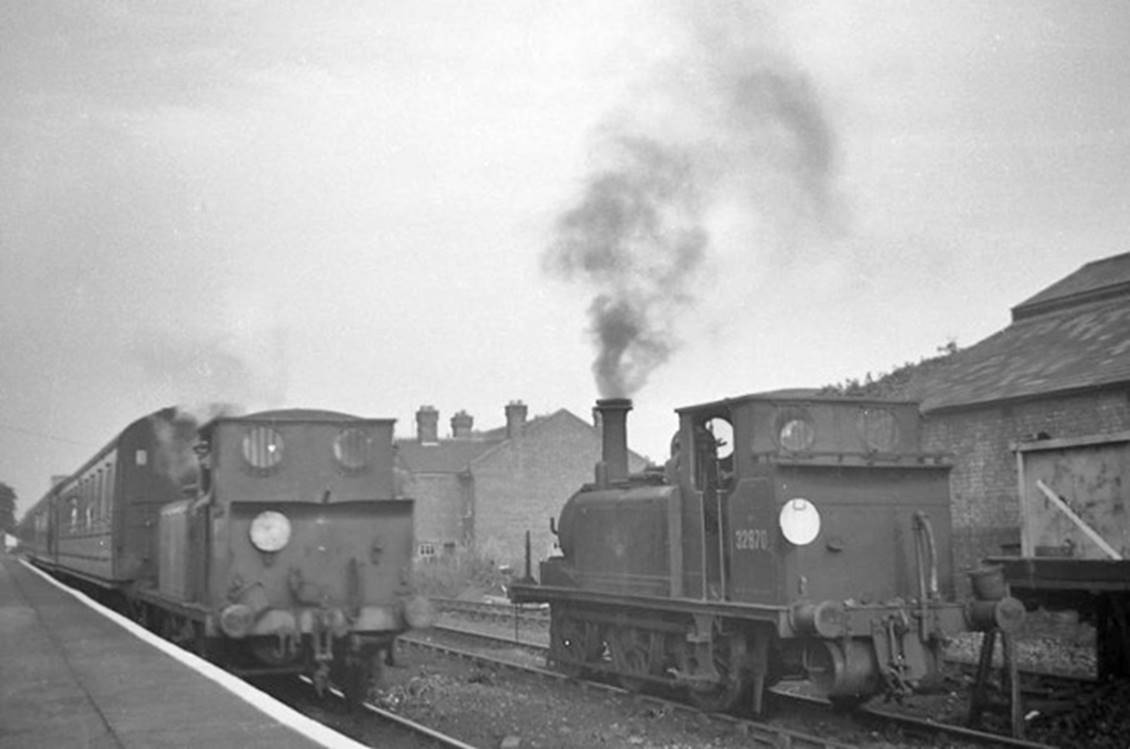 <![endif]>
5th August 1963
With a Mk1 Second as the first coach, the 'Hayling Billy' arrives at Havant from Hayling Island while no. 32670 waits to return the train. The Mk1 Second has an Electrification warning flash on its end so may possibly have been S46284 released in June 1963 from West London Line set 156 (S1000S did not appear to receive these).
© Ian Taylor (CC-by-SA/2.0)
­­­
<![if !vml]>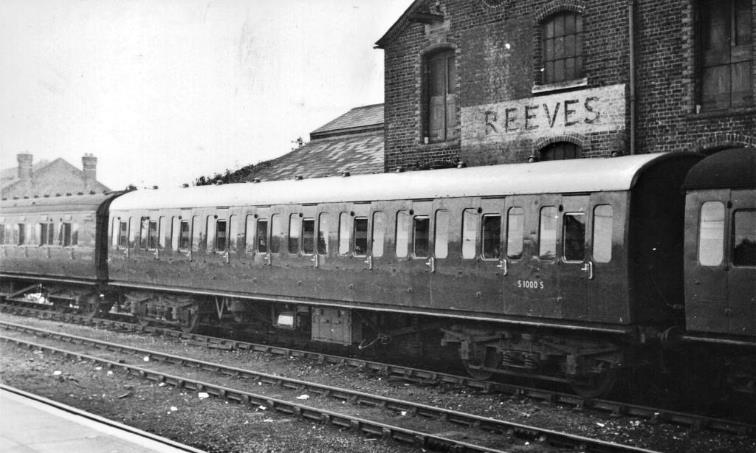 <![endif]>
November 1963
Allocated 'Loose' to Hayling Island services, Green-livered GRP-bodied S1000S awaits its next turn of duty in the sidings at Havant station during November 1963.
© P.H.Swift (Mike King collection)
<![if !vml]>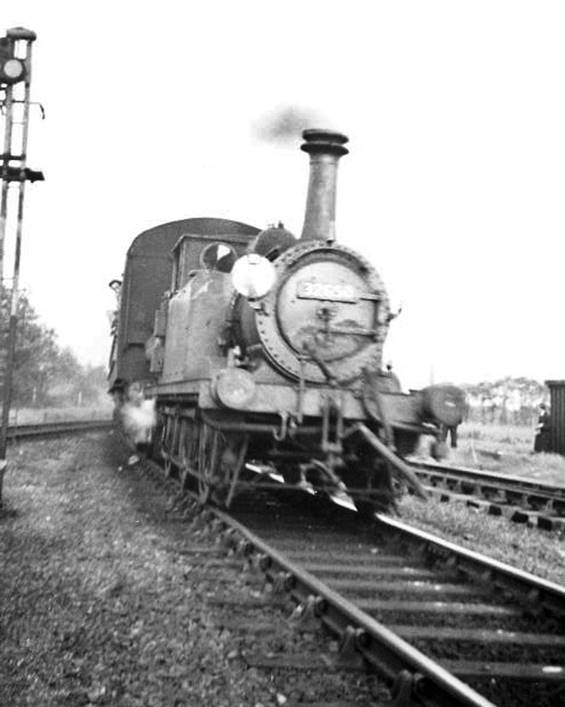 <![endif]>
2nd November 1963
Hauled by no.32650 the 'Hayling Billy' arrives at Hayling Island station on the penultimate day of normal operation.
© Ian Taylor (CC-by-SA/2.0)
<![if !vml]>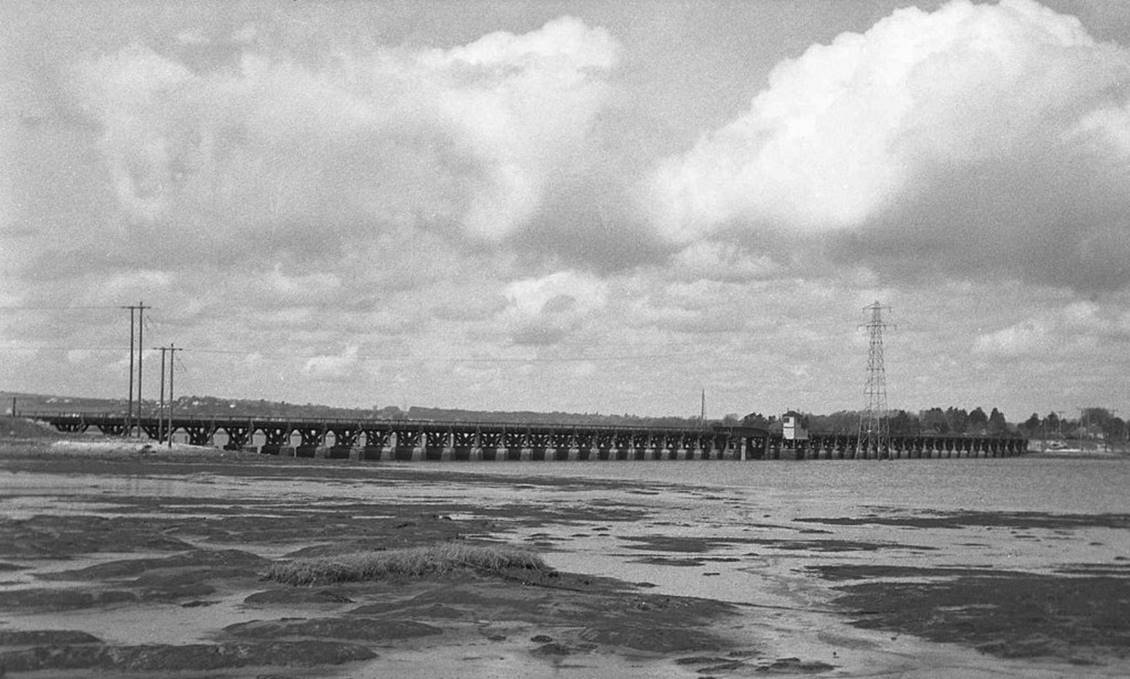 <![endif]>
April 1964
Following closure and from across mud flats the 1100ft Langstone timber viaduct allowed the railway to reach Hayling Island from Havant.
© Martin Tester (CC-by-SA/2.0)
<![if !vml]>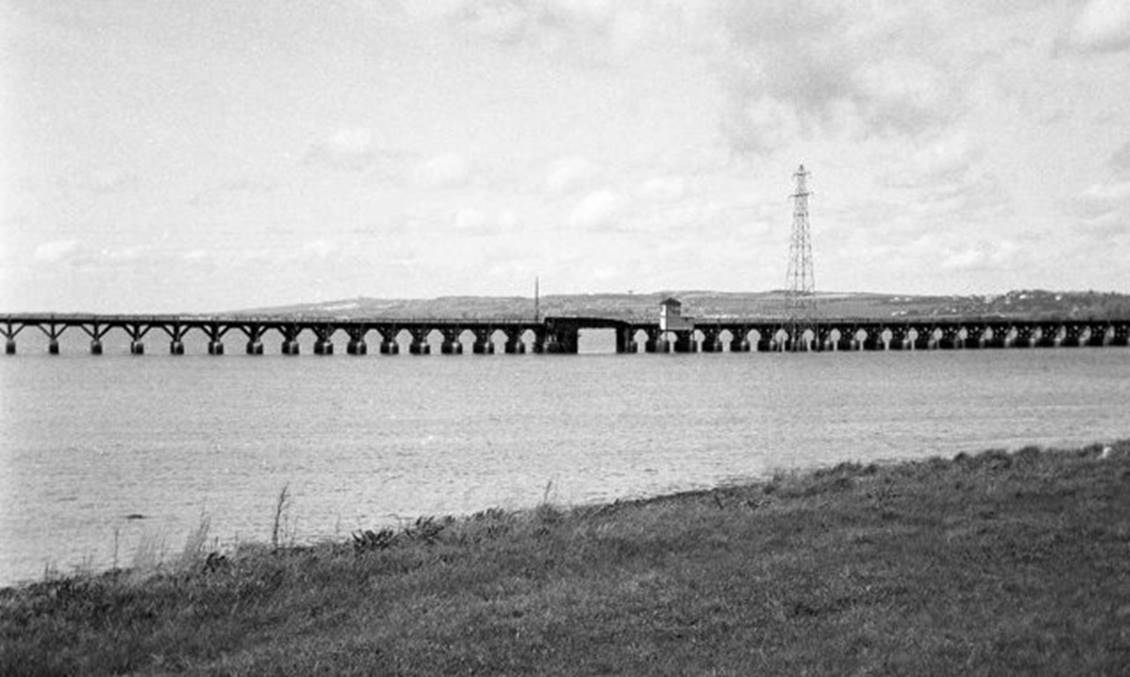 <![endif]>
April 1964
The cabin in the middle of Langstone Bridge housed the controls for the adjacent swing section that permitted coastal navigation.
© Martin Tester (CC-by-SA/2.0)
<![if !vml]>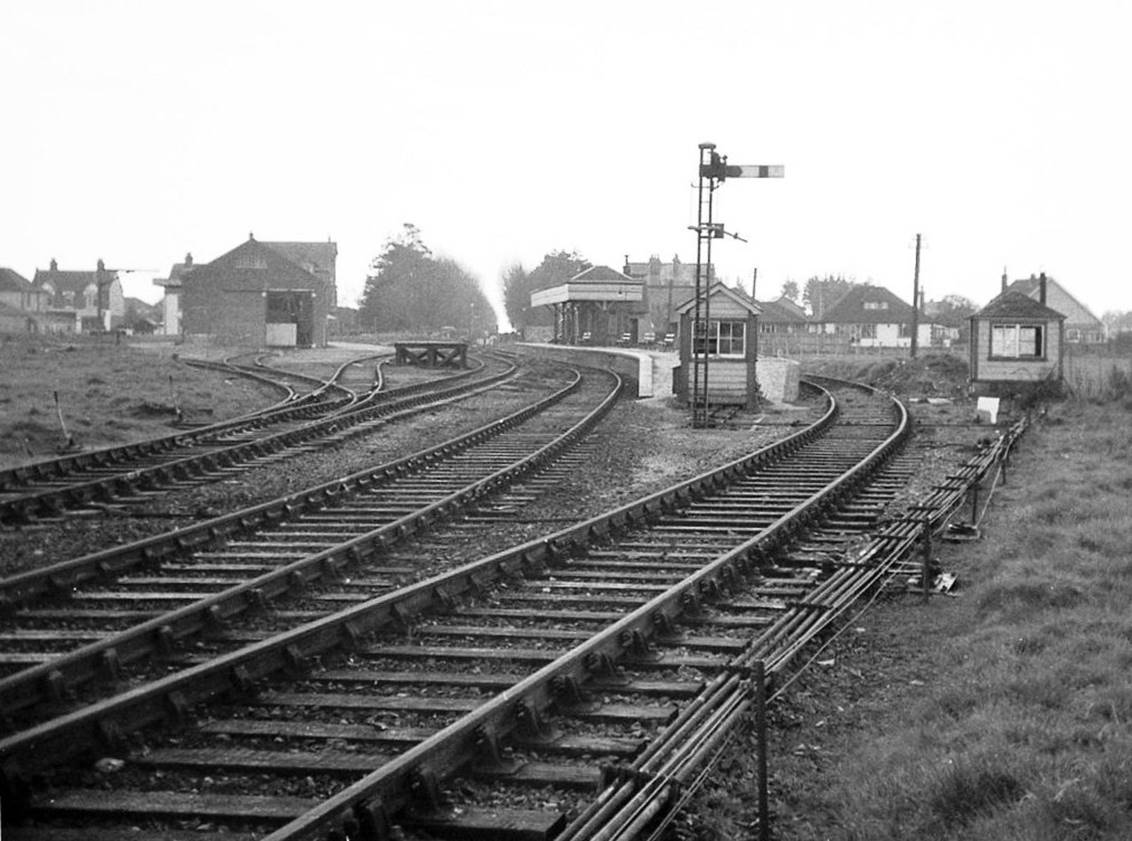 <![endif]>
April 1964
Whilst this scene all looks so complete, the lack of rolling stock in the goods yard yields a clue that the Hayling Island branch line has been closed – some five months previously and prior to demolition that year.
With its diminutive ten-lever frame, the small hut at the end of the platform is the signal box with signal no.9 for No.2 Road (platform) immediately adjacent. Signal 10 (No.1 Road – bay platform) has been removed. As a terminus, its distant was fixed.
© Martin Tester (CC-by-SA/2.0)
<![if !vml]>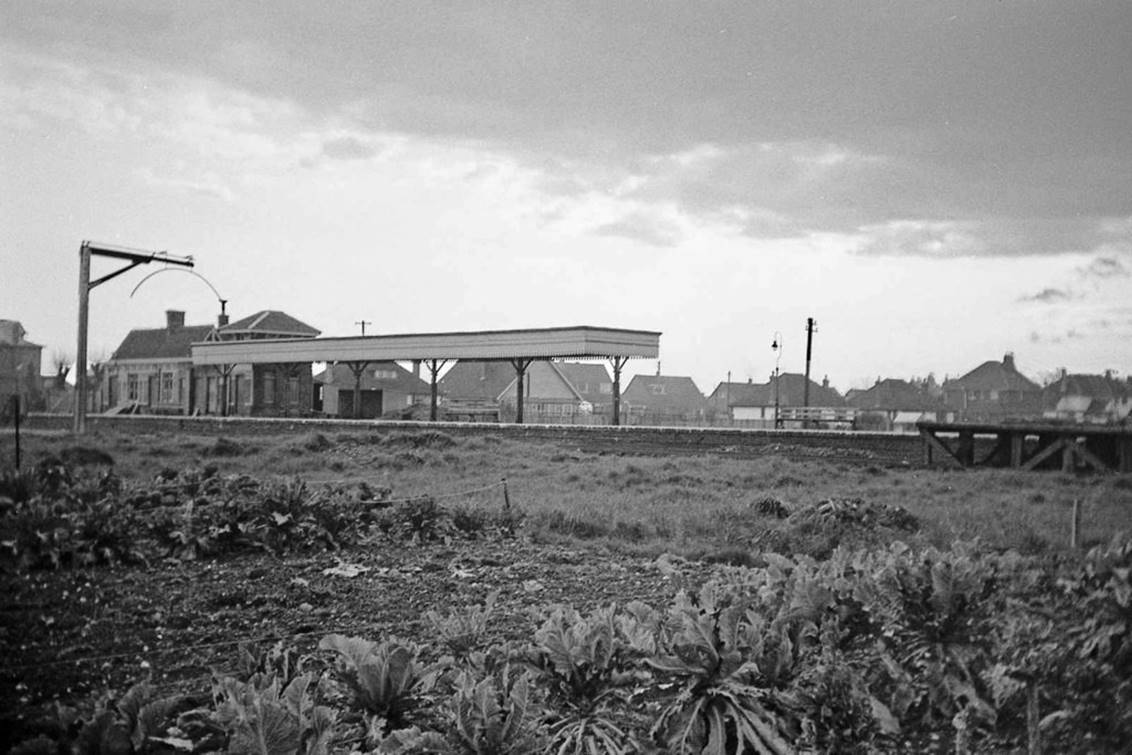 <![endif]>
April 1964
Hayling Island Station from across the goods yard.
© Martin Tester (CC-by-SA/2.0)
<![if !vml]><![endif]>

<![if !vml]><![endif]>

April 1961

Diverted Ocean Liner Express at Havant hauled by rebuilt West Country no. 34045 'Ottery St Mary'

© John Firth (CC-by-SA/2.0)

1961

Running light engine, BR(S)-allocated D5001 is about to cross Havant's New Lane level crossing.

© John Firth (CC-by-SA/2.0)
COPYRIGHT BLOODANDCUSTARD

PHOTOGRAPHIC COPYRIGHT AS INDICATED
(WITH GRATITUDE FOR USE)
<![if !vml]>

<![endif]>