BR British Rail Crimson & Cream Crimson and Cream Crimson Cream Blood & Custard Blood Custard Blood and Custard BR British Rail Crimson & Cream Crimson and Cream Crimson Cream Blood & Custard Blood Custard Blood and Custard BR British Rail Crimson & Cream Crimson and Cream Crimson Cream Blood & Custard Blood Custard Blood and Custard
British Rail Southern Region design
TLV
(Trailer Luggage Vans Nos.S68201-S68201)
<![if !vml]>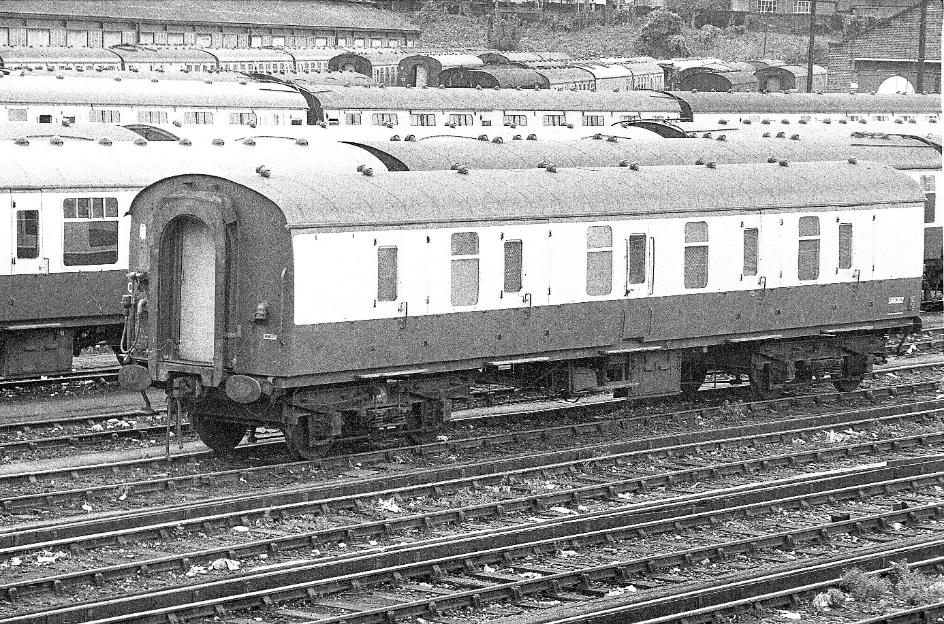 <![endif]>
TLV S68202 at Clapham Junction Sidings on 22nd September 1974 having arrived there 18th September 1974
These vehicles were only ever equipped with one jumper on their left hand side at each end
© Dave Smith
Trailer Luggage Vans
During the mid-1960's several boat train workings between London and Dover /Folkestone were requiring the use of two of the Motor Luggage Vans (MLVs) vehicles due to the amount of luggage being conveyed. This caused some problems with diagramming of the MLVs and occasional problems with overloading the power supply equipment as a 14-coach train with two MLVs had a conductor rail index of 16. To alleviate this problem, it was decided to create six trailer luggage vans (TLVs) by converting six-number former loco‑hauled full-brakes (BGs) for use in electric multiple unit trains.
The BGs selected for Conversion
The BG vehicles selected were numbers 80915 /80918 /80922 /80925 /80942 /80951. All had been built to Lot 30162 in 1957 by Pressed Steel (diagram number 711). Mounted on BR B2 bogies they were fitted with vacuum braking and steam heating. These BG vehicles were built on short (56' 11") underframes and consisted of two luggage areas, the smaller 22' 8" long, the larger 28' 4½" long; this larger luggage area containing a small guard's compartment towards the centre of the vehicle. Overall unladen weight was 31 tons and the vehicles were 60' 7" long overall.
The guard's compartment had an inwards-opening door on each side of the coach and was equipped with a handbrake. Each of the two luggage areas were accessed by two pairs of outward-opening double doors and were equipped with four (evenly spaced) windows located between each pair of doors. The vehicle could accommodate 8 tons loaded when evenly distributed.
<![if !vml]>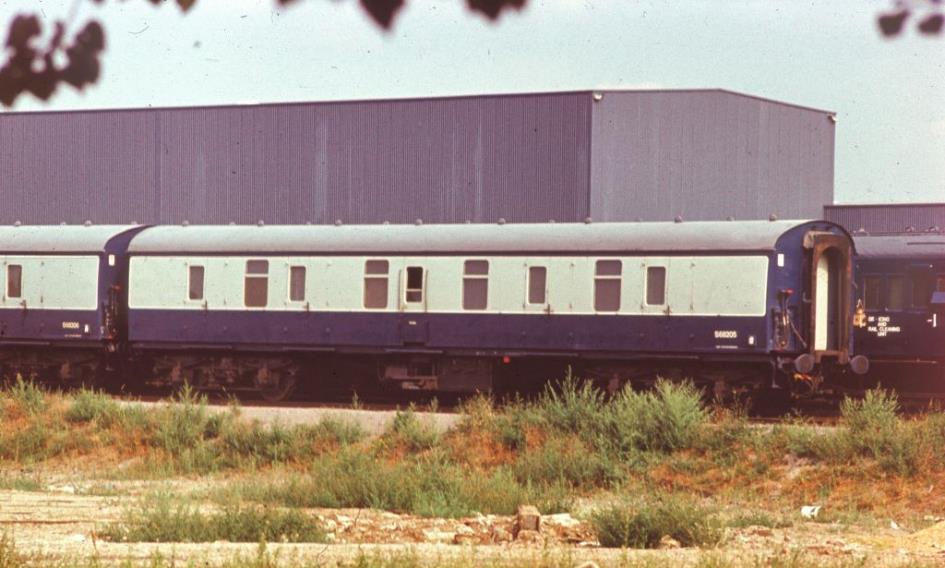 <![endif]>
TLV S68205 with S68206 just visible at Durnsford Road Shed 17th August 1975.
© Dave Smith
Conversion Work
Conversion work on these BG vehicles was carried out at Selhurst Repair Shop during early 1968 and involved conversion to air and EP braking, gangway end doors were sealed out of use but not removed. High level 27-way jumpers and air hose connections were provided at vehicle ends to enable the vehicles to work with other SR post 1951 type EMU units. Low level air hose connections were also provided at the usual position for loco-hauled vehicles.
End buffers and drophead buckeyes were retained, though coupling to EMU units was by the buckeye automatic coupler with the side buffers being retracted out of use. No form of electric heating was provided as the guards rode elsewhere in the train.
The van lighting arrangements on the TLV are currently unknown. It is presumably these were not altered from their loco-hauled days and so were completely unconnected to the train lighting circuits. With only one set of jumper cables provided (on the left-hand side of each coach end) and no heating it is doubtful if jumper connections for train light controls were arranged.
In numerical order from their previous identities, the BGs were renumbered upon conversion into the EMU number series as TLVs numbered S68201 to S68206. All but one of the BG vehicles were repainted from maroon to blue/grey during conversion; TLV number S68203 entering into service in maroon livery (it has been suggested that it was urgently required for the Easter Bank Holiday traffic).
The electrical code BV was allocated to the vehicles by the BR(S) and they received the TOPS classification of Class 422/2. When in use, the TLV was marshalled between the MLV and the adjacent Cep (usually part of a 12-car CEP or CEP /BEP /CEP boat train formation.
The TLV livery painting dates were as follows:
TLV Number

Livery as TLV

BR Lined Maroon

Corporate Blue/grey

S68201

No

May-68 (new)

S68202

No

Jan-68 (new)

S68203

?-68 *

?-70

S68204

No

Feb-68 (new)

S68205

No

May-68 (new)

S68206

No

Apr-68 (new)

*Not repainted at Selhurst.
Much of the information regarding some of the technical aspects of the modifications had been obtained through the former Southern Region Drawing Office Master Lists when they were located in Southern House, Croydon. These lists contain details of drawings, chiefly from various locations within the former Southern Railway and Southern Region (such as the Drawing Offices at Brighton, Eastleigh and London Bridge), together with later drawings produced in Network South East days.
<![if !vml]>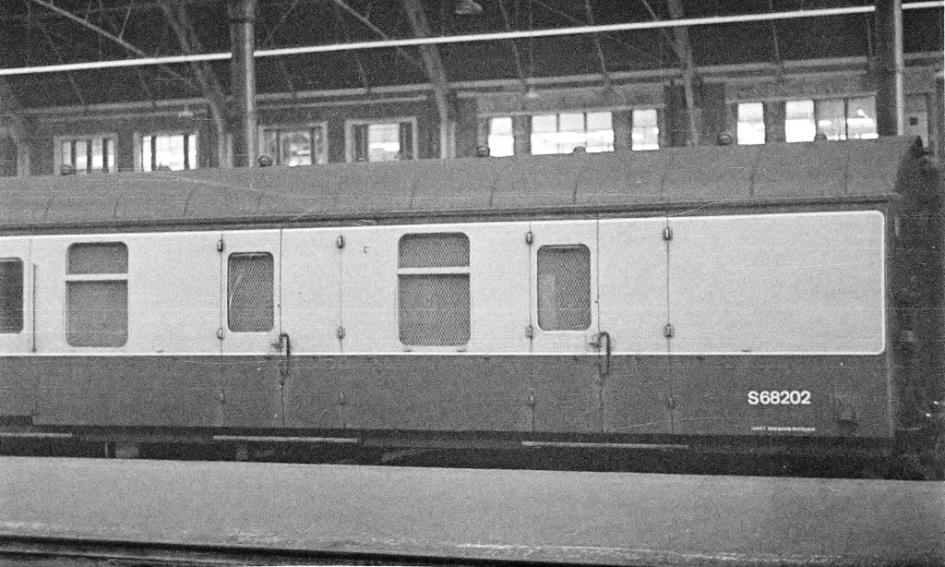 <![endif]>
Internal window-grill & external door details of TLV S68202 at Victoria 28th December 1972
© Dave Smith
Drawing references are as follows:
Drawing E82290

Arrangement of Brake Equipment and Piping – Centre Section of Underframe Trailer Luggage Vans
(London Bridge Drawing Office December 1967)

Drawing ES15838

Arrangement of Air Brake Cylinder and Brake Rigging for Corridor Brake Vans for Loco Hauled Stock (ex Steam Stock)
(Carriage and Wagon Drawing Office Eastleigh May 1965)
Overall, the conversion from vacuum to standard Southern Region Electro-Mechanical (EP) and Westinghouse brakes required the removal of the existing vacuum brake gear followed by the fitting of an air brake cylinder, alterations to the brake rigging and the fitting of valves to control brake application and release. This was a relatively small conversion and ideally suited to Selhurst Repair Shop which specialised in jobs of this nature. This left Eastleigh Works, Chart Leacon and Slade Green Repair Shops to concentrate on their bread-and-butter overhaul workloads. In a similar vein, Selhurst also converted the brake gear on the MLV's in the mid-1980's from a single to dual brake cylinders following incidents resulting from poor brake performance.
By the mid-1960's, the Southern Region was using three generations of EP /Westinghouse equipment, namely J3, L1 and LD3 types. The J3 version consisted of individual piston-type valves and were fitted to stock such as 1951 stock EPB's and the 6-car Hastings DEMU's. Subsequent development by Westinghouse led to a more compact arrangement which incorporated the various valves into what was termed a brake chest. The L1 version had piston-type valves and appeared on 1957 stock such as the CEP's and HAP's whilst the later LD3 version appeared on 1963 and 1966 stock such as CIG's and REP's. The LD3 brake chest was the final development of the traditional Southern Region EP /Westinghouse equipment and saw the previous piston-form valves replaced with diaphragm-form ones.
By the time the TLV conversions were underway in 1968, all three types of brake equipment were available but drawing E82290 indicates that J3 equipment was fitted. It is presumed that this was due to there being more of the J3 equipment being available at the time of conversion than the L1 or LD3 types. The actual brake cylinder and brake rigging arrangement detailed in drawing
Drawing ES15838 was standard for air brake conversions from previous vacuum-braked corridor brake vehicles. A single Westinghouse 12" x 8" brake cylinder was fitted on the underframe together with a Westinghouse automatic slack adjuster to maintain constant piston stroke as brake block wear occurred. This type of slack adjuster, but manufactured by SAB, had previously been seen on the Southern Region as it was, for example, fitted to the motor coaches of the Phase 1 BIG and CIG motor coaches. It was positioned directly in the pull rod rigging between the underframe brake lever and the bogie brake gear. This allowed the ratchet-type slack adjusters fitted to pre-1963 stock and mounted on the back of the brake cylinder to be dispensed with.
Drawing E82290 is dated December 1967 and the first vehicle is reported as going into service in February 1968. It is probable therefore that the first vehicle was under conversion during the latter half of 1967 and the drawing produced as the modification progressed to reflect changes that needed to be made in the light of experience.
Although the Guards compartment was not used following conversion, gauges were fitted to indicate Main Reservoir, Train Pipe and Brake Cylinder pressures. This equipment was still needed during brake testing by maintenance staff.
<![if !vml]>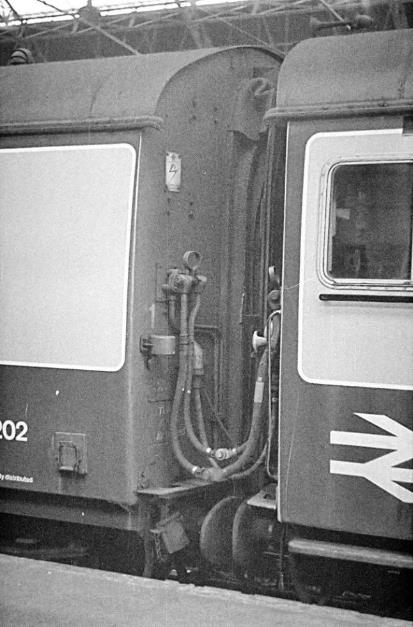 <![endif]> 
MU jumpers on TLV S68202 at Victoria 28th December 1972. There was not a corresponding jumper on the opposite side.
© Dave Smith
Maintenance
Routine maintenance was carried out at Ramsgate where the vehicles were allocated. However, programmed heavy overhauls were undertaken at Eastleigh and intermediate body overhauls at Selhurst. Routine programmed bogie exchanges were recorded as being done at (Ashford) Chart Leacon.
<![if !vml]>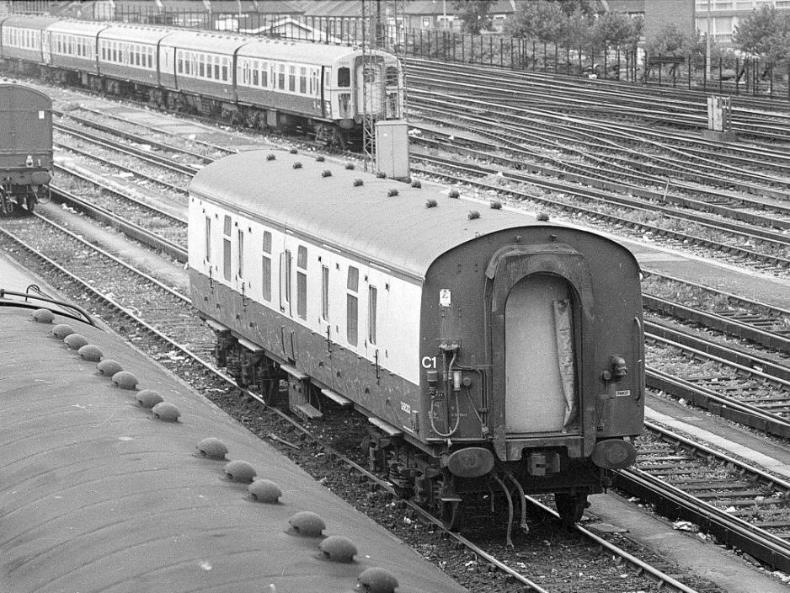 <![endif]>
TLV S68202 at Clapham Junction Sidings 22nd September 1974
having arrived there 18th September 1974
© Dave Smith
In Traffic
The TLVs went into service from February 1968 and were used mainly (as intended) on Boat Trains. However, they did see limited other use on parcels and mail trains, principally in the Christmas periods when many extra mails services were run and the TLVs ran coupled to MLVs or 2 HAP units.
From October 1970 there was a regular mail train on the North Kent line diagrammed as MLV + TLV + TLV + MLV. However, this formation never actually ran. No-one in the Diagramming Office appeared to realise that the TLV only had pipes and a MU 27-way Control Jumper on the left-hand side of each coach end (as you looked at it). This of course meant that two TLVs could not easily be coupled together in multiple! Although the mail train could have run as a 3-car (with just one MLV) the idea was cancelled.
They were not fitted with driving cabs and this led to staffing arguments with the unions as to whether they were a multiple unit or a hauled vehicle for the purposes of shunting.
The TLVs were unpopular due to the problems of shunting them (in particular propelling out of Victoria to Grosvenor Carriage Sheds as well as Dover and Folkestone quays) and a decline in the amount of luggage handled on boat trains during the early 1970s led to them being taken out of use during 1974 and stored, initially at Eastleigh and later at Oatlands Sidings near Weybridge.
<![if !vml]>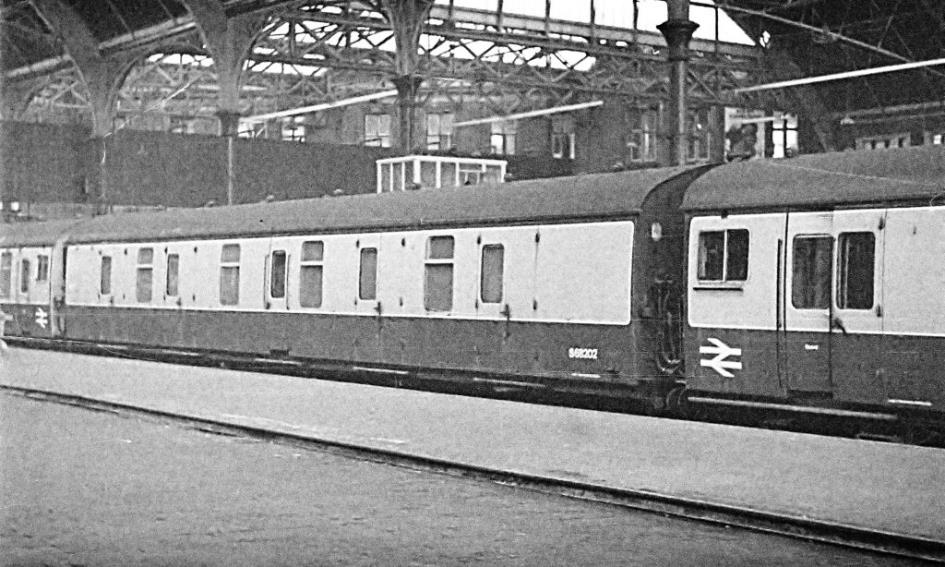 <![endif]> 
TLV S68202 'at work' sandwiched between a MLV and CEP unit at Victoria 28th December 1972
© Dave Smith
Shunting MLVs at Dover and Folkestone
The main problem shunting was that the driver could not hold the 'Deadman's Handle' (Power Controller) down with his right hand and look out of the window at the same time when propelling the TLV; this being beyond a Driver's reach. Initially a secondman was provided, but that did not assist. Eventually the problem was solved by shunting both the MLV and the TLV down the quayside with a locomotive. At Dover it was the Station Pilot; initially an 03 or an 04, latterly an 08 or 09.
At Folkestone an EDL (JA or JB) was usual. However, this was uneconomic as it needed two drivers (the MLV had to be crewed so the driver could raise the collector shoes), two secondmen (the one on the MLV was to placate the unions) as well as a locomotive. When a JB (73/1) was coupled to the MLV (i.e. in multiple) with the driver of the JB using "Aux Power On" and the Electric Controller then the shoes of the MLV would raise. However, as JAs (73/0) did not have Auxiliary Power there was no way of raising the shoes on the MLV. It is worth noting that whilst EDLs (either type JA or JB) required air pressure to lower the shoes an MLV needed air pressure to raise them.
The Victoria and Stewarts Lane drivers were not trained on EDLs and as Driver John Linge recalls
"The Dover drivers were not sure of the ins and outs as it was after all a new form of traction, they never as far as I remember bothered. Auxiliary Power was only really used on the Bournemouth Road, where 33/1s, 73/1s, REPs and TCs were mixed up indiscriminately. It was hardly ever used on the South Eastern. <At Folkestone> the train used to arrive, the Shunter uncoupled the MLV/TLV and the Driver drove them down the Quay (if the battery was okay) onto the 73 which was already there. The 73 was then coupled on (using only the Buckeye coupling – no pipes or jumpers) ready to push the vans back into the platform onto the rest of the train.
At Dover it was a different procedure completely. The 08 or 09 did not have Buckeyes for one thing, and the vans were on the back of the train on arrival. The shunt onto the Quay (done at the London end of the Marine Station) required a shunt over an unmanned public foot crossing and a reversal. The Buckeye coupling on the MLV was dropped and the screw coupling on the 08/9 was used. No pipes were connected (some of our 09s had high level air pipes in order to be able to pump up the air pressure and operate the Westinghouse brake on EMUs)".
Use as Match Vehicles
Some use was made of them later in 1974 as match vehicles in connection with various vehicle movements during the delivery and formation of the second batches of 4 REP and 4 TC units with S68203 & S68204 being used; on 15th August 1974 TLV S68201 got as far as York works from Clapham Yard with TB 1758. S68202 /S68205 /S68206 had been stored at (Ashford) Chart Leacon with nos.S68202 /S68206 moving to Clapham Yard 18th September 1974 with no.S68205 following later.
Some 4 TC delivery details involving TLV numbers S68203 & S68204 are known:
| | |
| --- | --- |
| 19-Jun-74 | TFKs 71162 + 71164 (along with RMB 1872) arrived Strawberry Hill. |
| 2-Jul-74 | TFKs 71163 + 71165 + 71166 + 71167 arrived Strawberry Hill. |
| 26-Jul-74 | DTSs 76943 + 76944 + 76945 + 76946 York to Ferme Park. |
| 7-Sep-74 | DTSs 76947 + 76948 had arrived at Strawberry Hill. |
| 12-Dec-74 | TBSKs 71160 + 71161 Finsbury Park to Strawberry Hill. |
The other three TLVs (S68201, S68203 & S68204) were at Strawberry Hill by 23rd April 1975 with S68202 / S68205 / S68206 also being moved there from Clapham Yard 11th September 1975. At this point all had their EP brakes and other EMU fittings removed as well as their dynamos and batteries.
Official Withdrawal from Revenue Earning Use
All the TLVs were officially withdrawn from revenue use from 7th August 1976 before being moved Oatlands to Surbiton on 8th July 1976 thence onwards to Swindon works (8th September 1976) for conversion into Enparts Vans for carrying HST spares between depots.
Further conversion work was undertaken at Horwich works with nos.S68201 /S68203 moving there from Swindon on 25th January 1978, with nos.S68202 /S68204 /S68206 following on 8th February 1978 and S68205 arriving there by March 1978.
All were renumbered into the Departmental series as ADB975610 ‑ ADB975615 though not in number order. Following conversion ADB975610, ADB975611 and ADB975612 were used between Old Oak Common and Derby whilst ADB975613, ADB975614 and ADB975615 ran between Bristol (St Philips Marsh) and Derby.
Vehicle details were as follows:
Vehicle Details
Former BG No.
(Diag 711)

BR(S) TLV No.
(Code BV)

Paint dates
into TLV

Departmental No.

Scrapping
date

80915

S68201

?-May-68

ADB975611

Sep-11

80918

S68202

1-Jan-68#

ADB975613

Sep-11

80922

S68203

7-Jul-65*

ADB975612

Sep-11

80925

S68204

12-Feb-68

ADB975614

Mar-96

80942

S68205

?-May-68

ADB975610

Mar-96

80951

S68206

?-Apr-68

ADB975615

Jan-08

* previous repainting date (in maroon), not repainted at Selhurst during conversion.

# 68202 was in traffic by 1-Mar-68.

<![if !supportMisalignedColumns]>
<![endif]>
Tool Van Conversions
All six vehicles were later further converted into tool vans for use with the Breakdown Train Units (BTU's) on the Western Region and were then allocated to the following depots:
Bristol Bath Road                 ADB975610, ADB975614.
Old Oak Common                ADB975611, ADB975613.
Cardiff Canton                      ADB975612.
Plymouth Laira                     ADB975615.
Vehicles ADB975611 and ADB975614 were both equipped with generators for their new roles.
No further renumbering of the vehicles took place and TOPS code for 975612 was QVA.
Scrapping
Following closure of Bristol Bath Road depot, ADB975610 and ADB975614 were both scrapped at the depot during March 1996 by Railfreight Services. The breakdown train at Plymouth Laira was also later abolished and ADB975615 then allocated as part of the Severn Tunnel Emergency Train based at Sudbrook Pumping Station. This train was replaced by a new train during 2004 and 975615 moved to Severn Tunnel Junction for storage. It was sent to SimsMetals, Newport for scrapping January 2008.
Cardiff Canton closed as a depot during 2004 and the BTU was then based at Margam from 22nd February 2005. ADB975612 was moved to Newport (Alexander Dock Junction) March 2008 and was still in use in March 2009. Network Rail revised their BTU arrangements during 2010 and the train including moved to Knottingley
ADB975611 & ADB975613 had moved from Old Oak Common to Toton in February 2008 and later was based at Bescot.
ADB975611, ADB975612 and ADB975613 were taken out of use during 2011 and sold to SimsMetals for scrapping in September 2011 with ADB975611 and ADB975613 being moved from Bescot to Halesowen and 975612 from Knottingly to Hartlepool; all these moves being undertaken by road.
TLVs and the Railway Modeller
At the time of writing the TLV isn't modelled; this isn't surprising given their short passenger use from February 1968 into the early seventies and certainly by 1974. However, the BG and like the original vehicles lend themselves to conversion by the addition of MU jumper cables; these being available in 4mm in plastic from Replica Railways and white metal from MJT (Dart Castings).
Hornby Dublo was the first to make a 4mm BG (of approximately correct length; their remaining Mk1 coaches being too short) followed by Triang (over-length as it used their standard Mk1 coach underframe) and then Lima (again over-length).
Replica Railways, Bachmann and Hornby have each produced 4mm BGs of correct body length; Bachmann also have produced a 2mm BG in its Graham Farish range.
In terms of TLVs (as against later departmental use) vehicles were only in Blue/grey with the exception of 68203 which initially appeared in Maroon. However, this can still provide for an interesting combination of liveries with the MLV and CEP units which operated at this time in Green, all-Blue and Blue /Grey liveries.
Thanks go to research author John Atkinson, webpage author, editorial and additional information from C.Watts, contributions from Tony Francis and John Linge along with Dave Smith for use of his photographs©.
ALL TEXT AND PHOTOGRAPHS ARE COPYRIGHT
<![if !vml]>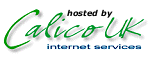 <![endif]>
Blood and Custard Blood & Custard Crimson & Cream Crimson and Cream Plum and Spilt Milk Blood and Custard Blood & Custard Crimson & Cream Crimson and Cream Plum and Spilt Milk Blood and Custard Blood & Custard Crimson & Cream Crimson and Cream Plum and Spilt Milk Blood and Custard Blood & Custard Crimson & Cream Crimson and Cream Plum and Spilt Milk Blood and Custard Blood & Custard Crimson & Cream Crimson and Cream Plum and Spilt Milk Blood and Custard Blood & Custard Crimson & Cream Crimson and Cream Plum and Spilt Milk Blood and Custard Blood & Custard Crimson & Cream Crimson and Cream Plum and Spilt Milk Blood and Custard Blood & Custard Crimson & Cream Crimson and Cream Plum and Spilt Milk Blood and Custard Blood & Custard Crimson & Cream Crimson and Cream Plum and Spilt Milk Blood and Custard Blood & Custard Crimson & Cream Crimson and Cream Plum and Spilt Milk Blood and Custard Blood & Custard Crimson & Cream Crimson and Cream Plum and Spilt Milk Blood and Custard Blood & Custard Crimson & Cream Crimson and Cream Plum and Spilt Milk Blood and Custard Blood & Custard Crimson & Cream Crimson and Cream Plum and Spilt Milk Blood and Custard Blood & Custard Crimson & Cream Crimson and Cream Plum and Spilt Milk Blood and Custard Blood & Custard Crimson & Cream Crimson and Cream Plum and Spilt Milk Blood and Custard Blood & Custard Crimson & Cream Crimson and Cream Plum and Spilt Milk Blood and Custard Blood & Custard Crimson & Cream Crimson and Cream Plum and Spilt Milk Blood and Custard Blood & Custard Crimson & Cream Crimson and Cream Plum and Spilt Milk Blood and Custard Blood & Custard Crimson & Cream Crimson and Cream Plum and Spilt Milk Blood and Custard Blood & Custard Crimson & Cream Crimson and Cream Plum and Spilt Milk Blood and Custard Blood & Custard Crimson & Cream Crimson and Cream Plum and Spilt Milk Blood and Custard Blood & Custard Crimson & Cream Crimson and Cream Plum and Spilt Milk Blood and Custard Blood & Custard Crimson & Cream Crimson and Cream Plum and Spilt Milk Blood and Custard Blood & Custard Crimson & Cream Crimson and Cream Plum and Spilt Milk Blood and Custard Blood & Custard Crimson & Cream Crimson and Cream Plum and Spilt Milk Blood and Custard Blood & Custard Crimson & Cream Crimson and Cream Plum and Spilt Milk Blood and Custard Blood & Custard Crimson & Cream Crimson and Cream Plum and Spilt Milk Blood and Custard Blood & Custard Crimson & Cream Crimson and Cream Plum and Spilt Milk Blood and Custard Blood & Custard Crimson & Cream Crimson and Cream Plum and Spilt Milk Blood and Custard Blood & Custard Crimson & Cream Crimson and Cream Plum and Spilt Milk Blood and Custard Blood & Custard Crimson & Cream Crimson and Cream Plum and Spilt Milk Blood and Custard Blood & Custard Crimson & Cream Crimson and Cream Plum and Spilt Milk Blood and Custard Blood & Custard Crimson & Cream Crimson and Cream Plum and Spilt Milk Blood and Custard Blood & Custard Crimson & Cream Crimson and Cream Plum and Spilt Milk Blood and Custard Blood & Custard Crimson & Cream Crimson and Cream Plum and Spilt Milk Blood and Custard Blood & Custard Crimson & Cream Crimson and Cream Plum and Spilt Milk Blood and Custard Blood & Custard Crimson & Cream Crimson and Cream Plum and Spilt Milk Blood and Custard Blood & Custard Crimson & Cream Crimson and Cream Plum and Spilt Milk Blood and Custard Blood & Custard Crimson & Cream Crimson and Cream Plum and Spilt Milk Blood and Custard Blood & Custard Crimson & Cream Crimson and Cream Plum and Spilt Milk Blood and Custard Blood & Custard Crimson & Cream Crimson and Cream Plum and Spilt Milk Blood and Custard Blood & Custard Crimson & Cream Crimson and Cream Plum and Spilt Milk Blood and Custard Blood & Custard Crimson & Cream Crimson and Cream Plum and Spilt Milk Blood and Custard Blood & Custard Crimson & Cream Crimson and Cream Plum and Spilt Milk Blood and Custard Blood & Custard Crimson & Cream Crimson and Cream Plum and Spilt Milk Blood and Custard Blood & Custard Crimson & Cream Crimson and Cream Plum and Spilt Milk Blood and Custard Blood & Custard Crimson & Cream Crimson and Cream Plum and Spilt Milk Blood and Custard Blood & Custard Crimson & Cream Crimson and Cream Plum and Spilt Milk Blood and Custard Blood & Custard Crimson & Cream Crimson and Cream Plum and Spilt Milk Blood and Custard Blood & Custard Crimson & Cream Crimson and Cream Plum and Spilt Milk Blood and Custard Blood & Custard Crimson & Cream Crimson and Cream Plum and Spilt Milk Blood and Custard Blood & Custard Crimson & Cream Crimson and Cream Plum and Spilt Milk Blood and Custard Blood & Custard Crimson & Cream Crimson and Cream Plum and Spilt Milk Blood and Custard Blood & Custard Crimson & Cream Crimson and Cream Plum and Spilt Milk Blood and Custard Blood & Custard Crimson & Cream Crimson and Cream Plum and Spilt Milk Blood and Custard Blood & Custard Crimson & Cream Crimson and Cream Plum and Spilt Milk Blood and Custard Blood & Custard Crimson & Cream Crimson and Cream Plum and Spilt Milk Blood and Custard Blood & Custard Crimson & Cream Crimson and Cream Plum and Spilt Milk Blood and Custard Blood & Custard Crimson & Cream Crimson and Cream Plum and Spilt Milk Blood and Custard Blood & Custard Crimson & Cream Crimson and Cream Plum and Spilt Milk Blood and Custard Blood & Custard Crimson & Cream Crimson and Cream Plum and Spilt Milk Blood and Custard Blood & Custard Crimson & Cream Crimson and Cream Plum and Spilt Milk Blood and Custard Blood & Custard Crimson & Cream Crimson and Cream Plum and Spilt Milk Blood and Custard Blood & Custard Crimson & Cream Crimson and Cream Plum and Spilt Milk Blood and Custard Blood & Custard Crimson & Cream Crimson and Cream Plum and Spilt Milk Blood and Custard Blood & Custard Crimson & Cream Crimson and Cream Plum and Spilt Milk Blood and Custard Blood & Custard Crimson & Cream Crimson and Cream Plum and Spilt Milk Blood and Custard Blood & Custard Crimson & Cream Crimson and Cream Plum and Spilt Milk Blood and Custard Blood & Custard Crimson & Cream Crimson and Cream Plum and Spilt Milk Blood and Custard Blood & Custard Crimson & Cream Crimson and Cream Plum and Spilt Milk Blood and Custard Blood & Custard Crimson & Cream Crimson and Cream Plum and Spilt Milk Blood and Custard Blood & Custard Crimson & Cream Crimson and Cream Plum and Spilt Milk Blood and Custard Blood & Custard Crimson & Cream Crimson and Cream Plum and Spilt Milk Blood and Custard Blood & Custard Crimson & Cream Crimson and Cream Plum and Spilt Milk Blood and Custard Blood & Custard Crimson & Cream Crimson and Cream Plum and Spilt Milk Blood and Custard Blood & Custard Crimson & Cream Crimson and Cream Plum and Spilt Milk Blood and Custard Blood & Custard Crimson & Cream Crimson and Cream Plum and Spilt Milk Blood and Custard Blood & Custard Crimson & Cream Crimson and Cream Plum and Spilt Milk Blood and Custard Blood & Custard Crimson & Cream Crimson and Cream Plum and Spilt Milk Blood and Custard Blood & Custard Crimson & Cream Crimson and Cream Plum and Spilt Milk Blood and Custard Blood & Custard Crimson & Cream Crimson and Cream Plum and Spilt Milk Blood and Custard Blood & Custard Crimson & Cream Crimson and Cream Plum and Spilt Milk Blood and Custard Blood & Custard Crimson & Cream Crimson and Cream Plum and Spilt Milk Blood and Custard Blood & Custard Crimson & Cream Crimson and Cream Plum and Spilt Milk Blood and Custard Blood & Custard Crimson & Cream Crimson and Cream Plum and Spilt Milk Blood and Custard Blood & Custard Crimson & Cream Crimson and Cream Plum and Spilt Milk Blood and Custard Blood & Custard Crimson & Cream Crimson and Cream Plum and Spilt Milk Blood and Custard Blood & Custard Crimson & Cream Crimson and Cream Plum and Spilt Milk Blood and Custard Blood & Custard Crimson & Cream Crimson and Cream Plum and Spilt Milk Blood and Custard Blood & Custard Crimson & Cream Crimson and Cream Plum and Spilt Milk Blood and Custard Blood & Custard Crimson & Cream Crimson and Cream Plum and Spilt Milk Blood and Custard Blood & Custard Crimson & Cream Crimson and Cream Plum and Spilt Milk Blood and Custard Blood & Custard Crimson & Cream Crimson and Cream Plum and Spilt Milk Blood and Custard Blood & Custard Crimson & Cream Crimson and Cream Plum and Spilt Milk Blood and Custard Blood & Custard Crimson & Cream Crimson and Cream Plum and Spilt Milk Blood and Custard Blood & Custard Crimson & Cream Crimson and Cream Plum and Spilt Milk Blood and Custard Blood & Custard Crimson & Cream Crimson and Cream Plum and Spilt Milk Blood and Custard Blood & Custard Crimson & Cream Crimson and Cream Plum and Spilt Milk Blood and Custard Blood & Custard Crimson & Cream Crimson and Cream Plum and Spilt Milk Blood and Custard Blood & Custard Crimson & Cream Crimson and Cream Plum and Spilt Milk Blood and Custard Blood & Custard Crimson & Cream Crimson and Cream Plum and Spilt Milk Blood and Custard Blood & Custard Crimson & Cream Crimson and Cream Plum and Spilt Milk Blood and Custard Blood & Custard Crimson & Cream Crimson and Cream Plum and Spilt Milk Blood and Custard Blood & Custard Crimson & Cream Crimson and Cream Plum and Spilt Milk Blood and Custard Blood & Custard Crimson & Cream Crimson and Cream Plum and Spilt Milk Blood and Custard Blood & Custard Crimson & Cream Crimson and Cream Plum and Spilt Milk Blood and Custard Blood & Custard Crimson & Cream Crimson and Cream Plum and Spilt Milk Blood and Custard Blood & Custard Crimson & Cream Crimson and Cream Plum and Spilt Milk Blood and Custard Blood & Custard Crimson & Cream Crimson and Cream Plum and Spilt Milk Blood and Custard Blood & Custard Crimson & Cream Crimson and Cream Plum and Spilt Milk Blood and Custard Blood & Custard Crimson & Cream Crimson and Cream Plum and Spilt Milk Blood and Custard Blood & Custard Crimson & Cream Crimson and Cream Plum and Spilt Milk Blood and Custard Blood & Custard Crimson & Cream Crimson and Cream Plum and Spilt Milk Blood and Custard Blood & Custard Crimson & Cream Crimson and Cream Plum and Spilt Milk Blood and Custard Blood & Custard Crimson & Cream Crimson and Cream Plum and Spilt Milk Blood and Custard Blood & Custard Crimson & Cream Crimson and Cream Plum and Spilt Milk Blood and Custard Blood & Custard Crimson & Cream Crimson and Cream Plum and Spilt Milk Blood and Custard Blood & Custard Crimson & Cream Crimson and Cream Plum and Spilt Milk Blood and Custard Blood & Custard Crimson & Cream Crimson and Cream Plum and Spilt Milk Blood and Custard Blood & Custard Crimson & Cream Crimson and Cream Plum and Spilt Milk Blood and Custard Blood & Custard Crimson & Cream Crimson and Cream Plum and Spilt Milk Blood and Custard Blood & Custard Crimson & Cream Crimson and Cream Plum and Spilt Milk Blood and Custard Blood & Custard Crimson & Cream Crimson and Cream Plum and Spilt Milk Blood and Custard Blood & Custard Crimson & Cream Crimson and Cream Plum and Spilt Milk Blood and Custard Blood & Custard Crimson & Cream Crimson and Cream Plum and Spilt Milk Blood and Custard Blood & Custard Crimson & Cream Crimson and Cream Plum and Spilt Milk Blood and Custard Blood & Custard Crimson & Cream Crimson and Cream Plum and Spilt Milk Blood and Custard Blood & Custard Crimson & Cream Crimson and Cream Plum and Spilt Milk Blood and Custard Blood & Custard Crimson & Cream Crimson and Cream Plum and Spilt Milk Blood and Custard Blood & Custard Crimson & Cream Crimson and Cream Plum and Spilt Milk Blood and Custard Blood & Custard Crimson & Cream Crimson and Cream Plum and Spilt Milk Blood and Custard Blood & Custard Crimson & Cream Crimson and Cream Plum and Spilt Milk Blood and Custard Blood & Custard Crimson & Cream Crimson and Cream Plum and Spilt Milk Blood and Custard Blood & Custard Crimson & Cream Crimson and Cream Plum and Spilt Milk Blood and Custard Blood & Custard Crimson & Cream Crimson and Cream Plum and Spilt Milk Blood and Custard Blood & Custard Crimson & Cream Crimson and Cream Plum and Spilt Milk Blood and Custard Blood & Custard Crimson & Cream Crimson and Cream Plum and Spilt Milk Blood and Custard Blood & Custard Crimson & Cream Crimson and Cream Plum and Spilt Milk Blood and Custard Blood & Custard Crimson & Cream Crimson and Cream Plum and Spilt Milk Blood and Custard Blood & Custard Crimson & Cream Crimson and Cream Plum and Spilt Milk Blood and Custard Blood & Custard Crimson & Cream Crimson and Cream Plum and Spilt Milk Blood and Custard Blood & Custard Crimson & Cream Crimson and Cream Plum and Spilt Milk Blood and Custard Blood & Custard Crimson & Cream Crimson and Cream Plum and Spilt Milk Blood and Custard Blood & Custard Crimson & Cream Crimson and Cream Plum and Spilt Milk Blood and Custard Blood & Custard Crimson & Cream Crimson and Cream Plum and Spilt Milk Blood and Custard Blood & Custard Crimson & Cream Crimson and Cream Plum and Spilt Milk Blood and Custard Blood & Custard Crimson & Cream Crimson and Cream Plum and Spilt Milk Blood and Custard Blood & Custard Crimson & Cream Crimson and Cream Plum and Spilt Milk Blood and Custard Blood & Custard Crimson & Cream Crimson and Cream Plum and Spilt Milk Blood and Custard Blood & Custard Crimson & Cream Crimson and Cream Plum and Spilt Milk Blood and Custard Blood & Custard Crimson & Cream Crimson and Cream Plum and Spilt Milk Blood and Custard Blood & Custard Crimson & Cream Crimson and Cream Plum and Spilt Milk Blood and Custard Blood & Custard Crimson & Cream Crimson and Cream Plum and Spilt Milk Blood and Custard Blood & Custard Crimson & Cream Crimson and Cream Plum and Spilt Milk Blood and Custard Blood & Custard Crimson & Cream Crimson and Cream Plum and Spilt Milk Blood and Custard Blood & Custard Crimson & Cream Crimson and Cream Plum and Spilt Milk Blood and Custard Blood & Custard Crimson & Cream Crimson and Cream Plum and Spilt Milk Blood and Custard Blood & Custard Crimson & Cream Crimson and Cream Plum and Spilt Milk Blood and Custard Blood & Custard Crimson & Cream Crimson and Cream Plum and Spilt Milk Blood and Custard Blood & Custard Crimson & Cream Crimson and Cream Plum and Spilt Milk Blood and Custard Blood & Custard Crimson & Cream Crimson and Cream Plum and Spilt Milk Blood and Custard Blood & Custard Crimson & Cream Crimson and Cream Plum and Spilt Milk Blood and Custard Blood & Custard Crimson & Cream Crimson and Cream Plum and Spilt Milk Blood and Custard Blood & Custard Crimson & Cream Crimson and Cream Plum and Spilt Milk Blood and Custard Blood & Custard Crimson & Cream Crimson and Cream Plum and Spilt Milk Blood and Custard Blood & Custard Crimson & Cream Crimson and Cream Plum and Spilt Milk Blood and Custard Blood & Custard Crimson & Cream Crimson and Cream Plum and Spilt Milk Blood and Custard Blood & Custard Crimson & Cream Crimson and Cream Plum and Spilt Milk Blood and Custard Blood & Custard Crimson & Cream Crimson and Cream Plum and Spilt Milk Blood and Custard Blood & Custard Crimson & Cream Crimson and Cream Plum and Spilt Milk Blood and Custard Blood & Custard Crimson & Cream Crimson and Cream Plum and Spilt Milk Blood and Custard Blood & Custard Crimson & Cream Crimson and Cream Plum and Spilt Milk Blood and Custard Blood & Custard Crimson & Cream Crimson and Cream Plum and Spilt Milk Blood and Custard Blood & Custard Crimson & Cream Crimson and Cream Plum and Spilt Milk Blood and Custard Blood & Custard Crimson & Cream Crimson and Cream Plum and Spilt Milk Blood and Custard Blood & Custard Crimson & Cream Crimson and Cream Plum and Spilt Milk Blood and Custard Blood & Custard Crimson & Cream Crimson and Cream Plum and Spilt Milk Blood and Custard Blood & Custard Crimson & Cream Crimson and Cream Plum and Spilt Milk Blood and Custard Blood & Custard Crimson & Cream Crimson and Cream Plum and Spilt Milk Blood and Custard Blood & Custard Crimson & Cream Crimson and Cream Plum and Spilt Milk Blood and Custard Blood & Custard Crimson & Cream Crimson and Cream Plum and Spilt Milk Blood and Custard Blood & Custard Crimson & Cream Crimson and Cream Plum and Spilt Milk Blood and Custard Blood & Custard Crimson & Cream Crimson and Cream Plum and Spilt Milk Blood and Custard Blood & Custard Crimson & Cream Crimson and Cream Plum and Spilt Milk Blood and Custard Blood & Custard Crimson & Cream Crimson and Cream Plum and Spilt Milk Blood and Custard Blood & Custard Crimson & Cream Crimson and Cream Plum and Spilt Milk Blood and Custard Blood & Custard Crimson & Cream Crimson and Cream Plum and Spilt Milk Blood and Custard Blood & Custard Crimson & Cream Crimson and Cream Plum and Spilt Milk Blood and Custard Blood & Custard Crimson & Cream Crimson and Cream Plum and Spilt Milk Blood and Custard Blood & Custard Crimson & Cream Crimson and Cream Plum and Spilt Milk Blood and Custard Blood & Custard Crimson & Cream Crimson and Cream Plum and Spilt Milk Blood and Custard Blood & Custard Crimson & Cream Crimson and Cream Plum and Spilt Milk Blood and Custard Blood & Custard Crimson & Cream Crimson and Cream Plum and Spilt Milk Blood and Custard Blood & Custard Crimson & Cream Crimson and Cream Plum and Spilt Milk Blood and Custard Blood & Custard Crimson & Cream Crimson and Cream Plum and Spilt Milk Blood and Custard Blood & Custard Crimson & Cream Crimson and Cream Plum and Spilt Milk Blood and Custard Blood & Custard Crimson & Cream Crimson and Cream Plum and Spilt Milk Blood and Custard Blood & Custard Crimson & Cream Crimson and Cream Plum and Spilt Milk Blood and Custard Blood & Custard Crimson & Cream Crimson and Cream Plum and Spilt Milk Blood and Custard Blood & Custard Crimson & Cream Crimson and Cream Plum and Spilt Milk Blood and Custard Blood & Custard Crimson & Cream Crimson and Cream Plum and Spilt Milk Blood and Custard Blood & Custard Crimson & Cream Crimson and Cream Plum and Spilt Milk Blood and Custard Blood & Custard Crimson & Cream Crimson and Cream Plum and Spilt Milk Blood and Custard Blood & Custard Crimson & Cream Crimson and Cream Plum and Spilt Milk Blood and Custard Blood & Custard Crimson & Cream Crimson and Cream Plum and Spilt Milk Blood and Custard Blood & Custard Crimson & Cream Crimson and Cream Plum and Spilt Milk Blood and Custard Blood & Custard Crimson & Cream Crimson and Cream Plum and Spilt Milk Blood and Custard Blood & Custard Crimson & Cream Crimson and Cream Plum and Spilt Milk Blood and Custard Blood & Custard Crimson & Cream Crimson and Cream Plum and Spilt Milk Blood and Custard Blood & Custard Crimson & Cream Crimson and Cream Plum and Spilt Milk Blood and Custard Blood & Custard Crimson & Cream Crimson and Cream Plum and Spilt Milk Blood and Custard Blood & Custard Crimson & Cream Crimson and Cream Plum and Spilt Milk Blood and Custard Blood & Custard Crimson & Cream Crimson and Cream Plum and Spilt Milk Blood and Custard Blood & Custard Crimson & Cream Crimson and Cream Plum and Spilt Milk Blood and Custard Blood & Custard Crimson & Cream Crimson and Cream Plum and Spilt Milk Blood and Custard Blood & Custard Crimson & Cream Crimson and Cream Plum and Spilt Milk Blood and Custard Blood & Custard Crimson & Cream Crimson and Cream Plum and Spilt Milk Blood and Custard Blood & Custard Crimson & Cream Crimson and Cream Plum and Spilt Milk Blood and Custard Blood & Custard Crimson & Cream Crimson and Cream Plum and Spilt Milk Blood and Custard Blood & Custard Crimson & Cream Crimson and Cream Plum and Spilt Milk Blood and Custard Blood & Custard Crimson & Cream Crimson and Cream Plum and Spilt Milk Blood and Custard Blood & Custard Crimson & Cream Crimson and Cream Plum and Spilt Milk Blood and Custard Blood & Custard Crimson & Cream Crimson and Cream Plum and Spilt Milk Blood and Custard Blood & Custard Crimson & Cream Crimson and Cream Plum and Spilt Milk Blood and Custard Blood & Custard Crimson & Cream Crimson and Cream Plum and Spilt Milk